Ada yang "Segar" di Twitter, Fitur Percakapan Grup dan Berbagi Video 30 Detik
Bambang Winarso - 28 January 2015
Inovasi baru kembali dilahirkan oleh tim di balik jejaring sosial, Twitter. Dalam blog resminya mereka memperkenalkan dua fitur sekaligus, yaitu fitur percakapan grup via direct message atau DM dan juga fitur berbagi video langsung dari kamera perangkat.
Fitur percakapan grup via DM pada dasarnya tak berbeda dengan konsep dasar pesan di jejaring sosial lainnya, namun bagi Twitter ini adalah hal baru. Lewat fitur ini pengguna dapat melakukan percakapan tentang hal menarik dengan maksimal 20 pengguna lain.
Selain tweet, lewat fitur ini pengguna juga dapat membahas video secara bersama-sama tanpa khawatir pengguna lain atau pemilik tweet/video mengetahuinya. Pengguna yang memiliki inisiatif untuk memulai percakapan grup dapat menambahkan pengikut tanpa masing-masing dari mereka harus saling mengikuti satu sama lain. Sebuah notifikasi akan kirimkan ke mereka terkait penambahan dalam percakapan tersebut.
Info Menarik:Cara Menyembunyikan Daftar Teman di Facebook dari Akses Publik
Twitter telah mempersiapkan petunjuk dan detail lengkapnya di tautan ini.
New! Use Direct Messages to speak privately with a group of up to 20 people. Share Tweets, show emoji & be yourself. https://t.co/8giGhC6OO0 — Twitter (@twitter) January 27, 2015
Selain fitur percakapan grup via direct message, Twitter juga menambahkan fitur berbagi video dari kamera perangkat. Dengan fitur baru ini pengguna dapat merekam, meng-edit dan membagikan video berdurasi 30 detik menggunakan tombol kamera langsung dari aplikasi Twitter mobile.
Penggunannya tentu beragam, mulai sekedar membagikan momen pribadi, kejadian-kejadian unik di sekitar kita atau sekedar untuk lucu-lucuan.
You can now shoot, edit and share video on Twitter. Capture life's most moving moments from your perspective. pic.twitter.com/31JoMS50ha — Twitter (@twitter) January 27, 2015
30 detik memang tak panjang, tetapi tentu lebih memadai ketimbang layanan Vine yang hanya bisa merekam momen sepanjang 6 detik atau 15 detik oleh Instagram.
Info Menarik:Bukan Sembarang Kotak, Game Awesome Square Ini Akan Menghibur Anda
Video yang sudah direkam dapat ditinjau kembali dengan mudah. Tampilan berupa thumbnail berukuran memadai memungkinkan pengguna untuk memutar kembali hasil rekaman sebelum dibagikan. Pelajari selengkapnya di sini. Halaman khusus yang telah dipersiapkan oleh Twitter.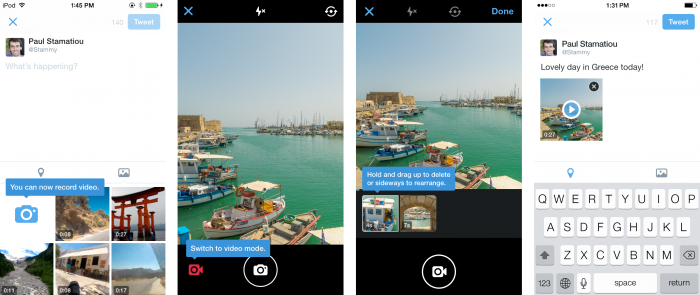 Kedua fitur ini akan mulai diterapkan ke semua pengguna secara bertahap dimulai sejak kemarin waktu setempat. Jadi, beberapa dari sobat Trenogoers mungkin ada yang sudah bisa menggunakan kedua fitur di atas, terutama fitur percakapan grup dan sebagian lainnya mungkin harus bersabar menunggu giliran.
Sumber berita blog/Twitter dan gambar header Shutterstock.
Are you sure to continue this transaction?
processing your transaction....