Adapter Ini Bisa Sulap Smartphone Jadi Kamera DSLR
Perangkat ini terdiri dari dua bagian: frame untuk mencantumkan smartphone dan adapter tempat lensa didudukkan.
Yoga Wisesa - 12 April 2018
Saat ini ada banyak klaim yang menyatakan bahwa kinerja fotografi di smartphone mulai menyaingi kamera DSLR atau mirrorless, tapi tentu saja para fotografer berpengalaman akan menyanggahnya. Meski mungkin megapixel kedua device setara, pemanfaatan sensor berukuran lebih besar memungkinkan perangkat spesialis fotografi menghasilkan gambar yang jauh lebih baik.
Terlepas dari kemampuan kedua perangkat itu dalam mengambil foto, sejumlah pakar yakin smartphone tak akan menggantikan peran kamera DSLR atau mirrorless. Menariknya, ada satu langkah tak terduga yang dilakukan oleh Cinematic International Company Limited. Perusahaan asal Tiongkok ini menciptkan sebuah adapter universal yang memperkenankan kita memasangkan lensa jenis apapun di smartphone.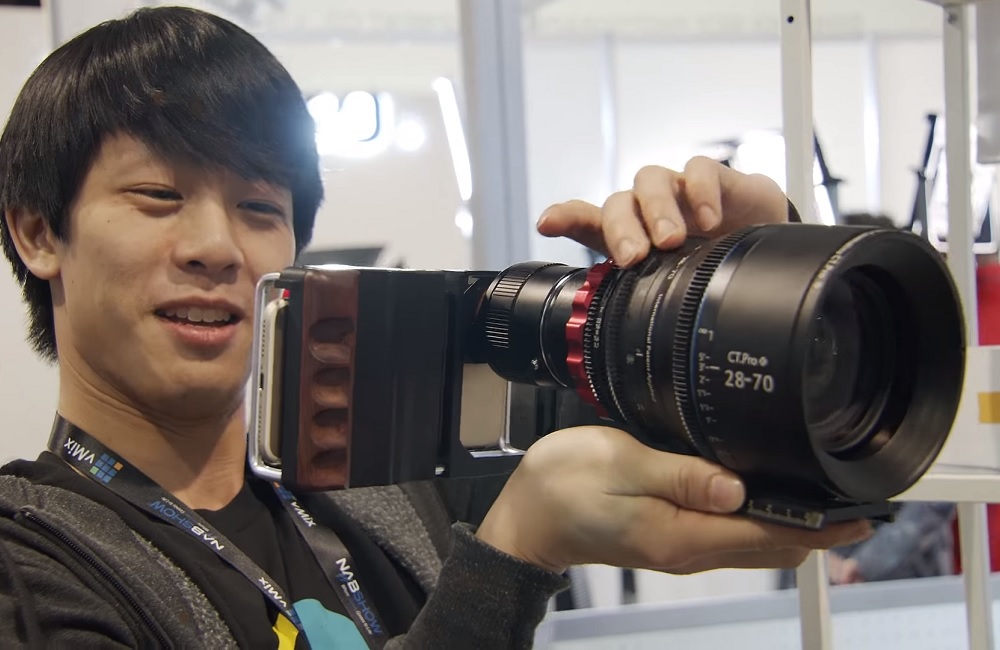 Eksistensi dari produk bernama 'DOF Adapter' itu ditemukan oleh tim No Film School di acara National Association of Broadcasters Show yang dilangsungkan di kota Las Vegas minggu ini. Perangkat unik tersebut terdiri dari dua bagian utama: frame untuk mencantumkan smartphone, dan adapter tempat lensa didudukkan. CICL menjelaskan bahwa DOF Adapter mendukung hampir semua jenis lensa dari produsen berbeda, termasuk Canon, Nikon, Sony sampai Leica.
Dengan menyambungkan lensa dan handset ke adapter ini, mayoritas kendali dilakukan sepenuhnya dari layar perangkat bergerak Anda. Tentu saja, fungsi zoom in/out serta pengaturan fokus dapat diakses secara normal via memutar ring. Namun dengan absennya koneksi elektronik dari smartphone ke lensa (via adapter), kemungkinan besar ada fitur-fitur yang tidak berfungsi.
Dalam video No Film School, adapter buatan Cinematic International Company Limited itu menggabungkan lensa CT.Pro 28-70 dengan iPhone 7 (representatif CICL juga bilang DOF Adapter kompatibel ke smartphone Samsung), dan penampilan keseluruhannya memang 'eksentrik'. Saat menggunakannya pertama kali, mungkin Anda akan bingung bagian mana yang harus dipegang agar semuanya tetap aman? Apakah lensa, ujung adapter ataukah grip?
Gagasan memasangkan lensa high-end ke sensor berukuran kecil di kamera smartphone juga tidak biasa. Kemampuan sensor di perangkat bergerak telah disesuaikan agar pas dengan lensa yang tidak terlalu besar.
Cinematic International Company Limited belum mengungkap harga dan kapan DOF Adapter akan tersedia. Pertanyaan saya kini adalah, untuk siapa kira-kira produk ini ditujukan? Saat smartphone serta kamera point-and-shoot didesain buat pemakaian handheld yang simpel, kemudian kamera DLSR dan mirrorless lebih pas untuk user yang 'serius', jenis konsumen apa yang akan tertarik pada pendekatan seperti ini?
Via PetaPixel.
Are you sure to continue this transaction?
processing your transaction....