Berita
Adira Finance Resmikan Aplikasi "Akses", Dorong Transformasi Bisnis ke Digital
Membantu mewujudkan ambisi menjadi perusahaan multifinance terdepan di tahun 2020
Perusahaan pembiayaan Adira Finance meresmikan kehadiran aplikasi Akses sebagai awal komitmen perusahaan terjun ke ranah digital. Sebelumnya, aplikasi ini dirilis dalam bentuk beta pada September 2017.
Akses adalah aplikasi pelayanan konsumen dengan berbagai fitur yang memudahkan komunikasi dengan perusahaan, termasuk fitur notifikasi dan reminder jatuh tempo dan overdue cicilan, informasi detil kontrak konsumen, lokasi cabang terdekat, simulasi kredit, informasi produk, dan jejak angsuran yang terbayar.
"Sebagai salah satu perusahaan multifinance terbesar di Indonesia dengan lebih dari tiga juta nasabah aktif, Adira Finance terus berinovasi untuk meningkatkan pelayanan kepada para konsumen yang kian beralih ke digital," ujar Direktur Utama Adira Finance Hafid Hadeli, Rabu (21/3).
Saat ini total konsumen Adira Finance mencapai 3,7 juta orang dengan 3 juta di antaranya adalah konsumen aktif. Sekitar 80% adalah konsumen untuk pembiayaan motor, 10% adalah pembiayaan roda empat, dan sisanya adalah pembiayaan elektronik.
Konsumen kini tidak perlu mengantre ke kantor cabang untuk melunasi cicilannya. Begitu pun kantor cabang juga bisa berhemat kertas karena rekam jejak pembayaran konsumen telah tersimpan secara digital. Aplikasi ini tak hanya ditujukan untuk nasabah existing, non nasabah pun juga bisa. Hanya saja terdapat perbedaan dari sisi fitur yang bisa diakses.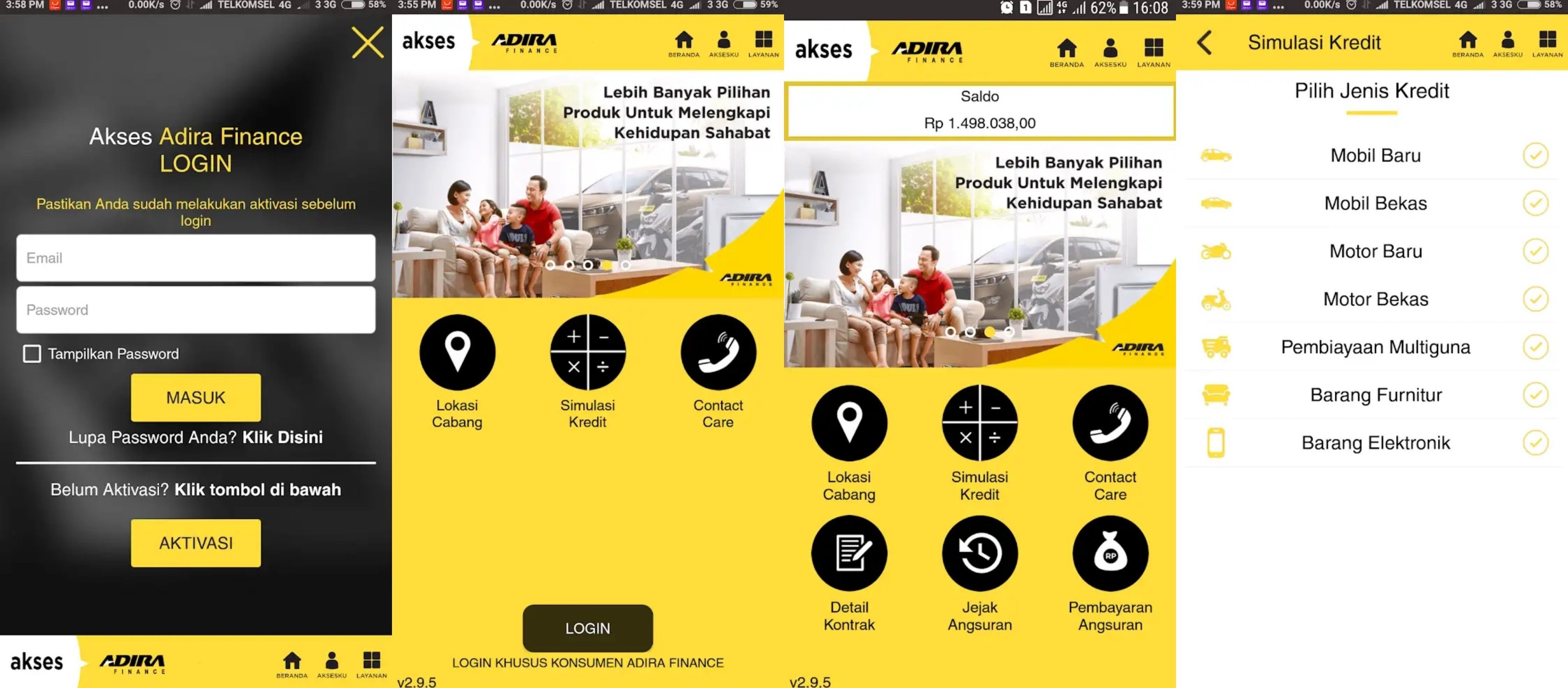 Dengan berbagai fitur ini, sambung Hafid, konsumen bisa memanfaatkan hal-hal yang melekat dengan produk Adira Finance. Ke depannya bakal dirilis berbagai fitur tambahan, misalnya dalam waktu dekat adalah pengajuan kredit untuk pembiayaan apapun secara online.
Nantinya konsumen dapat melakukan top up saldo ke dalam aplikasi lewat Bank Danamon dan ATM Bersama memanfaatkan virtual account (VA).
Tersedia pula fitur live chat untuk terhubung dengan tim customer service Adira Finance, reservasi pengambilan BPKB ketika angsuran sudah lunas, dan pengajuan perpanjangan STNK secara online.
"Aplikasi ini bisa jadi tambahan nilai tambah buat para debitur dan non debitur, agar ke depannya mereka bisa lebih sticky dengan layanan dari Adira Finance," tambah Head of IT Adira Finance Dodi Yuliarso Soewandi.
Dalam pengembangan aplikasi ini, menurut Dodi, perusahaan menggandeng pihak ketiga sebagai mitra teknologi. Untuk sementara, Akses tersedia di platform Android atau melalui situs resmi.
Application Information Will Show Up Here
Are you sure to continue this transaction?
processing your transaction....