Sebagai bagian dari rencana mengubah model bisnis maskapai LCC AirAsia menjadi "maskapai digital," perusahaan mengadakan hackathon untuk pertama kalinya pada 18 Maret-19 Maret 2017 di RedQ, kantor pusat barunya di Sepang, Malaysia.
CEO AirAsia Grup Tony Fernandes mengatakan akar maskapai digital dimulai dari pemanfaatan internet dan media sosial untuk lebih mendekatkan diri ke konsumen. Saat ini, dia menilai baru 30% proses bisnis AirAsia sudah bertransformasi ke digital. Perusahaan lainnya bahkan dia sebut masih kurang dari angka tersebut.
Fernandes menargetkan sampai akhir 2018 mendatang transformasi bisnis perusahaan menuju arah digital dapat naik ke angka 70%. Ketika target tercapai, dia menargetkan adanya pemanfaatan berbagai teknologi mutakhir dalam tubuh AirAsia, mulai dari Internet of Things (IoT), big data analytics, dan operasional yang paperless, dan lainnya.
"Dengan transformasi digital, akan berdampak pada efisiensi. Tingkat pelayanan untuk konsumen pun akan semakin terpuaskan. Hasil akhirnya adalah menciptakan pendapatan baru di masa mendatang," terangnya.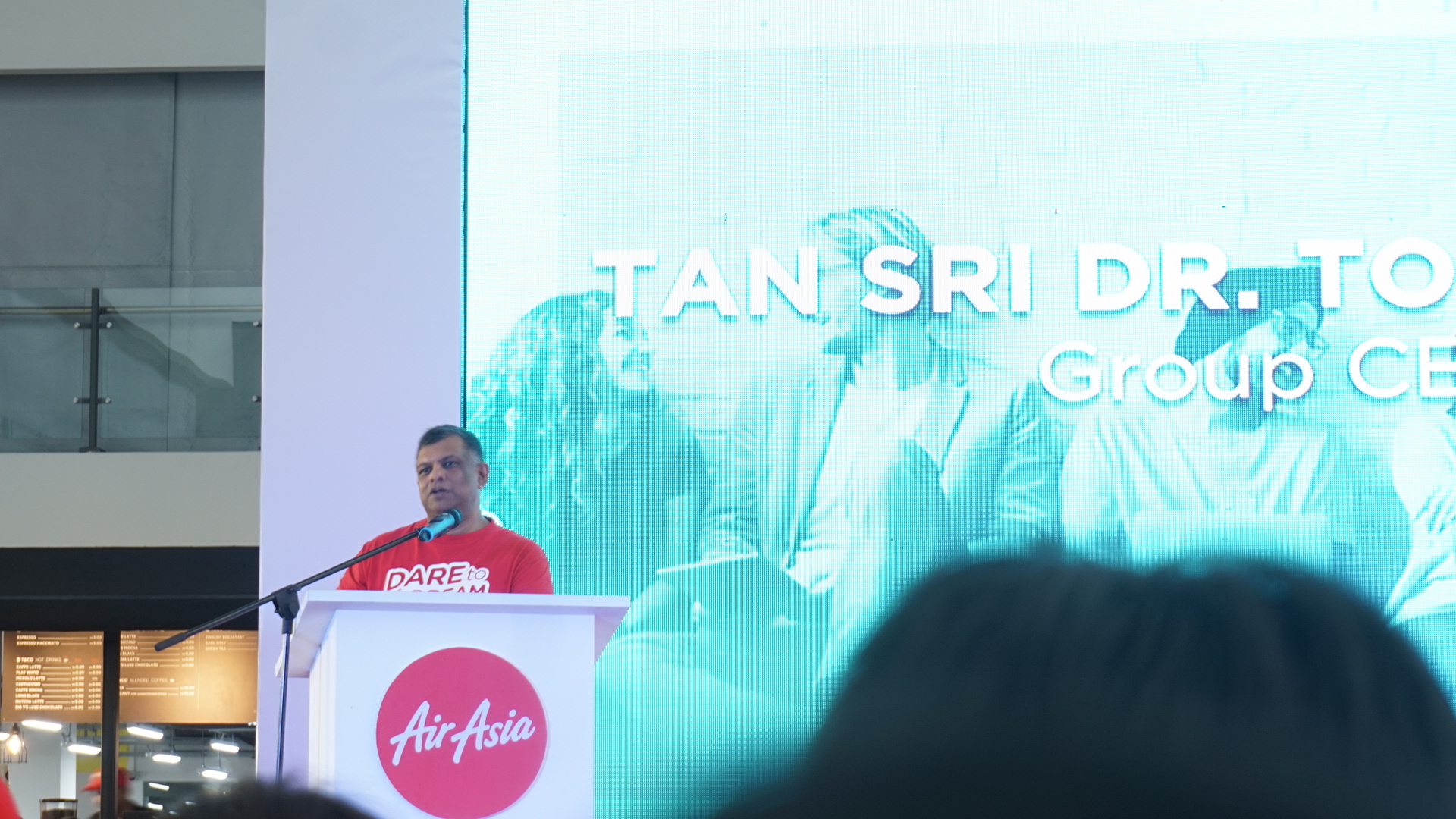 Untuk mendorong pendapatan, AirAsia tidak hanya bakal rajin belanja armada pesawat baru tiap tahunnya. Strategi lainnya adalah mengembangkan fitur baru dalam situsnya. Nantinya ketika pengguna masuk ke situs dengan akun pribadinya, akan muncul histori perjalanan mereka.
Selain itu, perusahaan juga akan membuka kemungkinan untuk mengembangkan kembali pembelian tiket lewat akun media sosial perusahaan. Sejauh ini 3% pembelian tiket dibeli dari Facebook, sisanya masih dikuasai situs resmi perusahaan. AirAsia juga membuka penjualan tiket lewat Line dan WeChat.
Dalam waktu dekat, perusahaan akan menyediakan pembayaran non tunai untuk setiap transaksi dalam pesawat. Rencananya sekitar April atau Mei, seluruh penerbangan di AirAsia akan cashless. Nantinya seluruh awak kabin akan dibekali smartphone untuk mengakomodir seluruh transaksi dalam pesawat, mulai dari makanan, minuman, merchandise, dan lainnya.
Airvolution 2017
Gelaran hackathon pertama yang diadakan AirAsia bertajuk "Airvolution 2017: Spearheading Innovation in ASEAN". Hackathon ini secara khusus dibentuk untuk menghadirkan solusi terbaik untuk menjawab salah satu dari tiga tantangan yang diberikan seputar dunia penerbangan.
Tiga tantangan tersebut adalah (1) bagaimana cara mendapatkan profil fans AirAsia berdasarkan aktivitas sosial digital yang mereka lakukan guna meningkatkan pengalaman yang berkesan, (2) bagaimana cara mengurangi waktu menunggu para penumpang di bandara, mulai dari check-in hingga boarding, dan (3) bagaimana cara menawarkan penerbangan dan tur terbaik dengan biaya termurah, beserta dengan rencana perjalanannya.
Ada 20 tim yang berpartisipasi dalam kompetisi ini mewakili sembilan negara. Australia, Korea Selatan, Thailand, Indonesia dan Hong Kong masing-masing mengirimkan 1 perwakilan, sementara India (4), Malaysia (5), Filipina (2), Singapura (2), dan Sri Lanka (2).
Fernandes mengatakan setelah kompetisi ini sukses digelar tidak menutup kemungkinan untuk kembali mengadakan acara yang sama berikutnya di negara lainnya. AirAsia juga berencana mendirikan inkubator dan program akselerator khusus untuk menangani dunia penerbangan.
Tidak tanggung-tanggung, mereka berencana terlibat langsung melalui modal ventura. Seluruh rencana tersebut ditargetkan akan terselenggara tahun ini.
"Kami ingin mendapatkan banyak ide untuk merealisasikan maskapai digital. Ini [hackathon] adalah tahap pertama. Tahap berikutnya kami ingin mendirikan inkubator dan akselerator khusus untuk menangani dunia penerbangan. Di luar itu, kami ingin menghimpun para entrepreneur dari berbagai belahan Asia untuk terlibat merealisasikan impian mereka," ucapnya.
Aviato dari Singapura terpilih jadi pemenang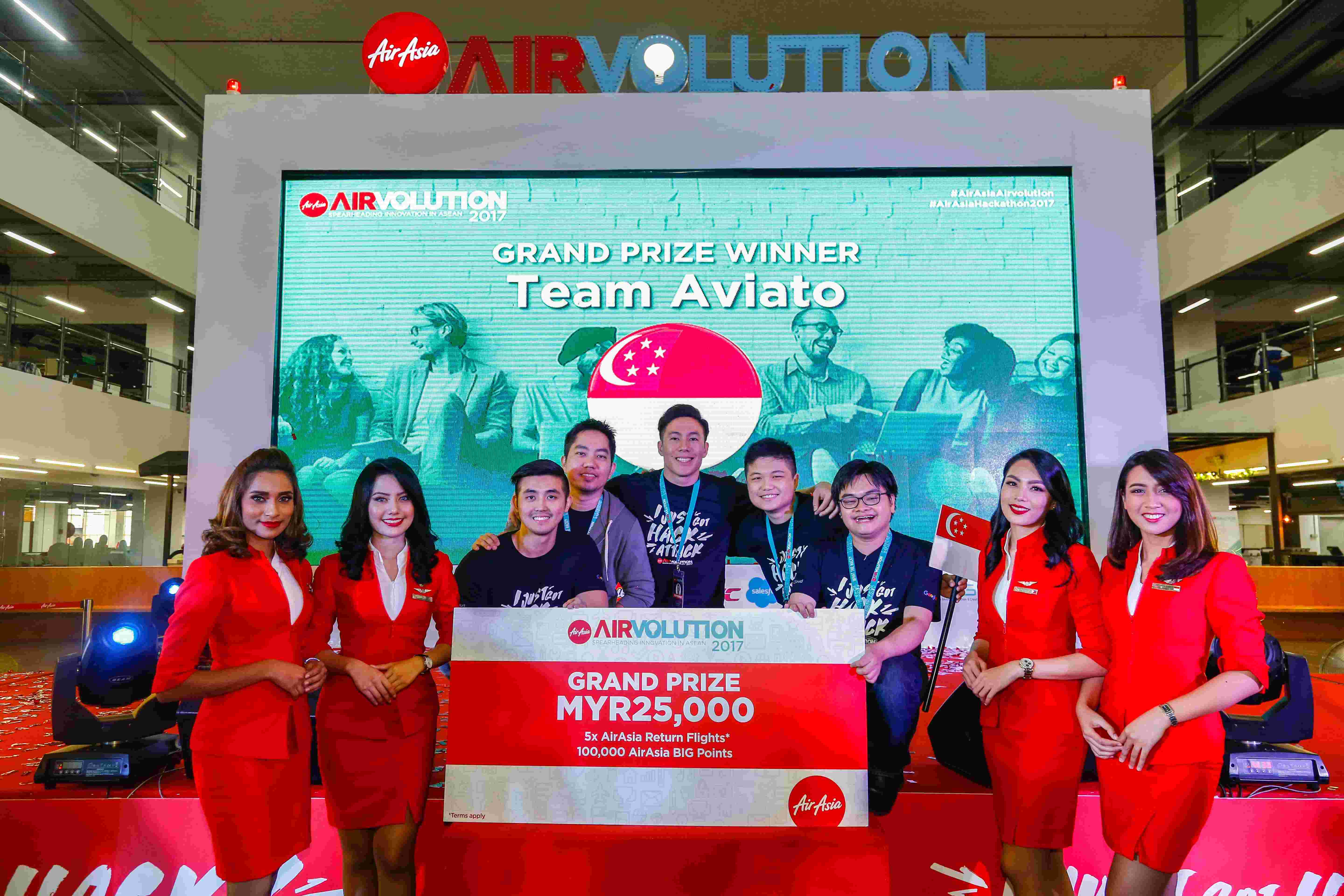 Setelah melalui hackathon selama 18 jam, tim Aviato terpilih jadi pemenang karena dinilai berhasil menghadirkan solusi terbaik untuk menjawab tantangan nomor 1. Usulan yang diberikan tim Aviato adalah menyusun sebuah profil pengguna secara real time berdasarkan gambar yang ditampilkan dan jumlah penyuka di Instagram lewat layanan pihak ketiga.
Dari situ memungkinkan AirAsia untuk membuat beragam penawaran destinasi yang lebih tepat sasaran sesuai minat pengguna, maupun pilihan makanan yang lebih mencerminkan minat pengguna.
Chief Data and Digital Officer AirAsia Nikunj Shanti mengatakan pihaknya sangat terkesan dengan pemecahan masalah yang kreatif ditawarkan oleh para hacker. Pihaknya tidak hanya akan mengambil solusi dari pemenang saja, tapi terbuka untuk segala ide selama acara yang dinilai berpotensi dapat membantu bisnis perusahaan dan mudah untuk diaplikasikan.
"Kami memilih Aviato karena solusi yang mereka tawarkan cukup simpel dan mudah diaplikasikan, meski tantangan yang kami berikan cukup sulit dan waktunya sebentar," kata Shanti.
Tim Aviato berhak membawa uang tunai senilai RM25 ribu atau sekitar Rp75 juta, 100.000 AirAsia BIG Points, dan lima buah tiket penerbangan pulang pergi ke destinasi AirAsia manapun.
Application Information Will Show Up Here
DailySocial.id adalah portal berita startup dan inovasi teknologi. Kamu bisa menjadi member komunitas startup dan inovasi DailySocial.id, mengunduh laporan riset dan statistik seputar teknologi secara cuma-cuma, dan mengikuti berita startup Indonesia dan gadget terbaru.