English
Airy to Shut Down Business Permanently, Putting other OTAs in Jeopardy
Platform is no longer provide listings effective per May 31st, 2020.
Such unfortunate news came from the local OTA (Online Travel Agency) industry. Airy or Airy Rooms will terminate its operations permanently by the end of May 2020. We receive the news from a source involved in the company's operations. It was later discovered that several property partners had received official notification emails regarding the service termination.
DailySocial has been trying to reach the management since Wednesday (5/6), yet the information still sealed - although they didn't deny the rumor.
The layoff situation has gone wild in the Airy ecosystem, the number is monitored through SEAcosystem.com - a collaborative worksheet initiated by some Southeast Asia's venture capitalists to help affected talents and startups due to Covid-19. A reliable source has confirmed the layoff.
In addition, as we observed, Airy is currently not displaying any property listings after May 31st, 2020.  It applies to the flight ticket, there will be no search results as per June 1st, 2020.
Since the beginning of the year, when the Covid-19 pandemic began to haunt the Southeast Asian region, there was a sharp decline for Airy service users. Exacerbated by the lockdown and physical distancing initiatives in almost all countries resulting in the declining number of traveling (out of town or abroad).
As general notes, in addition to offering low-cost lodging accommodations, Airy also provides a flight ticket booking feature.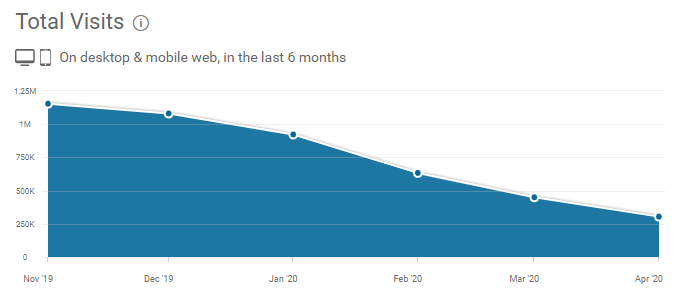 Earlier this year, the company had a succession by appointing Louis Alfonso Kodoatie as the new CEO. With 30 thousand rooms spread across 100 cities, they are confident enough to continue to penetrate the market. Particularly, after launching Airy for Business at the end of last year as a new initiative offering online services for company official travel management.
All OTAs afflicted, no exception
Last month, a news spread regarding Traveloka's significant staff reduction. The temporary halt of inter-city public transportation modes, such as planes and trains, certainly has an impact on the decline in company revenue. Nearly zero tourist visits also make bookings for accommodation services such as hotels or recreation tickets drop sharply.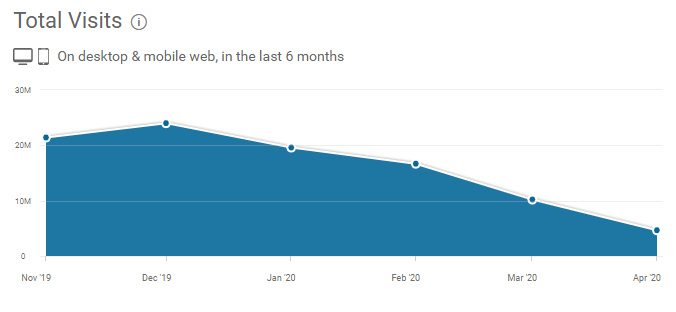 Unlike Airy, Traveloka's unicorn status ideally provides a longer runway. Particularly since last year, the company has been intensifying fundraising up to 7 trillion Rupiah. It was said by Co-Founder & CEO Ferry Unardi that the startup he founded was planned to take dual IPO listings in the next 2-3 years - it was before the pandemic.
Observing the current conditions, the Center of Reform on Economics (CORE) member, Yusuf Rendy Manilet told DailySocial that he believes all OTA players in Indonesia are devastated by Covid-19. However, Yusuf did not see this as hopeless.
"In my opinion, they can explore domestic tourists with more local potential, like culinary tourism," Yusuf said.
A Traveloka representative, who was contacted separately, said he was concerned about the situation. But they refused to break down the whole impact. "Currently, our focus is to prioritize the safety and comfort of users in planning their trips," Traveloka's Head of Marketing, Transport, Andhini Putri said.
Pegipegi also facing a similar issue. The company's response is not much different. They are still busy accommodating the needs of travelers who use their services, including in canceling reservations. "Currently, for customers who want to cancel their order, it can be done easily through the Pegipegi application using the Online Refund feature," Pegipegi's Corporate Communications Manager, Busyra Oryza told Dailysocial.
OTA in Indonesia
The local OTA business is filled with local and outside players, however, from the previous year's trends, local players have a larger share of users. Of the many players, five of them have the biggest traction, including Traveloka, Pegipegi, Tiket, Airy, and Nusatrip.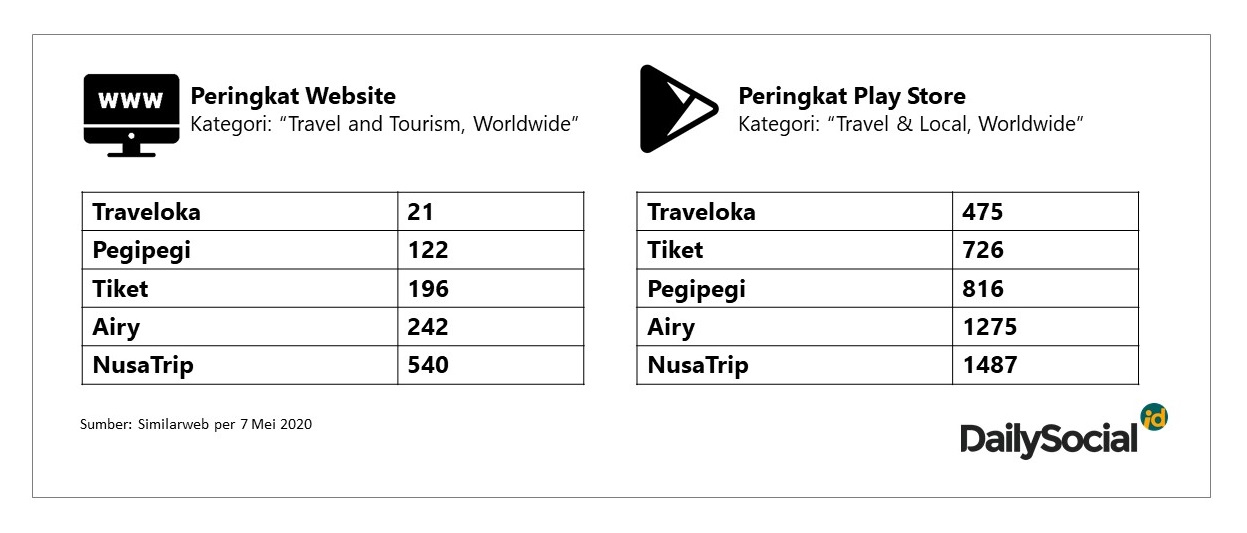 The e-Conomy SEA 2019 report also shows that online travel is still the second most influential digital sector after e-commerce. In 2019 the industry recorded GMV at US$10 billion and is projected to grow to US$25 billion in the next five years.
The situation could change, after the end of the pandemic, "new normal" will be a challenge in all business sectors. In order to stay in the game while reaching its highest potential, every business must be able to adapt and innovate, including travel. The good thing is that this industry has grown rapidly, OTA players are no longer just about ticketing. More than that, each is transformed into a service with a variety of integrated features.
This is about how companies survive. Basically, traveling is a necessity, both for personal and business interests. When the dust settles, sooner or later, this sector will return to its pace.
–Original article is in Indonesian, translated by Kristin Siagian
Application Information Will Show Up Here
Are you sure to continue this transaction?
processing your transaction....