Akses Situs Twitter di Smartphone Kini Bisa Tanpa Akun
Pengguna bisa mengikuti percakapan maupun berita terhangat tanpa harus login terlebih dahulu
Glenn Kaonang - 4 February 2016
Seakan tidak pernah puas dengan pencapaiannya sejauh ini, Twitter kembali menghadirkan fitur baru guna mendongkrak jumlah penggunanya. Padahal, setiap bulannya sudah ada lebih dari 500 juta orang yang aktif mengakses Twitter.
Fitur baru itu secara khusus ditujukan bagi pengguna yang hendak membuka Twitter tanpa login dengan akunnya, atau bahkan mereka yang sama sekali belum pernah mendaftarkan akun sama sekali. Berkat pembaruan ini, mereka bisa membuka situs twitter.com di smartphone, lalu menyimak percakapan maupun berita-berita hangat tanpa harus login terlebih dulu.
Twitter menjanjikan pengalaman mengonsumsi konten yang sama seperti pengguna yang login. Semisal sedang ada pertandingan basket, pengguna bisa menyimak perkembangannya langsung dari homepage twitter.com ini secara real-time, sekali lagi tanpa perlu mendaftarkan akun terlebih dulu.
Today we're bringing Tweets to more people around the ? on our homepage: https://t.co/VIVfJCt2PUpic.twitter.com/C0htvdamPn

— Twitter (@twitter) February 2, 2016
Twitter sebenarnya sempat mengumumkan fitur serupa pada bulan April tahun lalu. Namun pada saat itu fitur tersebut baru tersedia di situs versi desktop saja, dan baru merambah para pengguna di Amerika Serikat saja. Di saat yang sama, situs twitter.com juga diubah tampilannya agar tampak lebih menarik dan mudah dinavigasikan.
Namun sekarang Twitter sudah siap membawa fitur ini ke hadapan pengguna smartphone di 23 negara, termasuk Indonesia. Perubahan tampilan situs twitter.com di desktop pun juga akan segera tersedia bagi pengguna di 23 negara tadi, sehingga mereka bisa mengikuti berbagai topik yang relevan berdasarkan lokasinya masing-masing.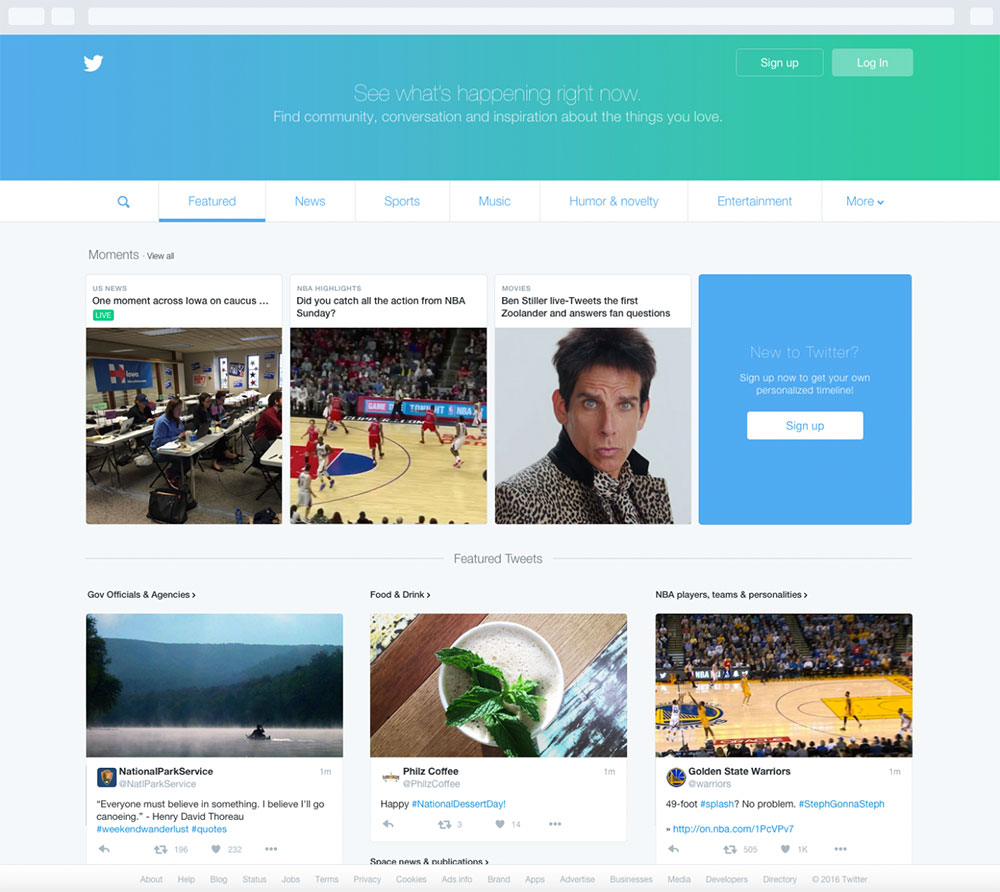 Sejauh yang saya coba, baik perubahan tampilan situs twitter.com di desktop dan kehadiran timeline di situs mobile-nya masih belum ada sampai artikel ini ditulis. Kemungkinan Twitter akan meluncurkannya secara bertahap, bukan serentak untuk 23 negara itu sekaligus.
Sumber: Twitter Blog. Gambar header: Twitter via Shutterstock.