Allo for Web Kini Bisa Dipakai di Firefox dan Opera
Selain itu, perangkat iOS juga sudah bisa memanfaatkan perluasan dukungan ini
Bambang Winarso - 4 October 2017
Setelah ditunggu hampir satu tahun lamanya, Google akhirnya merilis aplikasi berbasis web untuk Allo dalam wujud Allo for Web. Dalam debutnya itu, Allo for web hanya mendukung browser Google Chrome, tapi hari ini, layanan chat tersebut sudah bisa digunakan oleh pengguna Mozilla Firefox dan Opera.
Pengumuman dukungan baru ini secara langsung dirilis oleh Amit Fulay, Head of Product di Google Allo dan Duo melalui akun Twitter-nya. Tetapi, dikarenakan pembaruan ini baru saja digulirkan, jadi kemungkinan belum semua akun bisa langsung mencicipinya. Tapi bagi yang penasaran, Allo untuk Firefox dan Opera mempunyai cara kerja yang sama dengan apa yang dijumpai di Google chrome.
Allo for web now supports iOS, Firefox & Opera. Rolling out today, update to the latest build and give it a try https://t.co/OPn6Q5hdkg

— Amit Fulay (@amitfulay) 3 Oktober 2017
Kemudian sebagai tambahan, selain memperluas dukungan untuk browser, Google juga memberikan dukungan untuk perangkat berbasis iOS untuk memanfaatkan fitur yang makin luas ini. Proses penyambungan kedua platform semestinya tak jauh berbeda dengan perangkat Android.
Pengguna cukup membuka aplikasi Allo, kemudian memilih menu Allo for web, kemudian memindai kode QR yang ditampilkan oleh browser, dan selesai. Selanjutnya, pengguna bisa mengobrol menggunakan layar komputer yang jauh lebih lega.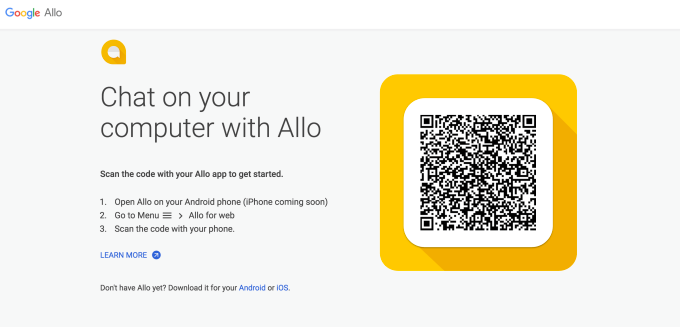 Peluncuran Allo for web merupakan salah satu upaya Google untuk mendorong traksi aplikasi di antara himpitan para rival. Sempat jadi tren di awal kemunculannya, Allo belakangan seperti kehilangan daya tarik. Ditengarai, fleksibilitas jadi salah satu penyebabnya. Sehingga hadirlah dukungan platform yang lebih luas. WhatsApp dan Line sudah lebih dulu menawarkan dukungan untuk browser, kendati kita tidak benar-benar tahu efeknya terhadap peningkatan jumlah pengguna.
Sumber berita AndroidPolice dan gambar header Allo.
Are you sure to continue this transaction?
processing your transaction....