Gadget
AMD Ryzen Seri 5000 Resmi Hadir di Indonesia, Radeon RX 6000 Menyusul
Saat ini keempat prosesor AMD terbaru tersebut sudah ada di Indonesia
AMD akhirnya secara resmi meluncurkan prosesor terbarunya di Indonesia. Acara peluncuran ini diadakan secara virtual pada tanggal 19 dan 20 November 2020 melalui kanal Youtube. Pada acara kali ini, AMD juga menggelar pameran secara virtual di mana pengunjung bisa mengakses begitu banyak peripheral yang mendukung Ryzen terbaru ini.
AMD sendiri sudah meluncurkan prosesor dengan arsitektur Zen 3 ini secara global pada bulan Oktober lalu. Zen 3 sendiri memiliki peningkatan performa instruksi per clock yang lebih baik sekitar 19% dibandingkan dengan generasi sebelumnya. Untuk informasi lebih lanjut mengenai peluncuran Zen 3 secara global, Anda bisa mengklik pada tautan yang satu ini.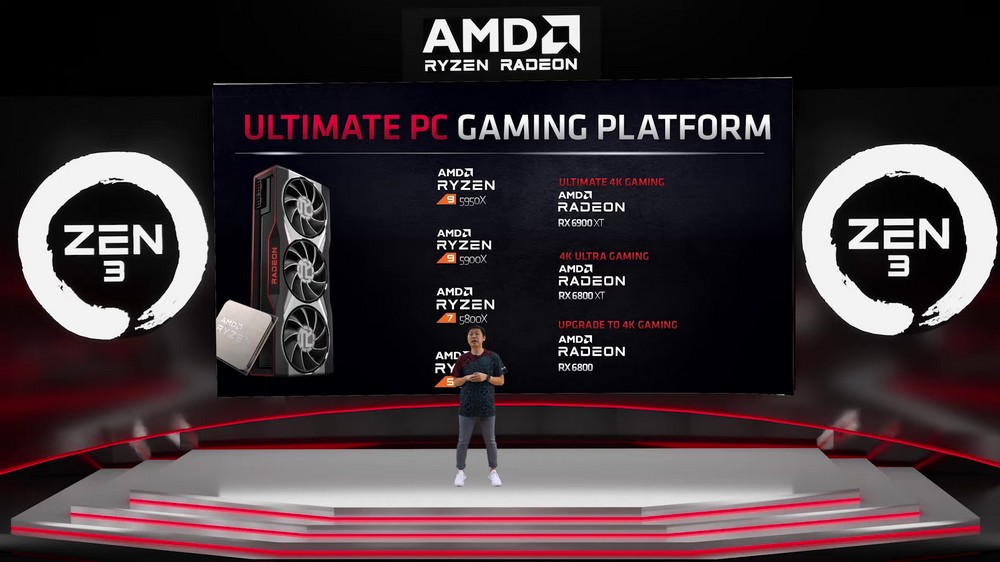 Ryan Sim, Director AMD Sales & Marketing, ASEAN, menjelaskan bahwa peluncuran Prosesor Desktop AMD Ryzen 5000 Series adalah bagian komitmen AMD untuk menghadirkan prosesor PC terbaik dikelasnya dengan performa terdepan. Terobosan arsitektur "Zen 3" pada prosesor desktop AMD Ryzen 5000 Series dengan keunggulan efisiensi daya dan kartu grafis AMD Radeon RX 6000 Series yang dibangun di atas arsitektur AMD RDNA 2 memberikan peningkatan performa-per-watt hingga 54 persen lebih tinggi dibandingkan generasi sebelumnya. AMD berharap produk baru ini dapat memenuhi kebutuhan para pengguna dan komunitas.
Prosesor yang diluncurkan oleh AMD di Indonesia memiliki spesifikasi sebagai berikut
| | | | | |
| --- | --- | --- | --- | --- |
| MODEL | CORES/THREADS | TDP(Watts) | BOOST/BASE FREQ. (GHz) | TOTAL CACHE |
| AMD Ryzen 9 5950X | 16C/32T | 105W | Up to 4.9 / 3.4 | 72MB |
| AMD Ryzen 9 5900X | 12C/24T | 105W | Up to 4.8 / 3.7 | 70MB |
| AMD Ryzen 7 5800X | 8C/16T | 105W | Up to 4.7 / 3.8 | 36MB |
| AMD Ryzen 5 5600X | 6C/12T | 65W | Up to 4.6 / 3.7 | 35MB |
Semua prosesor tersebut saat ini sudah tersedia di Indonesia. Pengguna pun bisa langsung membelinya pada toko-toko komputer baik secara online maupun offline mulai dari tanggal 5 November 2020 yang lalu. Namun dilihat dari pengamatan saya, sepertinya ketersediaan prosesor ini cukup minim sehingga mungkin akan masih sulit ditemukan.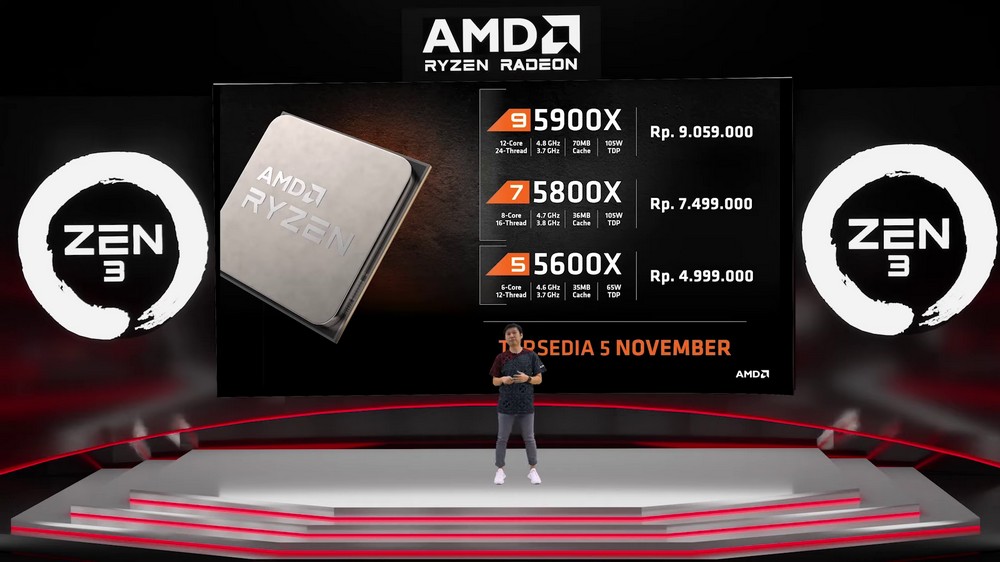 Untuk harganya, AMD Ryzen 8 5600X dijual dengan harga Rp. 4.999.000. Ryzen 7 5800X sendiri dijual pada harga Rp. 7.499.000. Untuk seri di atasnya, Ryzen 9 5900X dijual dengan harga Rp. 9.059.000. Terakhir, untuk Ryzen 9 5950X dijual dengan harga Rp. 13.189.000.
Selain memperkenalkan prosesor Ryzen, AMD Indonesia juga mengumumkan bahwa Radeon seri 600 juga bakal tersedia di Indonesia. Sayangnya, sampai saat ini kartu grafis yang digadang bisa menyaingi NVIDIA GeForce seri 3000 tersebut belum tersedia di Indonesia. AMD juga memberikan perkiraan harga dari tiga kartu grafis yang bakal keluar tersebut.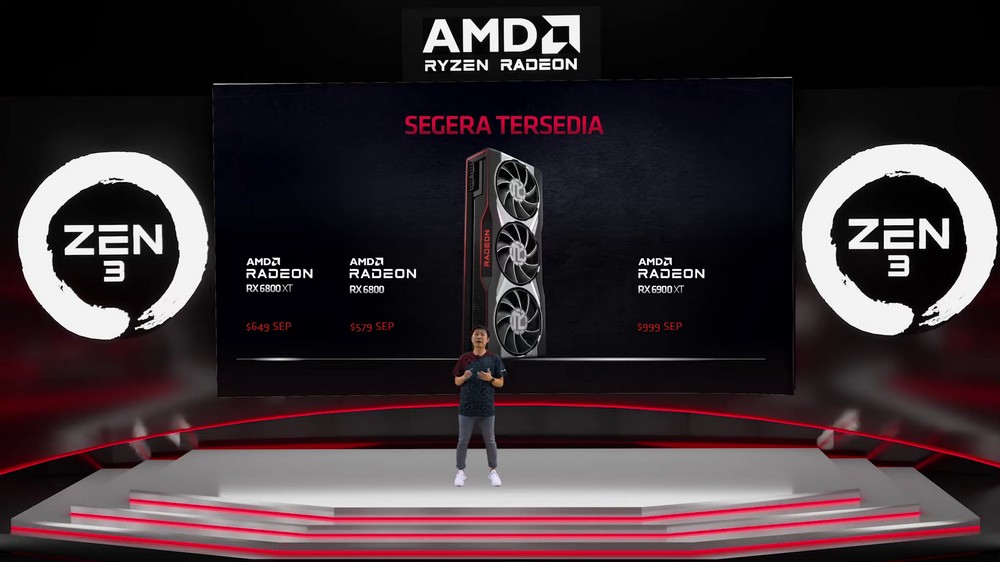 AMD memberikan perkiraan harga tersebut masih dalam mata uang dolar. Untuk Radeon RX 6800 nantinya akan dijual dengan harga $579. Sedangkan Radeon RX 6800XT akan dijual pada harga $649. Terakhir, Radeon RX 6900XT akan dijual pada harga $999. Kita tunggu saja kehadiran ketiga kartu grafis ini di Indonesia.
Are you sure to continue this transaction?
processing your transaction....