Analis: Xbox dan Cyberpunk 2077 Ialah 'Pemenang' E3 2019
Hampir semua gamer setuju bahwa Keanu Reeves memang 'breathtaking'...
Bahkan hingga tahun ini, kegemerlapan E3 tidak bisa seluruhnya bebas dari momen-momen canggung: insiden Dr Disrespect, CEO AMD Lisa Su yang tak mau menerima hadiah action figure dirinya, hingga kekecewaan fans karena Shenmue 3 cuma dapat diakses dari Epic Games Store. Namun mungkin hampir semua dari kita setuju, kehadiran Keanu Reeves merupakan bagian terbaik di ajang gaming terbesar di dunia ini.
Ternyata partisipasi sang aktor utama film John Wick dan The Matrix itu memberikan dampak besar bukan hanya bagi Cyberpunk 2077, tapi juga Microsoft yang mewadahi pertunjukan tersebut. ICO Partners melaporkan bahwa berkat kombinasi Keanu Reeves dan Cyberpunk 2077, Xbox menjadi brand yang paling banyak diliput media selama Electronic Entertainment Expo 2019 dilangsungkan - tepatnya dalam periode delapan hari dari tanggal 9 sampai 16 Juni 2019.
Data tersebut diperoleh ICO Partners dari sistem pengamatan khusus yang mereka punyai. Kalkulasi dimulai di hari Minggu waktu setempat, dan tidak meliputi konferensi pers Google Stadia dan Electronic Arts karena event pre-E3 2019 itu dilakukan lebih dini, di tanggal 6 dan 7 Juni. Microsoft memang mendapatkan perhatian istimewa karena khalayak mengantisipasi update soal console 'Project Scarlet' dan layanan game streaming xCloud. Kemudian kita juga tahu, Sony absen dari E3 tahun ini.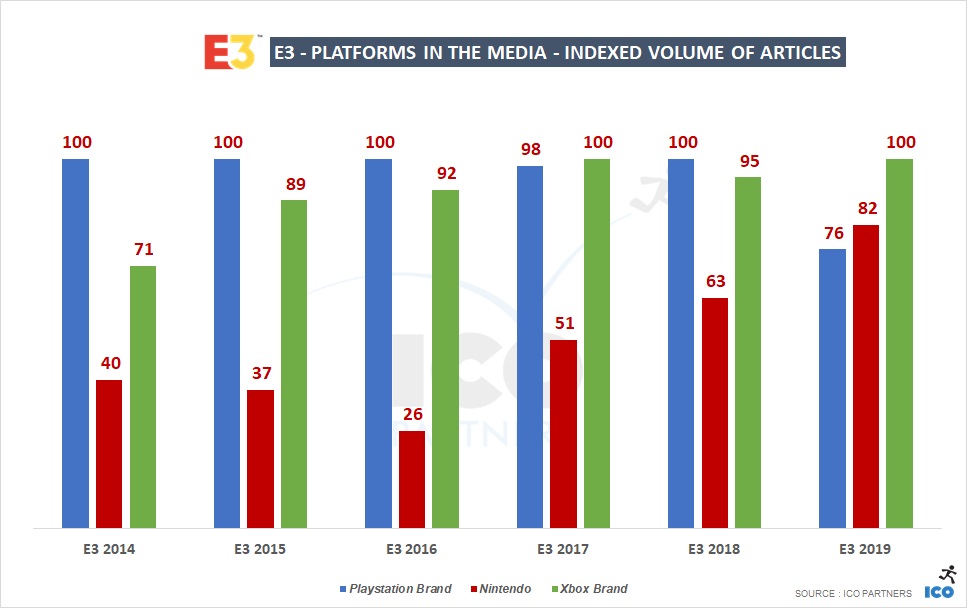 Berdasarkan perhitungan ICO Partners, Xbox menempati urutan pertama indeks volume peliputan yang dilakukan media-media global, disusul Nintendo dan PlayStation. Dengan menyederhanakan indeks di angka maksimal 100 yang diperoleh Xbox, dua kompetitornya itu masing-masing memperoleh 82 persen dan 76 persen.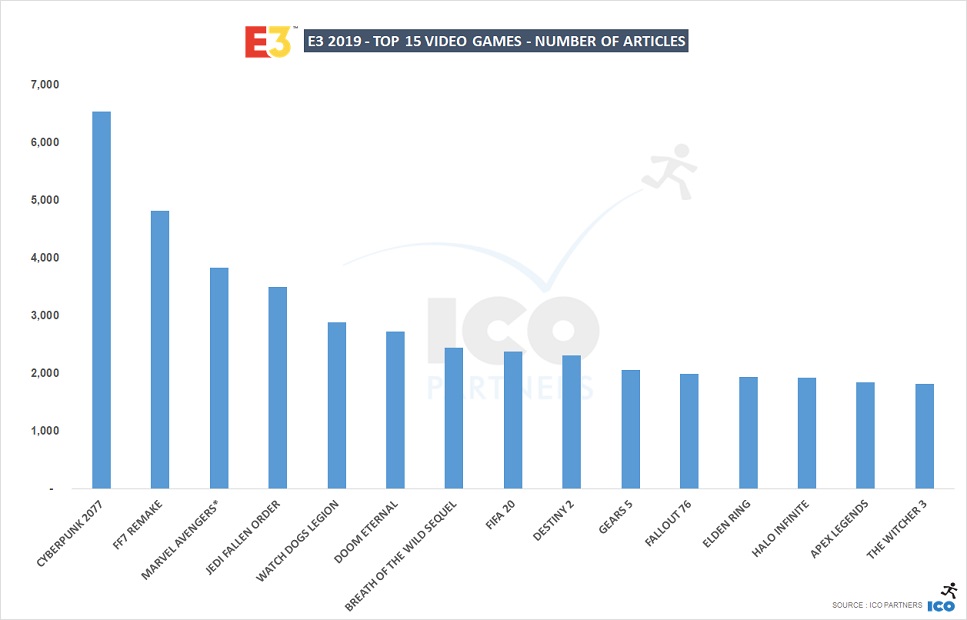 Setidaknya ada tiga hal yang perlu digarisbawahi: Pertama, walaupun Sony tidak melangsungkan konferensi pers, volume peliputan PlayStation masih 76 persen dari Xbox. Kedua, dalam periode enam tahun, 2019 merupakan tahun kedua Xbox berhasil menarik perhatian media lebih banyak dari PlayStation (setelah tahun 2017). Dan ketiga, ini ialah momen pertama bagi Nintendo menyusul Sony dalam hal jumlah coverage.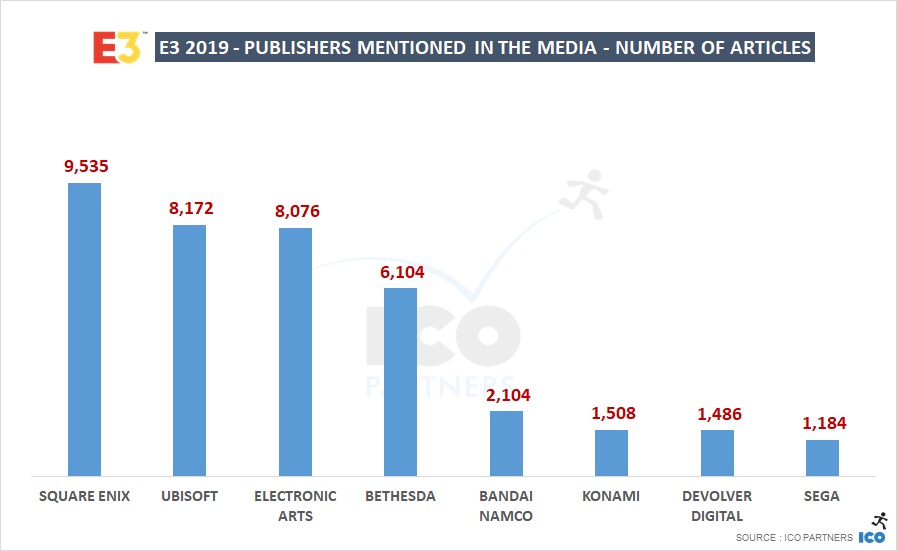 Ditakar dari judul permainan, Cyberpunk 2077 menempati posisi pertama dalam daftar top 15 video games di E3 2019 berdasarkan jumlah artikel. Dari data ICO Partners, game RPG anyar kreasi CD Projekt Red itu diangkat dalam sekitar 6.500 tulisan, kemudian disusul oleh Final Fantasy VII Remake (4.800-an artikel), Marvel's Avengers (3.800-an artikel), Star Wars Jedi: Fallen Order (3.500-an artikel), dan Watch Dogs Legion (2.800-an artikel).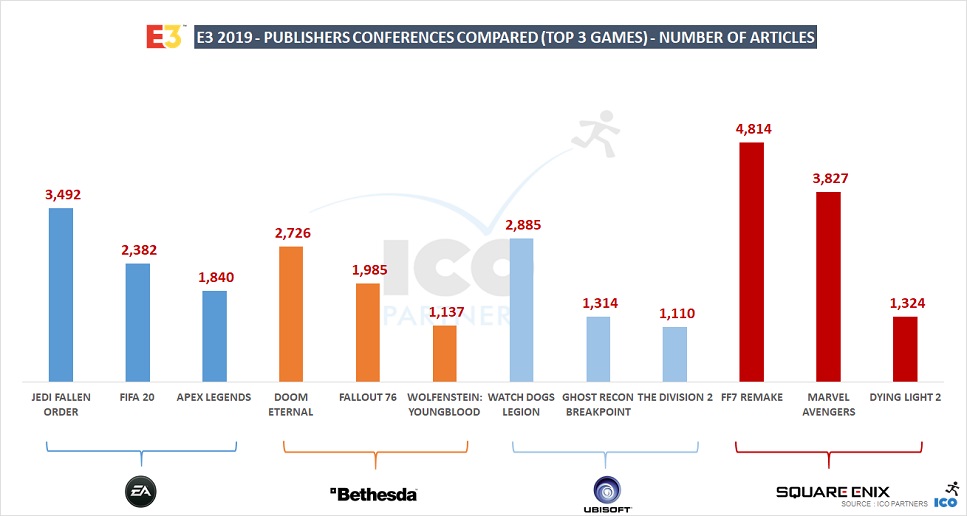 Dari daftar ini, Square Enix ialah publisher dengan permainan-permainan yang paling banyak dibicarakan di E3 2019, dibuntuti oleh Ubisoft, Electronic Arts dan Bethesda. Segala hal yang sudah DailySocial/Hybrid rangkum terkait Electronic Entertainment Expo 2019 bisa Anda simak di tautan ini.
Via GamesIndustry.
Are you sure to continue this transaction?
processing your transaction....