Andalin Secures New Funding, Local Logistics are Getting the Highlight
The funding round is led by BEENEXT with the involvement of Access Ventures and ATM Capital
Randi Eka - 30 October 2020
The smart logistic platform developer Andalin posted new funding led by BEENEXT. Access Ventures and ATM Capital took part in this round. There was no further details regarding the nominal, but Andalin is said to have raised $1.5 million, equivalent to 22 billion Rupiah.
The additional capital will be focused on expanding the team and strengthening services, the target is to acquire more clients from manufacturing companies and distributors. The service expansion throughout Indonesia will be their next target.
Was founded in 2016 by Rifki Pratomo, Andalin helps many businesses to perform export-import shipments. Including having a B2B model to help shipping companies in Indonesia find affordable cargo transportation - using aircraft (Air Cargo & Air Courier) or ships (Full Container Load & Low Container Load).
In addition, Andalin also has a supply chain service. This includes consulting services, customs management for import-export, and cargo insurance. They have also become Alibaba's official partner in Indonesia, bridging the needs of local entrepreneurs to embrace the international market through the Alibaba platform.
"Our mission is to simplify and optimize international trade for businesses in Indonesia, starting with cross-border logistics," Rifki said.
He also believes that Indonesia is experiencing a manufacturing boom, as happened in China three decades ago. This trend was accelerated by the US-China trade war which resulted in companies relocating manufacturing from China to countries in Southeast Asia, including Indonesia.
"By building a delivery company with modern technology, Andalin has the ability to dynamically simplify international supply chain solutions for our clients," he added.
In Indonesia, the logistics business is quite developed, driven by many factors. Apart from manufacturing developments, the e-commerce business growth trend is also predicted to be a supporting factor. Moreover, there are many services from home and abroad that reach the international market. In the export-import segment, Andalin is not alone, there are several other players in the area include Expedito, Tera Logitic, and Janio.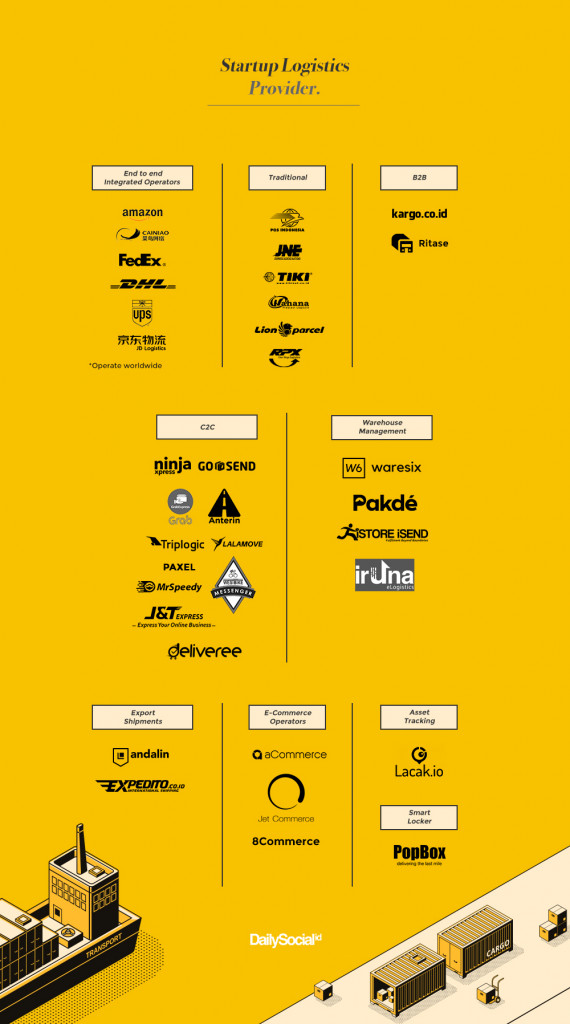 Logistics startup funding
The pandemic has become a momentum for logistics startups to maximize business. Evidently, this year there have been several startups in related fields that have received funding. The most significant was obtained by Waresix through the series B round if in total the company had raised $ 100 million worth of funding or the equivalent of 1.5 trillion Rupiah.
| | | | |
| --- | --- | --- | --- |
| Startup | Stage | Nominal | Investor |
| Andalin | Seed | - | BEENEXT, Access Ventures, ATM Capital |
| Waresix | Series B | - | EV Growth, Jungle Venture, SoftBank Ventures Asia, EMTEK Group, Pavilion Capital, Redbadge Pacific |
| Webtrace | Seed | - | Corin Capital, Prasetia Dwidharma, Astra Ventures |
| Shipper | Series A | $20 million | Prosus Ventures, Lightspeed, Floodgate, Y Combinator, Insignia Ventures, AC Ventures |
| GudangAda | Series A | $25,4 million | Sequoia India, Alpha JWC Ventures, Wavemaker Partners |
| Kargo Technologies | Series A | $31 million | Tenaya Capital, Sequoia India, Intudo Ventures, Amatil X, Agaeti Convergence Ventures, Alter Global, Mirae Asset Venture Investment |
| Waresix | Series A | $25,5 million | EV Growth, Jungle Ventures |
Compared to last year, the trend is increasing, both in terms of quantity and nominal volume. From DailySocial's records, there were 6 startups in the logistics sector that received funding from investors throughout 2019, as follows:
| | | | |
| --- | --- | --- | --- |
| Startup | Stage | Nominal | Investor |
| Kargo Technologies | Seed | $7,6 million | Sequoia India, 10100 Fund, Agaeti Ventures, Northstar Group, Intudo Ventures, Zhenfund, ATM Capital, Innoven Capital |
| Triplogic | Seed | - | East Ventures |
| Ritase | Series A | $8,5 million | Golden Gate Ventures, Jafco Asia, ZWC Partners, Insignia Ventures, Beenext, Skystar Capital, Mitsubishi Corporation |
| Waresix | Series A | $14,5 million | EV Growth, Sinarmas Digital Ventures, Jungle Ventures |
| Shipper | Seed | $5 million | Lightspeed Ventures, Floodgate Ventures, Insignia Ventures Partners, Convergence Ventures, Y Combinator |
| Finfleet | Seri A | $3,5 juta | Kejora Ventures, XL Axiata, Gobi Ventures, Skystar Ventures, Asian Trust Capital |
–Original article is in Indonesian, translated by Kristin Siagian