Fase Beta Android Q Dikabarkan Sudah Dimulai, Lebih Banyak Pabrikan yang Terlibat
Nama-nama seperti OnePlus, Essential, Nokia, Xiaomi dan Vivo disebutkan bakal terlibat dalam fase beta ini
Bambang Winarso - 12 March 2019
Setiap tahun Google secara rutin meluncurkan generasi baru untuk sistem operasi mobile miliknya, Android. Tahun lalu, Android 9.0 Pie resmi meluncur dan di saat sebagian besar pengguna perangkat Android masih menanti kedatangannya di perangkat masing-masing, kini muncul kabar bahwa fase beta Android Q – penerus Pie akan dimulai segera.
Dilansir oleh PhoneArena, bahwa Google telah membuka pelacak bug Android Q Beta yang diyakini akan meluncur pada tanggal 11 Maret yang jatuh pada hari ini. Namun dari pantauan terakhir Dailysocial di situs resmi Google, komponen Android Q yang dimaksudkan belum diketemukan.
Sementara TheAndroidSoul mendapati sebaliknya. Filter pelacak bug menyebutkan bahwa hanya laporan yang dibuat setelah tanggal 11 Maret yang akan dipertimbangkan. Ini yang menjadi dasar mengapa banyak media menyebutkan bahwa fase beta Android Q akan dimulai pada tanggal 11 Maret.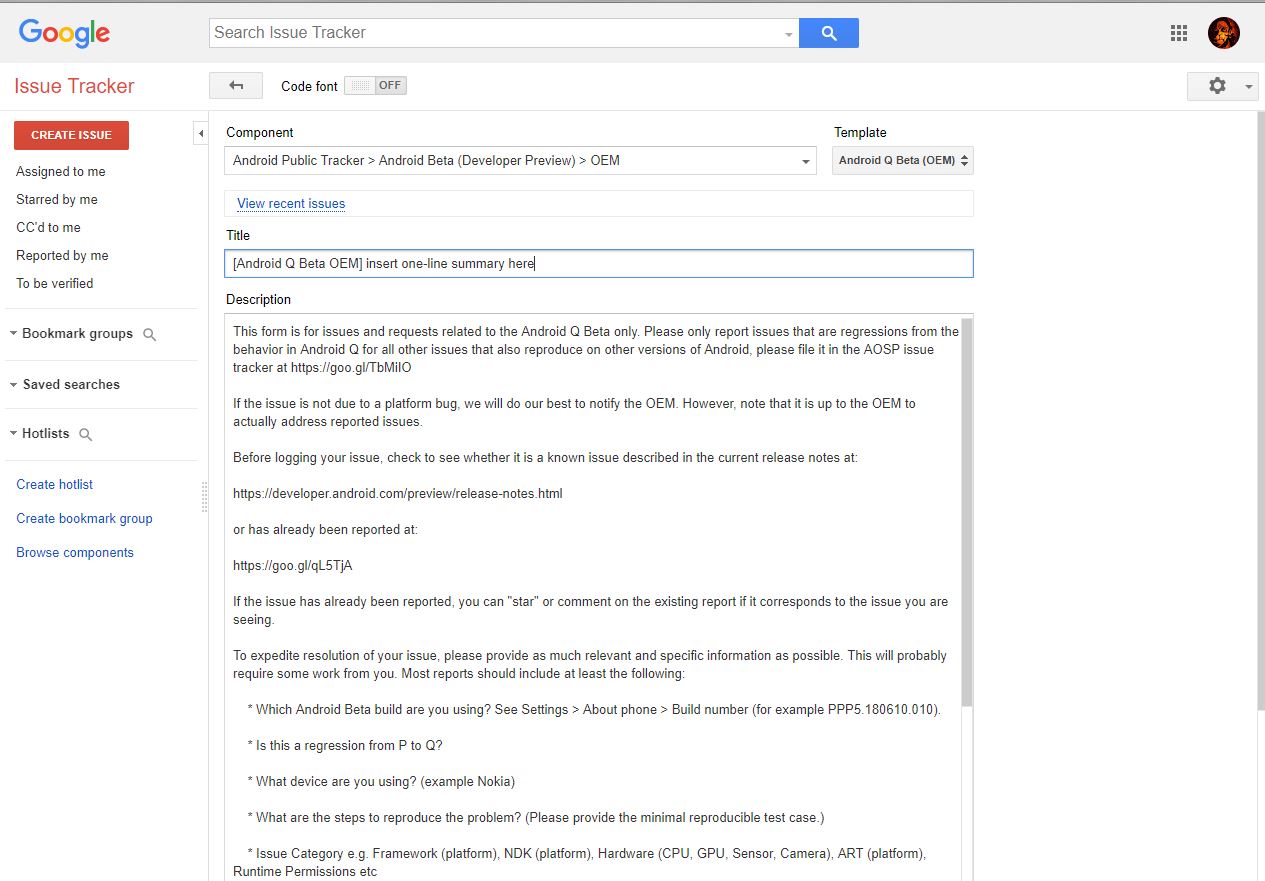 Google sendiri tidak menyebutkan pabrikan apa saja yang akan ambil bagian dalam fase beta ini. Namun Xda-developer berpatokan pada komentar salah satu pengembang Android, Illiyan Malchev dalam acara podcast Android Developers Backstage menyebut bahwa tahun ini akan berbeda dari tahun-tahun sebelumnya, di mana akan ada lebih banyak OEM yang terlibat, tidak hanya tim internal yang biasanya menggunakan perangkat Google Pixel.
Seems like Google opened up the bug tracker for submitting bugs related to the Android Q beta. The link to check for existing bugs filters by date created after March 11th.

Are you ready for Android Q? https://t.co/MQj25b6XXZpic.twitter.com/EZkNNFmCbW — Mishaal Rahman (@MishaalRahman) March 11, 2019
Masih terkait kabar keterlibatan OEM, muncul beberapa nama seperti OnePlus 6, Essential PH-1, Mi Mix 2S, Nokia 7 Plus, Vivo X21, Oppo R15 Pro dan Sony Xperia XZ2.
Android Q sendiri diperkirakan bakal mengemas beberapa fitur dan peningkatan baru dibandingkan Pie. Beberapa yang santer terdengar adalah hilangnya dukungan tombol back yang praktis akan menyisakan satu tombol home seorang diri. Kemudian hadirnya mode gelap, opsi otorisasi izin yang memberikan kendali lebih kepada pengguna, dan ada isu soal fitur serupa dengan Samsung Dex, serta opsi pengembang yang lebih luas.
Google biasanya menyingkap generasi baru sistem operasinya di kisaran bulan Agustus. Jadi, masih cukup lama sebelum benar-benar melihat seperti apa fitur dan kelebihan Android Q. Untuk saat ini, sepertinya menunggu kedatangan Android Pie adalah pilihan yang lebih masuk akal.
Sumber gambar header Pcmag.
Are you sure to continue this transaction?
processing your transaction....