Aplikasi Email Dispatch Akhirnya Tiba di iPad, Bawa Integrasi 55 Aplikasi Lain
Glenn Kaonang - 28 August 2015
Sudah bukan rahasia apabila Apple App Store dipenuhi dengan aplikasi email yang bermacam-macam, mulai dari yang mengedepankan desain tampilan sampai yang menawarkan fitur unik yang tak dimiliki aplikasi lain. Salah satunya adalah Dispatch.
Dispatch sendiri sudah hadir sejak cukup lama, tepatnya ketika versi terbaru iOS pada saat itu masih iOS 6. Akan tetapi, baru-baru ini pihak pengembangnya akhirnya merilis aplikasi Dispatch versi iPad yang sudah ditunggu-tunggu banyak pengguna setianya.
Buat yang belum tahu, Dispatch menawarkan pendekatan yang sedikit berbeda dalam mengolah email Anda. Ketimbang hanya menampilkan email dan mempersilakan Anda membalasnya satu per satu, Dispatch juga memberikan opsi untuk mengolah isi email tersebut di aplikasi lain.
Info menarik: Aplikasi iOS Pilihan 13 – 21 Agustus 2015
Total ada 55 aplikasi yang bisa 'berkomunikasi' dengan Dispatch. Jadi misalnya, saat ada email penting yang harus Anda simpan baik-baik, Anda bisa mengirimnya ke akun Evernote Anda langsung melalui Dispatch. Begitu juga ketika ada acara penting yang disebut dalam email, Anda bisa langsung membuat agendanya di aplikasi Calendar maupun Fantastical.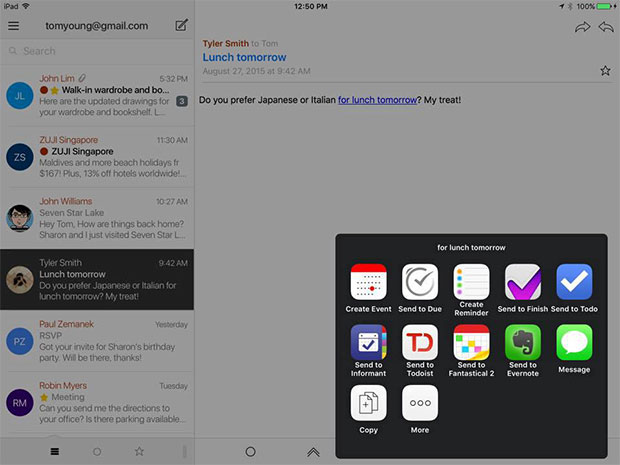 Contoh lain adalah saat ada link artikel menarik yang dikirimkan rekan Anda viaemail. Ketimbang menyalin link tersebut secara manual lalu membuka aplikasi Pocket atau Instapaper untuk menyimpannya, Anda bisa memanfaatkan tombol "Send to Pocket" atau "Send to Instapaper" pada aplikasi Dispatch. Sederhananya, Dispatch ingin mempermudah Anda mengambil tindakan lebih lanjut atas email-email yang Anda terima.
Satu-satunya kelemahan Dispatch dibanding aplikasi email lain adalah tidak adanya fitur push notification. Namun kalau Anda merasa fitur ini tidak begitu penting, Dispatch bisa Anda dapatkan di App Store seharga Rp 79 ribu.
Sumber: TechCrunch.
Are you sure to continue this transaction?
processing your transaction....