Aplikasi Inklet Dapat Mengubah Trackpad MacBook Menjadi Papan Gambar Digital
Awal bulan Maret kemarin, Apple mengungkap MacBook generasi terbaru. Selain desain anyar dan layar Retina 12 inci, Apple juga menyematkan teknologi baru ke dalam trackpad-nya.
Trackpad MacBook kini berfungsi seperti layar Force Touch milik Apple Watch, dimana ia bisa mengenali seberapa berat tekanan dari sentuhan jari Anda. Di saat yang sama, pihak developer aplikasi juga bisa memanfaatkan teknologi Force Touch ini untuk membuahkan fitur baru pada aplikasi buatannya.
Inklet adalah salah satu aplikasi pihak ketiga yang pertama mendukung trackpad Force Touch tersebut. Aplikasi ini sejatinya sudah hadir sejak lima tahun yang lalu, mengubah trackpad MacBook menjadi sebuah papan gambar digital seperti produk-produk yang dipasarkan oleh Wacom.
Info menarik: Aplikasi Astropad Dapat Menyulap iPad Menjadi Papan Gambar Digital untuk Mac
Aplikasi ini berjalan di background dan kompatibel dengan berbagai program seperti Adobe Photoshop, Pixelmator, SketchBook Pro dan lain sebagainya, asalkan program tersebut mendukung fungsi pen input. Pada layar akan tampak area yang di-highlight, yang menandakan di situlah ruang yang Anda miliki untuk menggambar.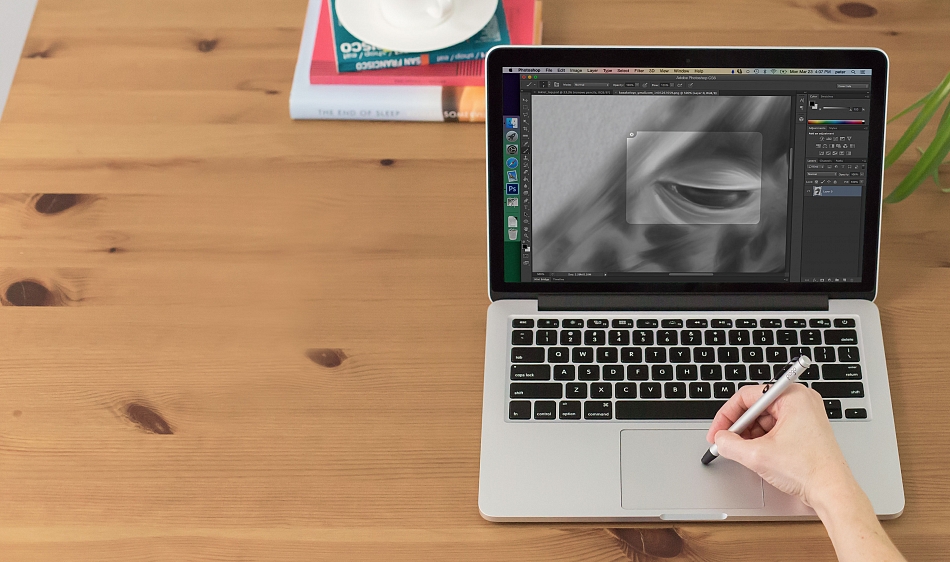 'Ruang menggambar' tersebut bisa Anda pindahkan ke posisi lain sekaligus dibesar-kecilkan ukurannya – berguna saat Anda ingin menambahkan detail-detail kecil pada sketsa Anda.
Seperti yang sudah disebutkan, versi baru Inklet kini telah mendukung teknologi Force Touch milik MacBook generasi baru. Dengan demikian, ketebalan goresan-goresan stylus atau jari Anda akan disesuaikan dengan seberapa keras trackpad menerima tekanan.
Info menarik: Forge Adalah Aplikasi Menggambar untuk iPad dari Pabrikan Stylus Adonit
Teknologi pressure sensitivity semacam ini memang sudah cukup umum diterapkan, akan tetapi berkat trackpad Force Touch, tampaknya kontrol sensitivitas milik aplikasi Inklet bisa lebih presisi daripada sebelumnya.
Lebih lanjut, Inklet juga dibekali algoritma canggih yang bisa mengenali sentuhan-sentuhan dari bagian telapak tangan yang tidak disengaja, atau yang lebih kita kenal dengan nama palm rejection. Sederhananya, gerakan tangan Anda saat menggambar di atas trackpad bisa terasa lebih alami.
Inklet untuk Mac saat ini sudah bisa dibeli seharga $25, atau paket $35 yang mencakup stylusPogo rancangan pengembang Inklet. Aplikasi ini bisa membantu menghemat puluhan hingga ratusan dolar ketimbang membeli papan gambar digital terpisah. Meksi tentu, luas trackpad yang ada sebagai medium menggambar lebih sempit dibanding papan gambar digital.
Sumber: Ten One Design Blog via The Verge.
Are you sure to continue this transaction?
processing your transaction....