Aplikasi Miliaran Resep Makanan Yummly Kini Hadir di Android
Michael Erlangga - 12 November 2014
Untuk menyajikan masakan enak nan nikmat memang butuh keahlian khusus, namun untuk sekedar menghidangkan masakan yang sedap nampaknya setiap orang hanya butuh resep dan proses memasak yang tepat.
Kebiasaan lama berlangganan tabloid kuliner atau menyimak acara memasak perlahan ditinggalkan berkat kehadiran internet yang kian hari semakin mudah aksesnya.
Sayangnya, kita sering berakhir pada sebuah blog pribadi maupun blog khusus yang membahas perihal resep dan cara memasak tanpa penjeleasan yang lebih komprehensif, tak terstruktur rapi, dengan tampilan seadanya.
Nyatanya ada aplikasi berbasis mobile yang mengizinkan penggunanya untuk menyortir masakan dengan spesifik, dan mampu mengkurasi ratusan resep favorit mereka nantinya, yaitu Yummly.
Sudah jelas rumitnya mengakses panduan dari internet dengan membawa PC/Laptop ke dapur, itulah sebabnya dengan aplikasi mobile kita dapat menyerap informasi langsung dari genggaman. Yummly kini hadir di platformAndroid sehingga sahabat Trenogoers dapat mengakses setiap resep dari belahan dunia manapun dalam genggaman.
Bayangkan miliaran resep unik berdasarkan musim (Natal, Lebaran, dan lainnya), cuisine (Asian, Italian, Mexican, dan lainnya), rasa (manis, pedas, asam, dan lainnya), dipadukan dengan durasi waktu memasak, serta teknik yang beragam.
Setiap resep diperkaya akan informasi kandungan nutrisi dengan detail, dan juga menampilkan parameter rasa yang akan dicecap oleh lidah penikmatnya.
Dengan jutaan kemungkinan resep yang dapat direkomendasikan untuk pengguna, Yummly memiliki filter pencarian yang sangat membantu Anda mempersingkat waktu mencari resep yang sangat relevan dengan kebutuhan. Tak hanya itu, Anda juga bisa mengkustom kriteria bahan-bahan masakan jika memiliki alergi tertentu.
Foto-foto indah terkait menu yang akan dimasak dipercaya akan memberikan inspirasi sekaligus motivasi untuk mereka yang ingin memasak sendiri ketimbang harus membawa pulang makanan dari restoran.
Dari segi elemen sosialnya, setiap pilihan resep dibubuhi tombol untuk dibagikan ke berbagai media sosial seperti Facebook, Twitter, Google+, dan Pinterest. Kumpulkan, simpan, dan atur resep di kotak resep digital pada aplikasi Yummly. Skema ini akan mempersingkat waktu Anda untuk menyimpan resep favorit untuk diakses kemudian hari.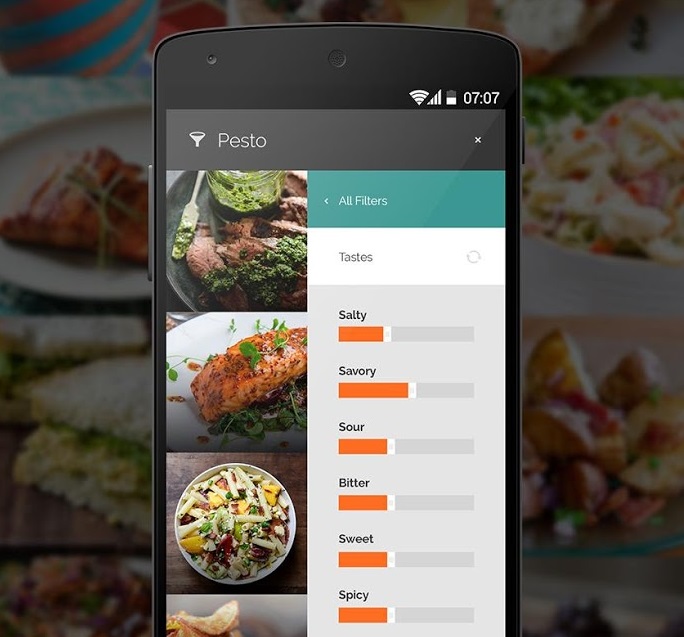 Sekedar informasi tambahan, menarik untuk menyimak bagaimana latar belakang founder sekaligus CEO Yummly Dave Feller mendapatkan ide untuk mengembangkan Yummly.
Ia (Dave Feller) kesulitan mencari resep favoritnya yang disajikan tanpa menggunakan saus mustard. Akhirnya Dave membangun Yummly untuk memudahkan orang lain yang mendapatkan resep menu yang sesuai keinginan.
Yummly sendiri telah hadir sebagai aplikasi berbasis web, dan meluncurkan layanannya di platform iOS. Kini melihat geliat pengguna perangkat mobile berbasis Android, Yummly memutuskan untuk mengadopsi sistem operasi tersebut. Untuk mengunduh, silakan kunjugi tautan berikut.
[Foto: Yummly]
---
This Android Channel is sponsored by Baidu. Baidu Browser provides a new mobile browsing experience! Quick, convenient and with more content and resources, Baidu Browser satisfies all your browsing needs. Fast: Exclusive kernel increases browsing speed by 30%; Compact: Lightweight, uses little memory, runs smoothly; Huge resources: Quickly access the content, news and images you're interested in; Free: 100% free to download and use. Download Baidu Browser: link.
Are you sure to continue this transaction?
processing your transaction....