Aktivitas olahraga biasanya lebih seru bila dilakukan bila ada kawan atau lawan main, apalagi olahraga seperti futsal atau basket yang memang memerlukan tim. Namun di tengah hingar bingarnya kehidupan perkotaan dengan kesibukan perorangan yang berbeda-beda, kini niat untuk berolahraga bersama kawan pun menjadi kesulitan sendiri. Hambatan ini yang coba dipecahkan oleh Plura, aplikasi yang dapat memfasilitasi perorangaan untuk mencati teman berolahraga.
"Plura sebagai sports dan social platform bertujuan untuk mempertemukan individu yang ingin melakukan olahraga tim namun mengalami kesulitan mencari partner bermain. Hal ini juga merupakan masalah yang dialami oleh kami par founder, dan dari sanalah ide Plura ini muncul," ujar salah satu co-founder Plura Narawastu Indrapradna (Nara) kepada DailySocial.
Nara menambahkan, "Kami harapkan dengan adanya Plura, individu bisa bertemu dan berkumpul melakukan olahraga atau hobi yang mereka minati. […] Plura juga bisa membantu pengguna untuk bermain dengan pengguna lainnya yang memiliki background yang serupa dengan mereka, seperti pekerjaan atau hobi. Dengan demikian, pengguna bisa berolahraga dan memperluas networking mereka di saat yang bersamaan."
Pun demikian, aplikasi Plura sekarang ini masih belum resmi dirilis untuk publik. Aplikasi Plura masih dalam tahap private beta test untuk kalangan terbatas saja. Rencananya, aplikasi Plura akan dapat tersedia untuk platform Android, kemudian menyusul di platform iOS.
Plura lahir dari tangan Wahyu Figura, Narawastu Indrapradna, dan Andiko Prima. Inspirasinya datang dari aplikasi asal Inggris GOMammoth dengan aplikasi asal India Playo sebagai validasi nyata bahwa ide ini bisa berjalan.
Menurut Nara, Playo hanya diluncurkan untuk satu kota, Bangalore, namun setelah dua bulan meluncur Playo cukup sukses untuk memfasilitasi 150 pertandingan, 11 ribu pengguna terdaftar, dan 950 tim terdaftar. Hal inilah yang memotivasi para pendiri untuk mendirikan Plura.
Di Indonesia sendiri, layanan sejenis Plura sebenarnya bukan hal yang baru, terutama untuk olahraga basket dan futsal yang popularitasnya memang naik dalam beberapa tahun belakangan. Sebelumnya, ada Maen yang didirikan Pandji Pragiwaksono bekerja sama dengan PaperPlane, CariLawan dan juga Kickdefy.
Yang membuat Plura menjadi sedikit berbeda adalah rentang jenis olahraga yang difasilitasi. Plura berencana untuk dapat memfasilitasi perorangan yang tertarik untuk melakukan olahraga futsal, basket, golf, dan juga badminton. Namun di tahap awal ini, privatebeta test, baru olahraga futsal yang difasilitasi.
"Kami percaya bahwa kombinasi sports and social platform bisa menjadi hal baru yang dapat merangkul banyak individu dan juga awal dari terbentuknya berbagai komunitas berdasarkan sports and interests," kata Nara.
Ulasan singkat aplikasi Plura versi beta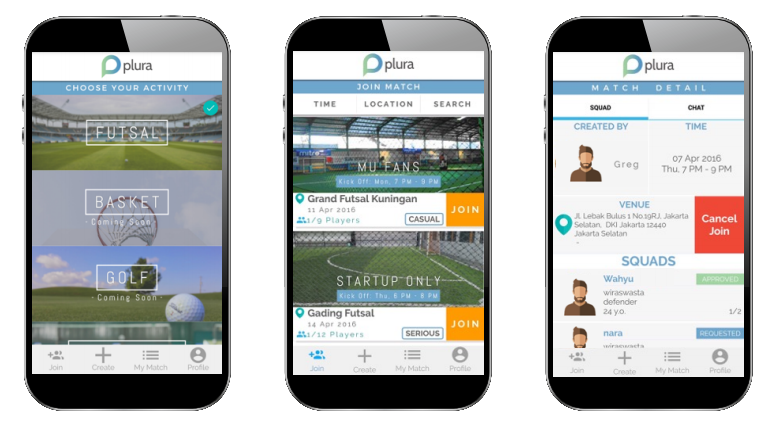 Ketika mencoba aplikasi Plura versi beta untuk Android, kesan pertama yang saya dapat adalah antarmuka yang sederhana dan mudah untuk dipahami. Pengguna dapat dengan mudah mencari waktu dan lokasi yang sesuai, juga pencarian berdasarkan nama permainan futsal atau orang yang membuat jadwal main futsal.
Sayangnya, meski saya berkesempatan mencoba aplikasi Plura versi beta, saya tak dapat mencoba lebih jauh dari sekedar melihat jadwal main futsal yang tersedia. Ini karena ketika mendaftar melalui aplikasi, email verifikasi yang harusnya dikirim ke email  yang saya gunakan untuk mendaftar tak kunjung datang hingga tulisan ini dibuat. Semoga pihak pengembang dapat segera memperbaiki masalah ini.
Saat ini, selain mengembangkan versi aplikasi yang lebih baik, Plura juga sedang mencari pendanaan. Rencananya sebagian besar pendanaan tersebut akan digunakan untuk akuisi pengguna, di samping pengembangan produk dan pengembangan tim Plura sendiri.
"Target utama kami saat ini adalah berusaha untuk memperkenalkan app ini ke publik seluas-luasnya terutama di kota-kota besar dan berusaha untuk masuk ke komunitas-komunitas futsal dan sepakbola untuk acquiring user. Kami percaya agar aplikasi Plura dapat berjalan dengan maksimal, ada angka critical mass yang harus dicapai. Kami juga akan fokus ke pembenahan UI/UX dan features dari app Plura itu sendiri. Secara garis besar, kami akan terus berusaha agar Plura menemukan product market fit," tandas Nara.
Updated: Kami menambahkan informasi mengenai nama pendiri Plura, inspirasi dan validasi ide Plura, serta tanggapan mengenai target utama Plura setelah resmi meluncur nanti.
DailySocial.id adalah portal berita startup dan inovasi teknologi. Kamu bisa menjadi member komunitas startup dan inovasi DailySocial.id, mengunduh laporan riset dan statistik seputar teknologi secara cuma-cuma, dan mengikuti berita startup Indonesia dan gadget terbaru.