App InkyPen Mempersilakan Kita Baca Ribuan Komik di Nintendo Switch
Aplikasi rencananya akan hadir di Nintendo eShop pada bulan November nanti.
Yoga Wisesa - 27 August 2018
Karena pada dasarnya lebih menyerupai perangkat bergerak ketimbang home console tradisional, banyak orang merasa skeptis terhadap kemampuan Nintendo Switch ketika ia pertama kali diperkenalkan. Namun saat tersedia, Switch berhasil membuktikan dirinya sebagai platform game current-gen paling fleksibel, apalagi Switch sudah mulai kedatangan app stream pihak ketiga.
Kali ini, console hybrid racikan Nintendo itu akan kedatangan satu lagi aplikasi menarik. Developer Ronan Thomas Huggard, Peter Wingaard Meldahl, dan kawan-kawan menamainya InkyPen, yaitu sebuah software yang memungkinkan kita membaca cerita bergambar di Nintendo Switch. InkyPen menghidangkan konten berupa beragam pilihan komik untuk dinikmati kapan saja, rencananya akan hadir di bulan November 2018 dan disajikan secara berlangganan.
InkyPen diumumkan melalui sebuah trailer singkat. Di sana, developer menjanjikan para pemilik Switch 'sebuah cara baru untuk membaca komik'. Dengan menjadi pelanggannya, Anda memperoleh akses ke ribuan judul cerita bergambar. Aplikasi juga telah dirancang buat memudahkan pengguna melakukan navigasi konten, bisa melalui layar sentuh maupun via controller.
Berdasarkan laporan IO9, katalog InkyPen terdiri dari komik-komik hasil publikasi Andrews McMeel, Dynamite, IDW, les Humanoïdes Associés, Valiant, bermacam-macam anime dan karya-karya komikus Perancis serta Belgia. Tampaknya, InkyPen lebih difokuskan pada judul-judul independen. Saat dilepas nanti, aplikasi belum didukung oleh konten-konten Marvel maupun DC Comics. Eksistensi kreasi dua publisher itu di masa yang akan datang juga belum dikonfirmasi.
Satu hal yang perlu digarisbawahi, ada banyak komik non-DC dan Marvel yang wajib dibaca. Trailer dari InkyPen sendiri memperlihatkan judul seperti Locke & Key (Joe Hill dan Gabriel Rodriguez), The Incal (Alejandro Jodorowsky dan Moebius), hingga adaptasi semisal Transformers, Battlestar Galactica, Dark Souls serta Sonic The Hedgehog.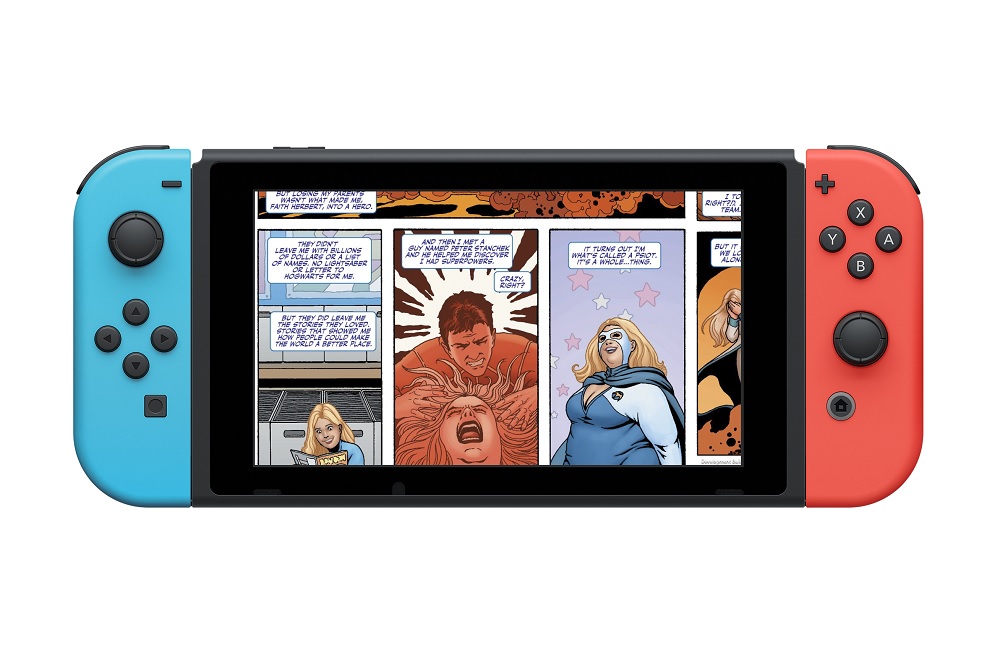 InkyPen akan tersedia di Nintendo eShop pada bulan November. Untuk menikmati seluruh komik di sana, Anda hanya perlu membayarkan uang sebesar US$ 8 per bulan.
Faktor andalan yang ditawarkan oleh InkyPen bukan cuma terletak pada jumlah konten aplikasi, namun pada penyajian Switch yang portable. Console hybrid ini siap dibawa ke mana-mana. Bayangkan, saat Anda sedang merasa bosan, lagi menunggu seseorang atau berada dalam perjalanan, lalu ingin menghibur diri tetapi tidak mood bermain game; InkyPen siap menjadi solusi.
Jika tertarik dengan premis InkyPen, Anda bisa mendaftarkan alamat email di situs resmi mereka untuk mendapatkan update langsung dari developer-nya.
Are you sure to continue this transaction?
processing your transaction....