Ark, Wireless Charger Fleksibel dan Serbaguna Pengganti Powerbank
Yoga Wisesa - 20 February 2014
Berbeda dari powerbank standar yang menggunakan kabel untuk mentransfer listrik sebagai sumber tenaga, teknologi wireless charging - atau dalam bahasa teknisnya, inductive charging - memanfaatkan medan elektromagnetik dalam mentransfer energi.
Dalam beberapa tahun terakhir, konsep wireless charger sangat menjanjikan. Sayangnya banyak orang merasa kurang yakin serta mempertanyakan apakah perangkat ini benar-benar bisa diandalkan dibandingkan powerbank biasa.
Tim Bezalel mencoba menjawab tantangan itu dengan membuat sebuah 'powerbank' minimalis, praktis, fleksibel dan serbaguna, bahkan tidak menginterupsi pengguna jika benar-benar harus menggunakan device mereka kembali. Dan akhirnya mereka mengenalkan Ark.
Info menarik: Anak 12 Tahun Ciptakan Printer Braille
Ark diklaim sebagai charger wireless ponsel generasi selanjutnya. Bukan hanya bisa digunakan kapan dan dimana saja, sang developer berjanji bahwa ia sama sekali tidak membutuhkan kabel untuk digunakan. Jika baterai perangkat mobile Anda mulai habis, Anda hanya tinggal menekan satu tombol dan meletakkannya di atas Ark.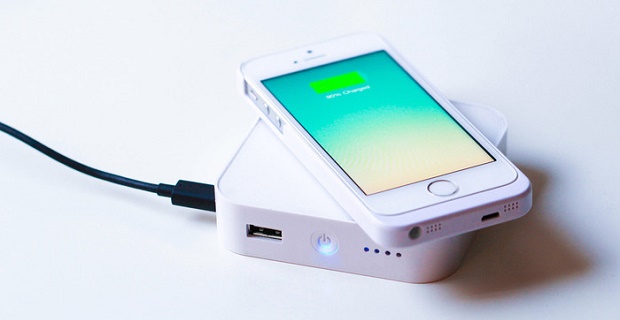 Wireless charger ini memiliki dimensi yang sangat kecil, hanya 90x90x20 milimeter dan bobot yang ringan, yaitu 170g. Ia dilengkapi baterai 5200mAH Poly-Li-ion yang mampu mengisi ulang tiga buah smartphone.
Di bagian samping terdapat empat buah LED indikator baterai dan sebuah lampu LED power, serta slot USB. Walaupun dibuat dengan material plastik putih mengkilat, tim Bezalel memastikan bahwa bahan ini merupakan bahan anti baret. Produk ini belum tersedia massal, tetapi mengalang dana lewat kampanye di Kickstarter.
Desain Ark sedikit mengingatkan saya pada penampilan PC 'terkecil' di dunia buatan Intel, NUC atau New Unit of Computing. Ia pas diletakkan di meja kantor, tapi juga sangat tangguh jika Anda bawa untuk hiking atau camping. Yang saya kagum adalah bagaimana tim developer berinsvestasi cukup banyak pada rancangan luarnya.
Dengan desain minimalistik, Ark pas disandingkan dengan device apapun - baik iDevice maupun handset Android high-end atau Lumia. Tampaknya putih dan hitam adalah warna universal yang bisa serasi dengan apapun.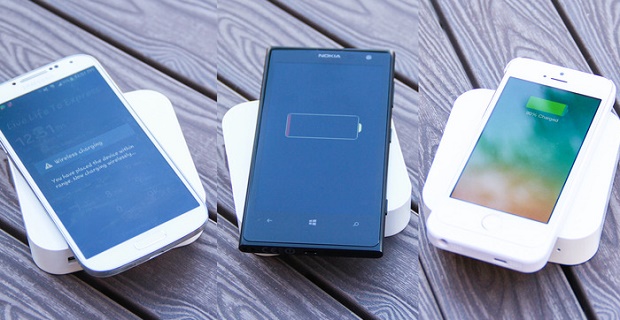 Info menarik: Galaxy Gear Terbaru dari Samsung Akan Gunakan OS Tizen?
Bagian dalamnya juga dirancang dengan penuh detail. Untuk menciptakan desain simpel, tentu saja Bezalel harus memperhatikan komponen internalnya dengan penempatan seakurat mungkin. Solusinya: setelah melakukan sketsa dan menterjemahkannya ke bidang 3D digital, mereka 'mencetak' beberapa alternatif desain dengan printer 3D.
Ark dibuat dengan teknologi khusus yang enggan dijelaskan Bezalel. Tapi dalam tes mereka, Ark mampu mengisi ulang baterai smartphone 20 persen lebih cepat dibandingkan 'matras' wireless charger lain, dan yang mengejutkan: lima persen lebih cepat dibanding powerbank dengan media kabel. Wireless charger ini juga memiliki level pelepasan panas yang lebih kecil sehingga baterai lebih bertahan lama. Ark lebih dingin dibandingkan powerbank dan wireless charger lain saat digunakan.
Sejauh ini Ark mendukung smartphone iPhone 4/4s/5/5c/5s, Nokia Lumia 920 dan 1020, Samsung Galaxy S3/S4, Samsung Note 2 and 3 hingga Google Nexus 4/5/7. Bezalel berjanji akan memperbarui daftar ini, agar kompatibel dengan beberapa unit yang belum disebutkan, Anda harus melengkapinya dengan aksesori tambahan.
Sumber artikel dan gambar laman resmi di Kickstarter.
Are you sure to continue this transaction?
processing your transaction....