[Ask the Expert] Solusi Samsung Galaxy E5 Terkunci dan Membuka Facebook yang Diblokir
Bambang Winarso - 18 June 2015
Ask the Expert minggu ini akan menjawab dua buah pertanyaan dari pembaca setia Trenologi. Pertanyaan pertama soal ponsel pintar Samsung Galaxy E5 yang terkunci dan akun Facebook yang diblokir. Langsung saja, ini ulasan selengkapnya.
Pertanyaan Pertama
Handphone saya Samsung Galaxy E5. Tempo hari saya memasang password di handphone saya. kemudian saya lupa passwordnya apa. Akhirnya handphone saya terkunci dan saya tidak bisa masuk. Bagaimana cara mengatasinya ? Bagaimana cara membuka hp saya yang terkunci tersebut ? Apakah ada software yang bisa membukanya ? terima kasih
Mila
Jawaban
Mila, untuk membuka kuncian ponsel, Anda bisa mengikuti panduan di artikel ini. Sebaiknya cobalah cara pertama dan kedua terlebih dahulu. Jika kedua cara tersebut tidak membantu, lakukan cara terakhir. Tetapi cara terakhir tersebut mempunyai resiko, yakni menyebabkan hilangnya seluruh data.
Sebagai tambaha., untuk masuk ke Recovery Mode di Samsung Galaxy E5, tekan serentak ketiga tombol ini: Power + Volume Up + Home. Kemudian ikuti langkah berikutnya di artikel tersebut.
Info Menarik: [Ask the Expert] Solusi BBM Blank, Hp Android Restart Sendiri dan HP Stream 8
Pertanyaan Kedua
Beberapa hari ini saya tidak bisa masuk ke akun Facebook karena saya terlalu banyak mengirimkan pesan ke grup, timeline dan fan page. Bagaimana solusinya?
May
Jawaban
Terima kasih, May atas pertanyaannya. Saat ini Facebook sudah menerapkan sistem yang lebih canggih dan relatif lebih ketat. Untuk kasus Anda, jangan panik dulu. Karena Facebook tidak serta merta menghapus akun Anda. Ada dua cara yang bisa Anda lakukan.
Pertama, ikuti step yang disarankan oleh Facebook. Saran yang pertama membuka blokir akun dengan mengenali akun yang menjadi teman Anda. Facebook nanti akan menampilkan tiga orang teman, dan Anda harus bisa menyebutkan nama-nama profil tersebut dengan benar.
Facebook akan memberikan beberapa kali kesempatan. Tapi jika Anda gagal, kesempatan itu akan habis dan tidak bisa lagi dipergunakan. Tapi, jangan putus asa.
Anda masih bisa melakukan saran kedua dengan mengirimkan dokumen berupa foto atau scan KTP, SIM, kartu pelajar atau nota pengiriman barang yang di dalamnya tertera nama atau alamat Anda. Opsi ini juga dapat Anda temukan di halaman yang sama ketika Anda mencoba login ke Facebook, jadi tidak perlu dicari.
Info Menarik: [Ask the Expert] Bagaimana Cara Mengganti Nama dan Password WiFi Telkom Speedy?
Temukan saja tombol Upload untuk mengunggah foto dokumen tadi. Tapi jika tidak Anda temukan, coba ke tautan ini.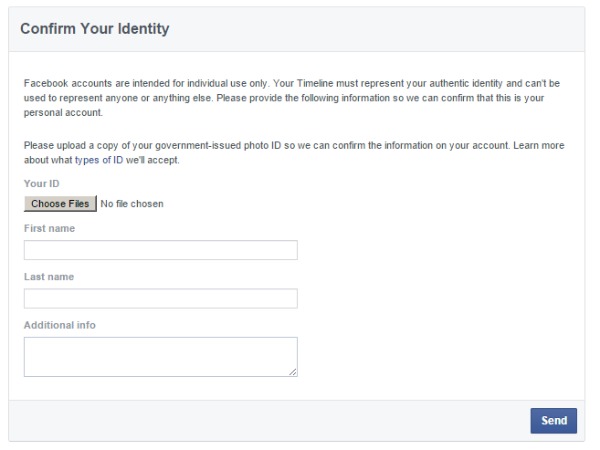 Jika dokumen sudah dikirimkan, jangan lupa cek email yang Anda gunakan sebagai login ke Facebook. Sebab di sanalah Facebook akan memberikan jawaban atas dokumen yang Anda kirimkan. Sebagai alternatif, Anda bisa juga mengunjungi halaman support dashboard Facebook di tautan ini. Di halaman dashboard ini Anda dapat melihat kasus yang sedang Anda hadapi, statusnya dan juga konfirmasi dari pihak Facebook.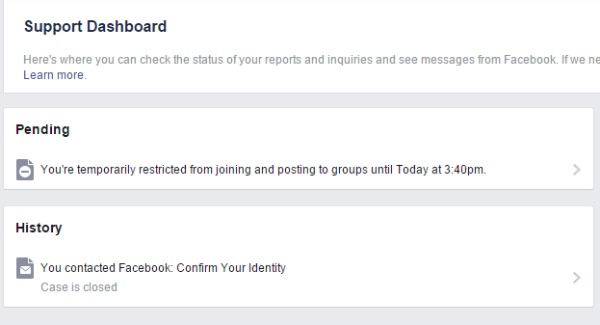 Demikian May, semoga masalah Anda cepat teratasi.
Sumber gambar header OlegDoroshin/Shutterstock.