Astell & Kern Luncurkan A&futura SE200, Pemutar Musik Portable dengan Dua Jenis DAC yang Berbeda
Dua karakteristik suara yang berbeda yang dapat dikustomisasi lebih lanjut dalam satu perangkat
Glenn Kaonang - 29 June 2020
Dual DAC, Quad DAC, teknologi multi DAC (digital-to-analogue converter) sebenarnya sudah bukan barang baru di industri perangkat audio. Teknologi ini bahkan sempat merambah kategori smartphone berkat LG, meski gaungnya sekarang tergolong mereda karena LG sendiri sudah tidak seagresif dulu.
Yang belum eksis adalah bagaimana dua DAC dari dua pabrikan yang berbeda dapat dijejalkan ke dalam satu perangkat pemutar audio demi memberikan konsumen kontrol penuh atas karakteristik suara perangkat yang digunakannya. Itulah tantangan yang hendak dijegal Astell & Kern selama mengembangkan portable music player (PMP) terbarunya, A&futura SE200.
Pada kenyataannya, audio memang merupakan topik yang sangat subjektif. Apa yang terdengar enak di telinga saya belum tentu enak di telinga Anda, demikian pula sebaliknya. Di saat saya cocok dengan karakteristik suara yang dihasilkan model DAC tertentu, Anda belum tentu cocok dengannya.
Solusinya, kalau menurut A&K, adalah dua model DAC yang berbeda dalam satu perangkat. Satu datang dari AKM (AK4499EQ), satu lagi dari ESS (ES9068AS) dalam konfigurasi ganda. Keduanya tentu dilengkapi unit amplifier-nya masing-masing demi memastikan karakteristik tiap DAC tidak tercampur. Usai memilih DAC yang ingin dipakai, pengguna dapat menambahkan sejumlah filter untuk menerapkan kustomisasi lebih lanjut pada karakteristik suaranya.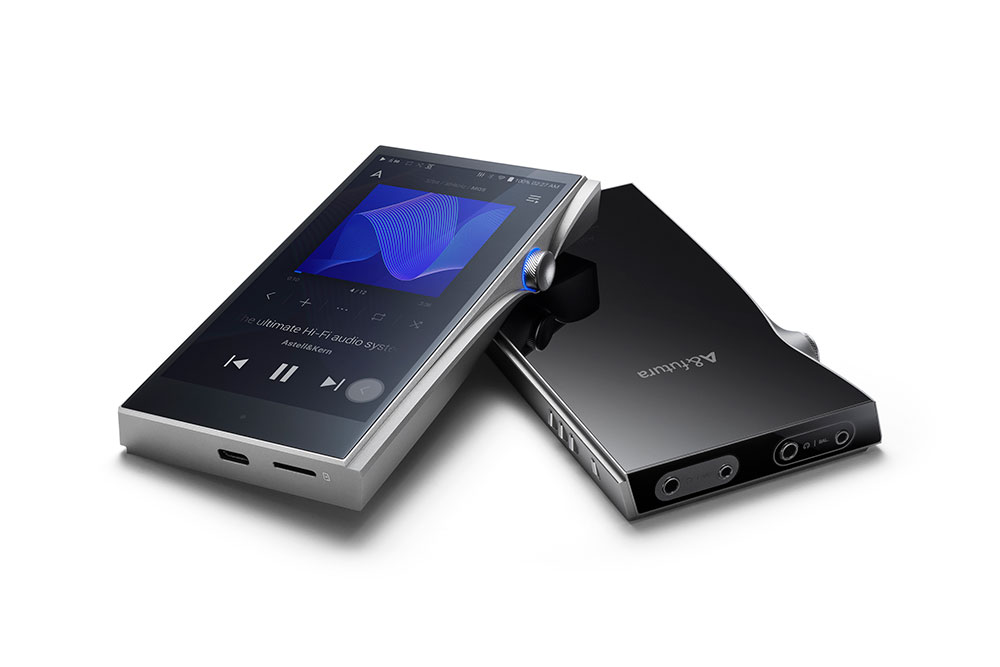 A&futura SE200 merupakan penerus langsung dari A&futura SE100 yang dirilis dua tahun silam. Desain fisiknya sepintas mirip, namun kelihatan lebih elegan berkat perpaduan apik antara sudut-sudut yang lancip dengan garis-garis melengkung. Kenop volume khas A&K di sini dibekali lampu LED yang bisa berganti-ganti warna tergantung tipe file audio yang diputar.
Secara teknis, SE200 tidak akan kesulitan memutar file audio Hi-Res 32-bit/384kHz atau DSD256 sekalipun. Ia juga mendukung format MQA, format berkualitas tinggi yang dipakai oleh layanan streaming Tidal pada paket termahalnya (HiFi). File audionya sendiri dapat diputar langsung dari penyimpanan internal perangkat sebesar 256 GB atau lewat kartu microSD (maksimum yang berkapasitas 1 TB).
Pengoperasiannya mengandalkan layar sentuh 5 inci beresolusi 720p. Di samping Wi-Fi, perangkat turut mengemas konektivitas Bluetooth aptX HD, dan baterainya diklaim mampu bertahan sampai 14 jam pemakaian. Satu hal yang cukup menarik, port USB-C miliknya tak hanya berfungsi untuk charging, tapi juga untuk disambungkan ke komputer atau laptop sehingga perangkat bisa difungsikan sebagai DAC eksternal.
Seperti halnya produk Astell & Kern lain maupun perangkat-perangkat di segmen audiophile secara umum, banderol A&futura SE200 tidak murah. Di Amerika Serikat, ia ditawarkan seharga $1.799, atau $100 lebih mahal daripada pendahulunya.
Sumber: The Verge dan Astell & Kern.
Are you sure to continue this transaction?
processing your transaction....