Gadget
Asus Hadirkan 'Adik Kecil' Laptop Gaming ROG yang Lebih Terjangkau Untuk Gamer Mainstream
Brand anyar ini telah lebih dulu diimplementasikan ke produk motherboard Asus.
Republic of Gamers adalah brand yang diperkenalkan Asus di tahun 2006 untuk merangkul segala macam produk spesialis gaming. Dan dalam upaya agar produk mereka bisa menjangkau lebih banyak segmen gamer, perusahaan hardware Taiwan itu mengintroduksi Strix kira-kira empat tahun silam. Merek ini mencoba menyajikan konsumen aspek premium ROG di harga yang lebih kompetitif.
Namun meski permintaan laptop gaming terus meningkat dan Asus berhasil menguasai 64,2 persen pasar di Indonesia, mereka menyadari bahwa tidak semua gamer diberkahi modal yang besar. Dan inilah alasannya sang produsen menyiapkan lineup baru bernama The Ultimate Force, atau disingkat TUF. Seperti Strix dan ROG, brand tersebut hadirkan untuk produk motherboard terlebih dulu, baru kemudian diimplementasikan ke notebook.
Dan melalui acara konferensi pers di tanggal 3 Mei kemarin, Asus meluncurkan dua model laptop TUF secara perdana di Indonesia. Mereka adalah FX504GE dan FX504GD. Jika Anda merasa penamaan produk ini terdengar familier, alasannya ialah karena TUF merupakan evolusi dari seri laptop Asus FX. Lewat TUF, Asus menjanjikan perangkat gaming portable terjangkau, serta berperforma dan berdurabilitas tinggi.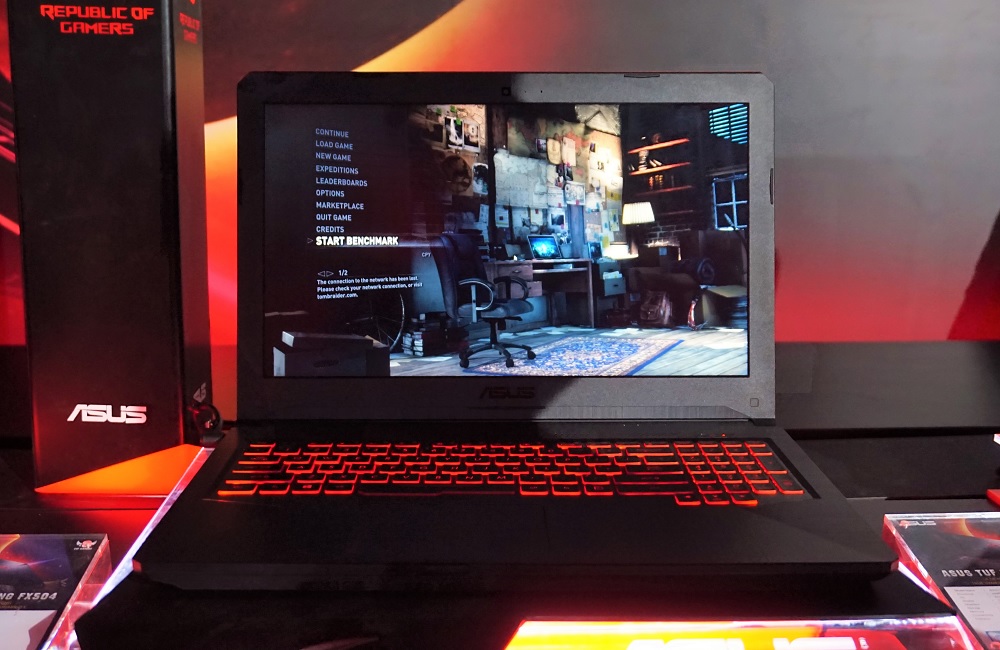 Perbedaan antara kedua notebook ini tertelak pada striping di sisi luar, serta sedikit distingsi pada konfigurasi hardware. Namun tentu saja penampilan Asus TUF FX504 betul-betul merepresentasikan perangkat kelas gaming. Asus membubuhkan LED merah pada keyboard backlight-nya, juga di logo serta decal ala Strix di sisi punggung dan wrist rest. Konstruksi tubuhnya terbuat dari bahan aluminium, dan keduanya mempunyai dimensi yang serupa, yaitu 38,4x26,2x2,5cm - dengan bobot 2,3kg.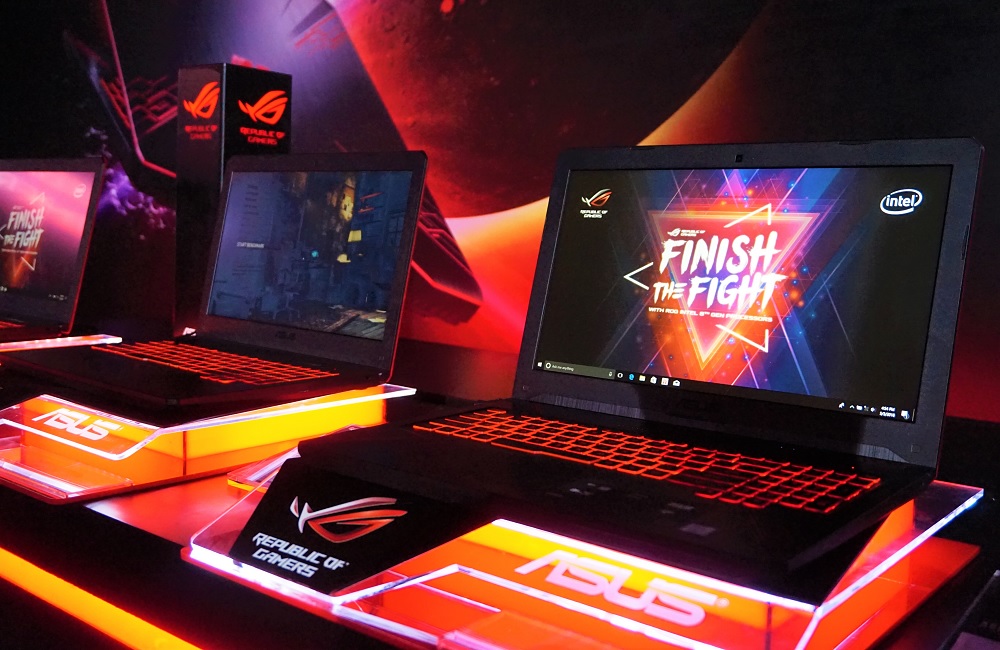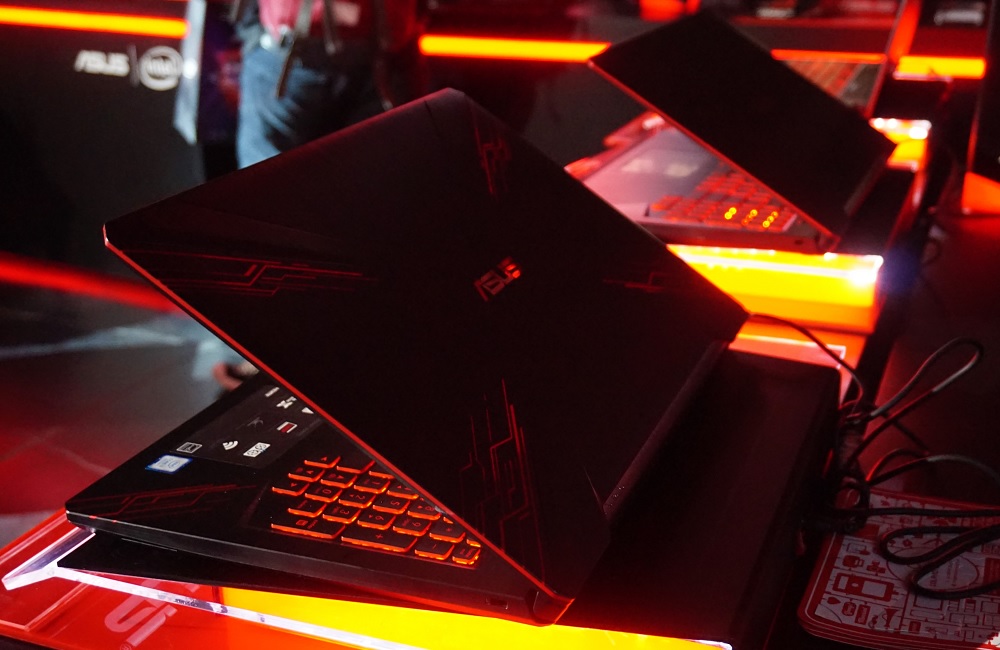 Sebagai jendela untuk mengakses konten, Asus TUF FX504 menyuguhkan layar IPS seluas 15,6-inci dengan resolusi 1920x1080p. Tak seperti saudara-saudarinya di kelas Strix dan ROG, panel tersebut masih menyajikan tingkat frame rate standar di 60Hz. Lalu buat menyempurnakan aspek hiburan serta komunikasi, kedua laptop dibekali sepasang speaker stereo 3.5W dan microphone berteknologi Asus Sonic Studio yang siap menunjang Microsoft Cortana.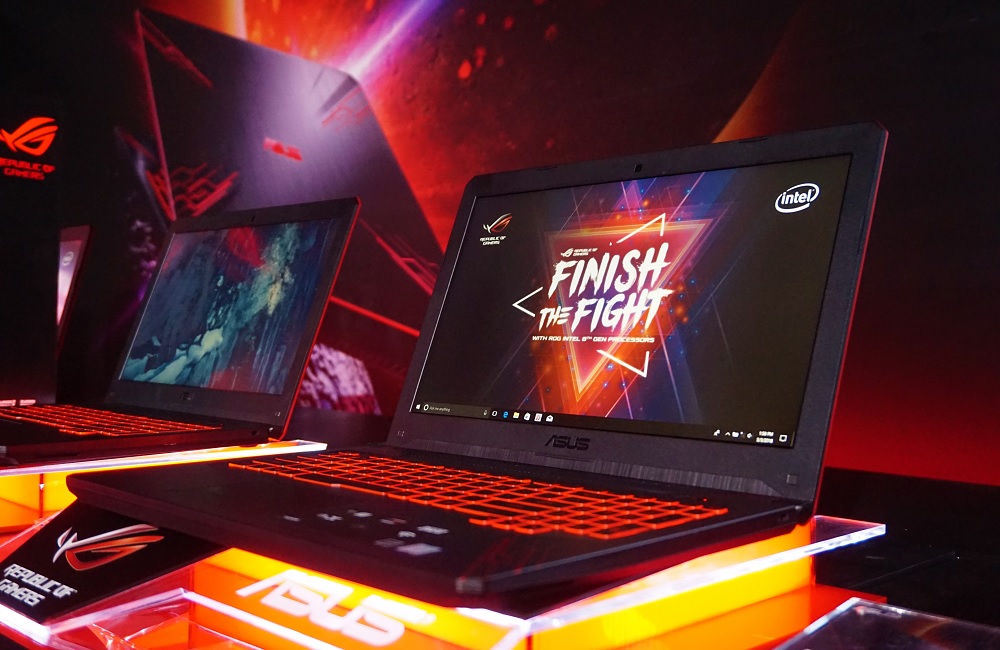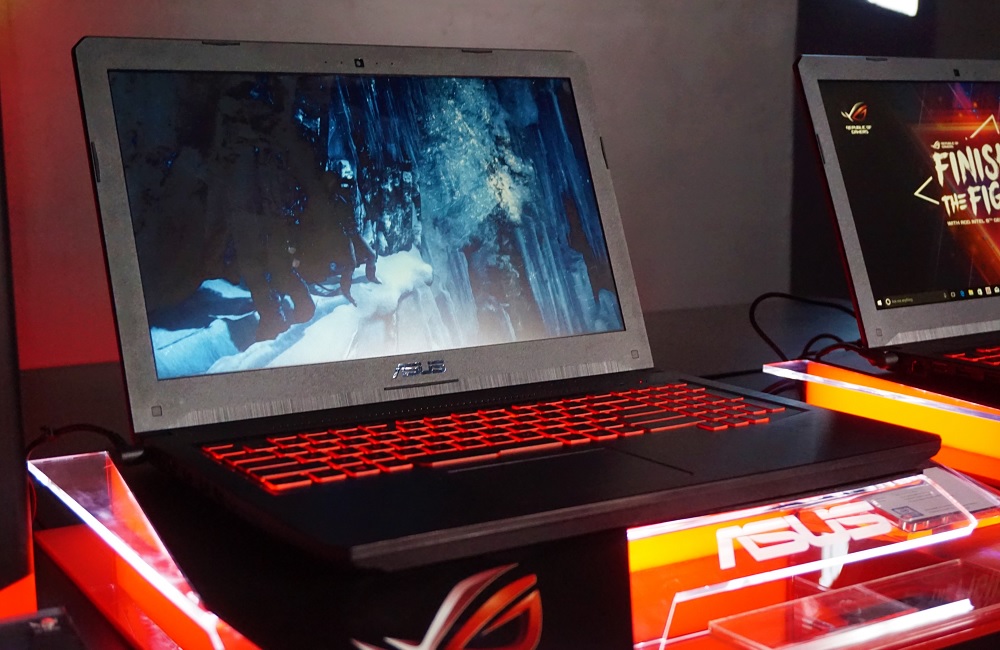 Baik FX504GE serta FX504GD telah mengusung prosesor Intel Core generasi kedelapan dan Anda dipersilakan memilih antara chip i7-8750H berkecepatan maksimal 4,1GHz atau i5-8300H dengan clock tertinggi 4GHz. Selanjutnya, laptop dilengkapi GPU GeForce GTX 1050, RAM DDR4 8GB yang dapat diekspansi hingga 32GB, penyimpanan berbasis SSD PCIe 128GB plus HDD 1TB dan SSHD 8GB (atau HDD 1TB ditambah SSHD 8GB), serta ditenagai oleh unit baterai 4-cell 64WHRs.
Dan seperti laptop Asus lainnya, TUF FX504 sudah dibundel bersama Windows 10 orisinal dan garansi global selama dua tahun.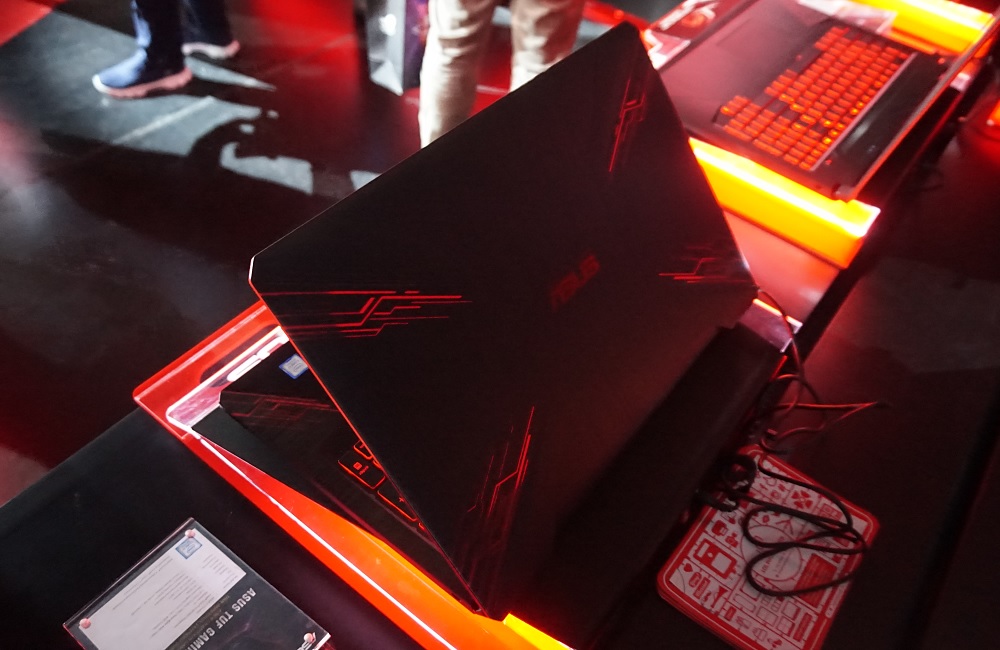 Asus TUF 'Gaming' FX504 Core i5 bisa Anda miliki dengan mengeluarkan uang mulai dari Rp 12,8 juta; sedangkan varian berprosesor Core i7 dibanderol mulai dari Rp 14,8 juta. Kedua model kabarnya sudah tersedia di tanah air.
Are you sure to continue this transaction?
processing your transaction....