Asus Persenjatai Lineup ROG di Indonesia Dengan Intel Core Generasi ke-8
Buat merayakan peluncuran besar-besaran ini, Asus melangsungkan satu kolaborasi istimewa bersama Casio.
Yoga Wisesa - 4 May 2018
Berbeda dari console, tempo perkembangan hardware PC gaming berjalan jauh lebih cepat. Ketika platform game current-gen populer hingga kini masih mengusung arsitektur serupa saat mereka meluncur perdana, PC telah melangsungkan beberapa kali regenerasi. Beberapa pemicunya meliputi kelahiran prosesor serta kartu grafis baru. Dan di tahun ini, varian-varian refresh kembali bermunculan.
Selain memperkenalkan lineuplaptop gaming kelas mainstream baru, konferensi pers bertajuk Finish The Fight yang Asus langsungkan kemarin di Jakarta juga digunakan sebagai tempat pengumuman kehadiran prosesor Intel Core generasi kedelapan 'Coffee Lake' di notebook Republic of Gamers dan Strix, baik di varian berukuran 'monster' hingga perangkat ultra-thin seperti Zephyrus.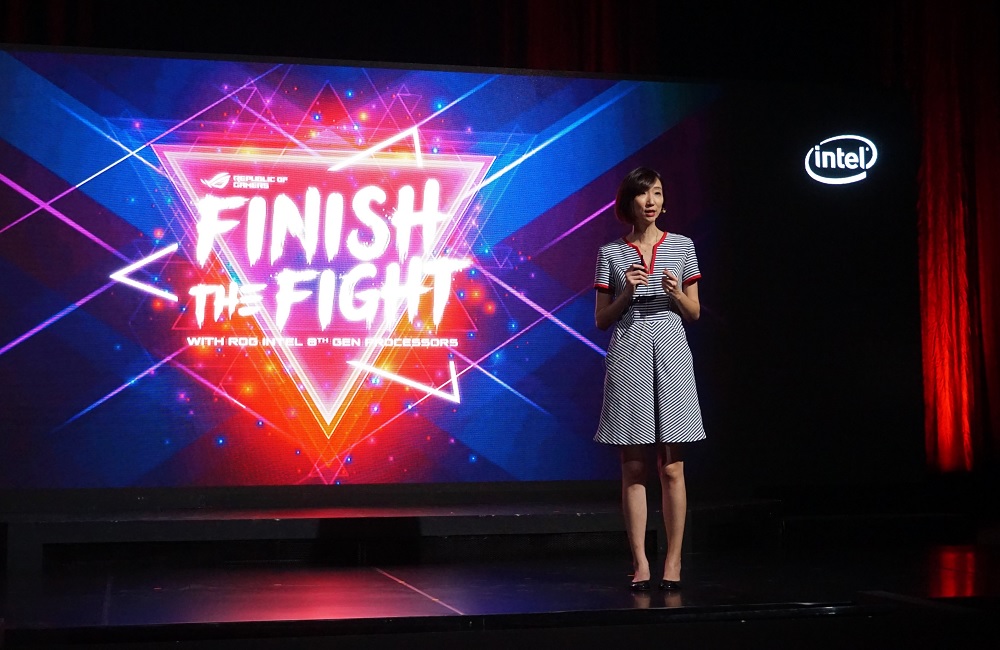 Dalam presentasinya, product manager ROG Alistair Wu menjelaskan bahwa dukungan chip Intel Core mobile anyar pada laptop-laptop gaming mereka dapat meningkatkan performa sebesar 88 persen dan membuat proses kreasi konten lebih cepat 68 persen dibanding sistem berumur tiga tahun. Upgrade ke Core generasi ke-8 ini diterapkan mulai dari ROG G703, Zephyrus GX501, Zephyrus M GM501, Strix GL703 dan GL503, serta TUF Gaming.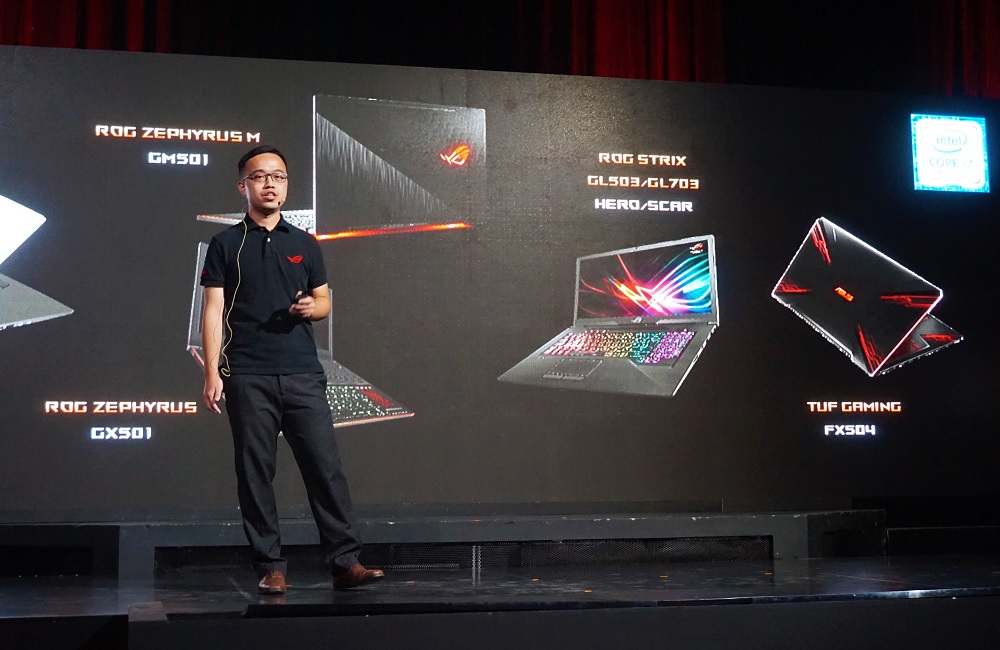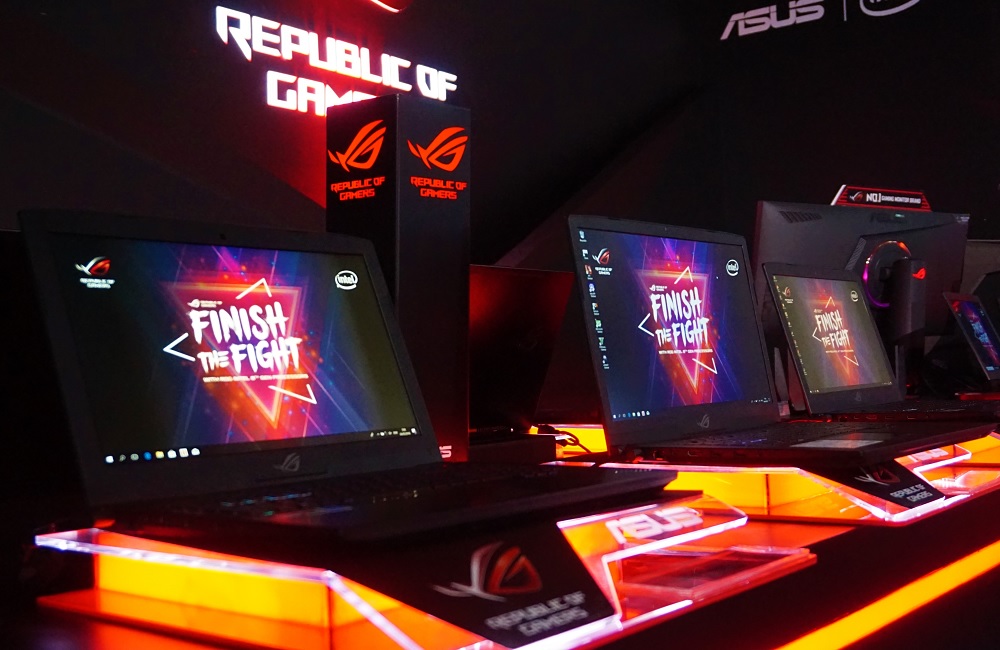 Dua varian di sana mencuri perhatian saya: Zephyrus dan G703. Kedua perangkat ini mempunyai pendekatan desain yang sangat bertolak belakang. ROG G703 merupakan desktop replacement berlayar 17,3-inci, sedangkan Zephyrus adalah salah satu laptop gaming tertipis di dunia. Melalui langkah pembaruan ke Coffee Lake, Asus sepertinya mencoba menyaingi sang kompetitor senegaranya yang lebih dulu membawa perangkat sejenis ke Indonesia.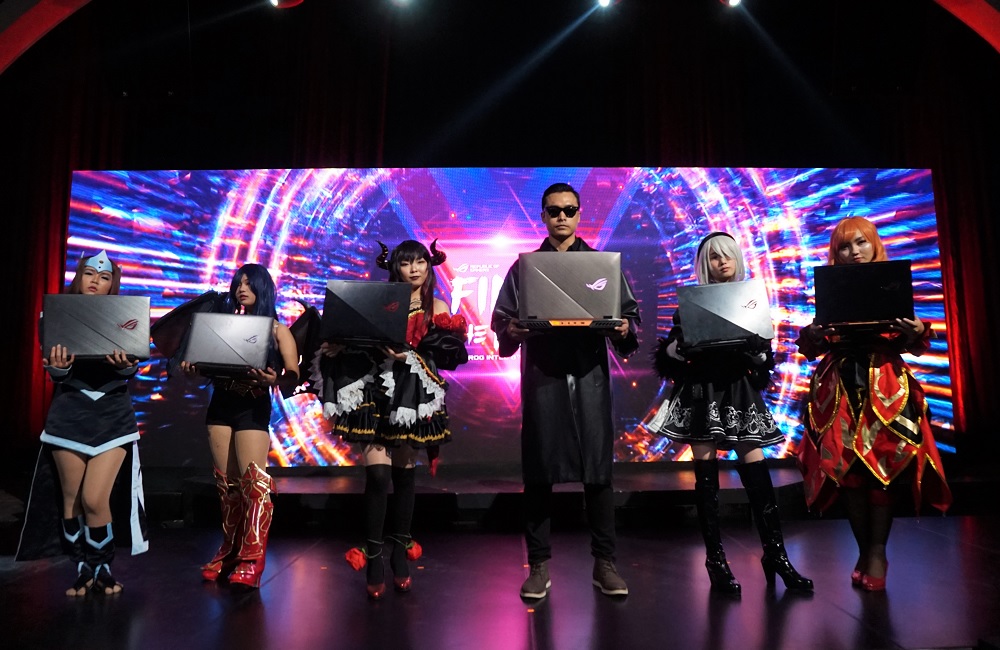 Seperti desktop replacement rival utamanya, ROG G703 turut dipersenjatai oleh Intel Core i9 ter-overclock (i9-8950HK) yang dipasangkan bersama kartu grafis top-end, GeForce GTX 1080. Selain itu, Anda akan menemukan RAM DDR4-2666 sebesar (maksimal) 64GB, serta penyimpanan berbasis SSD 2x256GB dan SSHD (solid state hybrid drive) sampai 2TB. Panel 17,3-incinya juga sangat istimewa karena dimempunyai refresh rate 144Hz 3ms.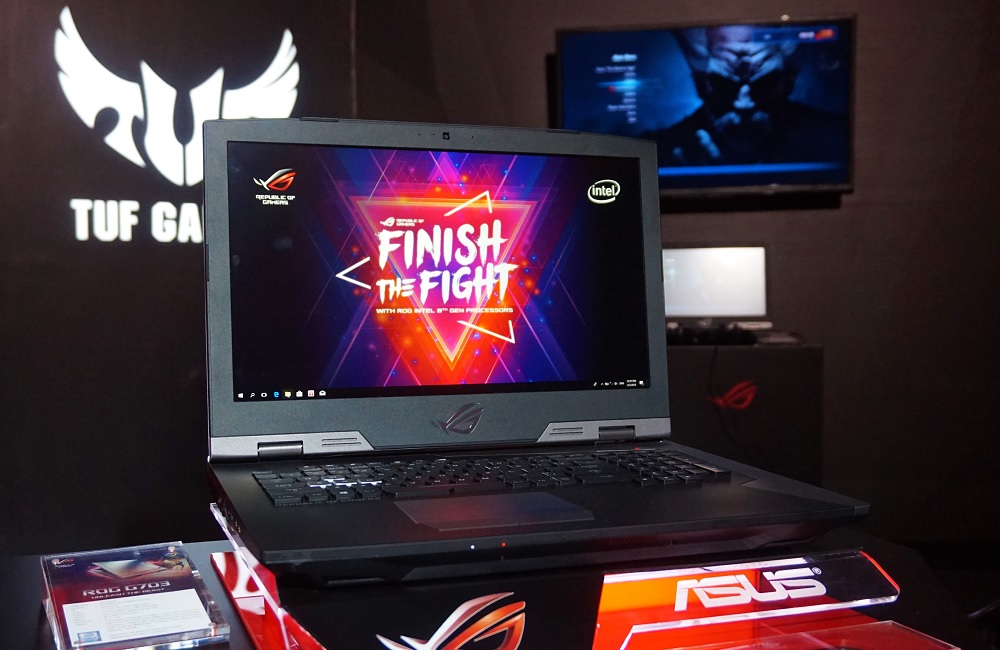 Beralih ke Zephyrus, meski GX501 dan GM501 sama-sama menghidangkan layar 1080p 15,6-inci 144Hz, keduanya mempunyai perbedaan distingtif di sisi desain, terutama pada penempatan keyboard-nya. Ketika papan ketik GX501 menjorok ke depan, keyboard dan touchpad GM501 tersaji layaknya notebook tradisional. Namun efeknya, GM501 tidak setipis GX501, dengan ketebalan 1,99cm versus 1,79cm.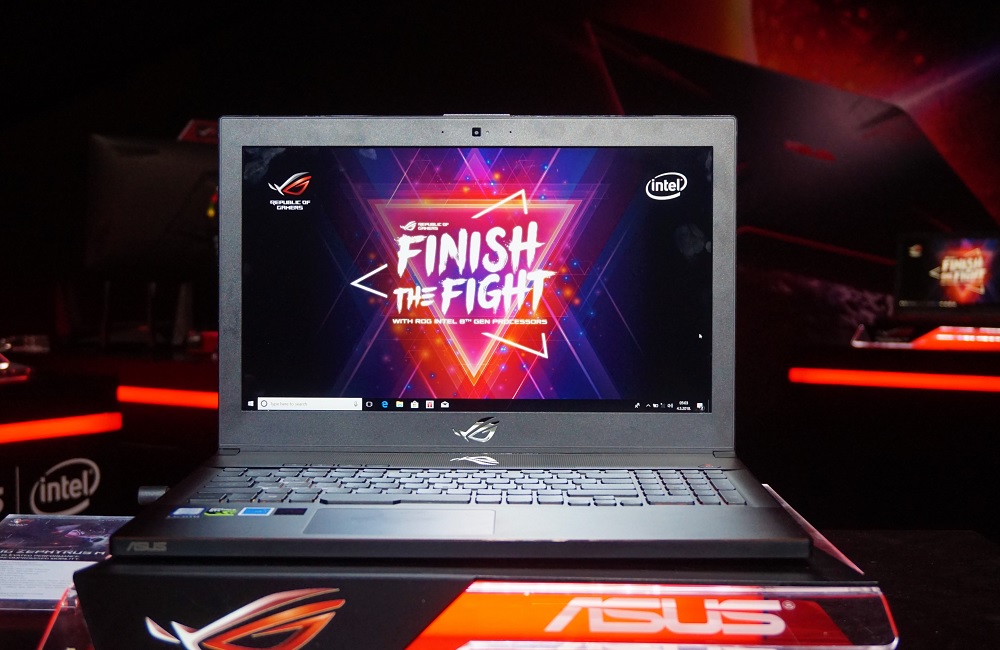 Zephyrus M GM501 juga tidak dilengkapi kartu grafis GeForce 1080 Max-Q. Ia memanfaatkan Nvidia GeForce GTX 1060 atau 1070 Max-P. Dari artikel yang saya baca, 'Max-P' hanyalah istilah kartu grafis kelas mobile reguler tanpa desain Max-Q.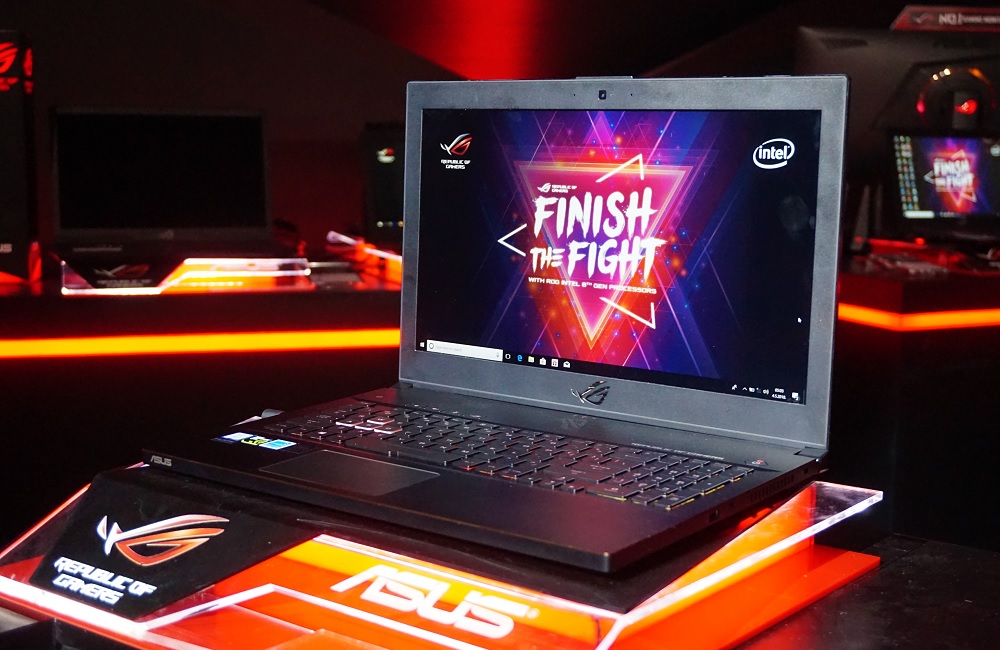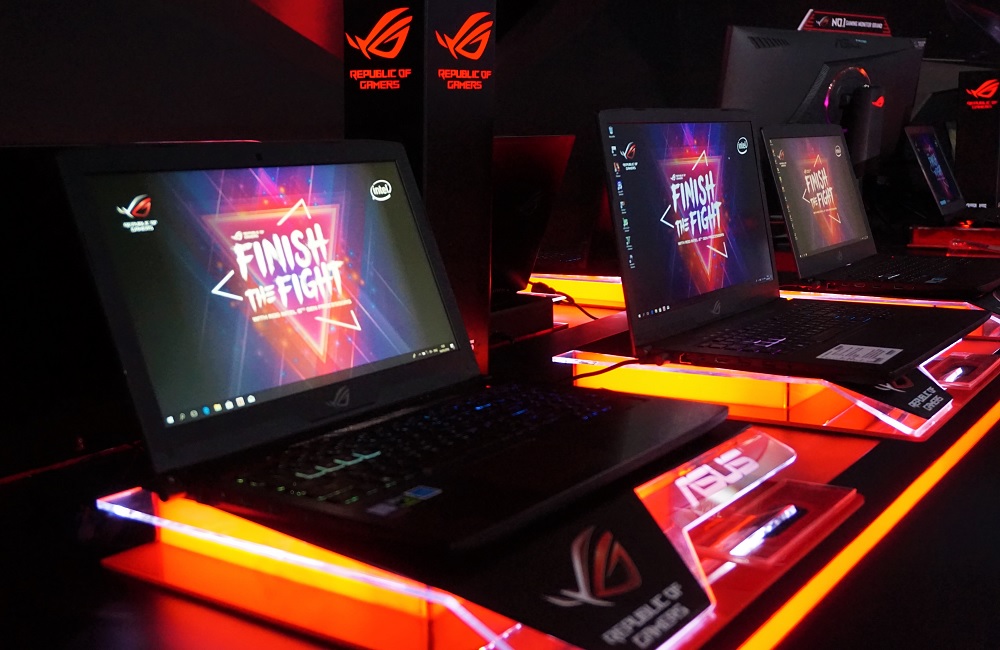 Produk-produk refresh ini akan tersedia di Indonesia sebentar lagi, sudah dibundel bersama Microsoft Windows 10 original serta garansi global selama dua tahun. Detail harganya bisa Anda simak di bawah:
ROG G703 - Rp 70,3 juta
ROG Zephyrus GX501 - Rp 51,3 juta
ROG Zephyrus M GM501 GTX 1070 - Rp 40,3 juta
ROG Zephyrus M GM501 GTX 1060 - Rp 33,3 juta
ROG Strix GL703GM Scar Edition GTX 1060 144Hz - Rp 33,3 juta
ROG Strix GL703GE - mulai Rp 19,3 juta
ROG Srix Hero Edition GL503GE GTX 1050 Ti - Rp 18,8 juta
ROG Strix Original GL503GE GTX 1050 Ti - mulai Rp 17,3 juta
Untuk merayakan pelepasan besar-besaran ini, Asus melangsungkan satu kolaborasi istimewa bersama Casio. Dengan membeli model G703GI, G703GS, GX501GI, GM501GS, GM501GM, dan GL703GM di periode 7 Mei sampai 8 Juli 2018, Anda akan mendapatkan jam tangan G-Shock ROG Limited Edition.