Ayo Kita Cari Penawaran Terbaik Di Steam Halloween Sale 2019
Ajang sale ini didedikasikan pada permainan bertema horor serta judul yang melangsungkan event Halloween.
Yoga Wisesa - 30 October 2019
Di antara sejumlah layanan distribusi digital, Steam hingga kini tetap jadi favorit banyak orang karena beragam alasan: banyaknya pilihan konten, lengkapnya fitur, adanya integrasi ke layanan lain, lokalisasi harga dan kemudahan bertransaksi, serta program diskon yang dilakukan secara konsisten. Faktanya, Steam sale merupakan hal yang paling ditunggu konsumen karena di momen ini game-game dijual sangat murah.
Sejak tanggal 28 Oktober kemarin, Valve resmi menggelar The Steam Halloween Sale. Sedikit berbeda dari program Steam sale sejenis, Halloween Sale 2019 berlangsung cukup singkat, hanya sampai tanggal 1 November. Dan karena mengangkat tema Halloween, ajang ini didedikasikan pada permainan bertema horor serta judul yang melangsungkan event Halloween. Lewat artikel ini, saya akan mencoba membantu Anda untuk menemukan penawaran terbaik.
Yang pertama kali Anda perlu lakukan adalah berkunjung ke situs Steam atau log-in di software client-nya. Anda akan segera disuguhkan banner bertuliskan The Steam Halloween Sale plus Events. Tinggal klik saja. Bagian teratas Steam Halloween Sale diisi oleh broadcasting live dari developer. Silakan dinikmati, atau geser sedikit ke bawah untuk menemukan deretan game berdiskon.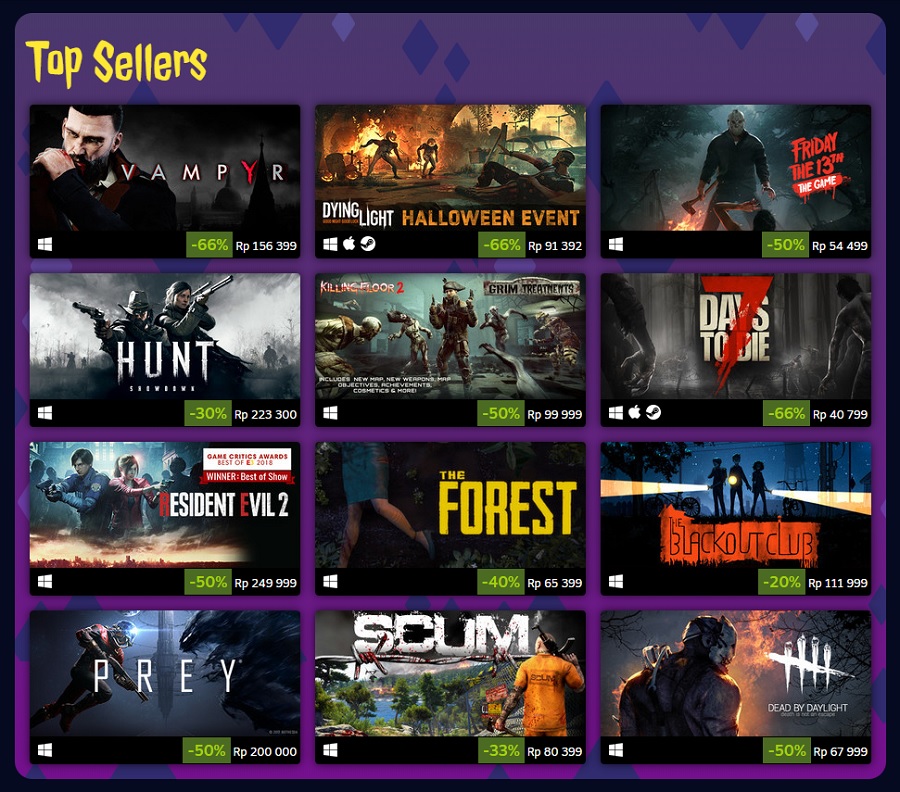 Seperti biasa, Valve membagi game sale dalam kategori berbeda dan kemungkinan akan terus mengubah daftar highlight secara berkala. Sebagai pembuka, Steam menawarkan rentetan permainaan horor terlaris dengan potongan harga 20 sampai 66 persen. Jangan buang-buang kesempatan, remake Resident Evil 2 yang merupakan kandidat kuat Game of the Year dijajakan cuma Rp 250 ribu. Anda juga tak akan rugi jika membeli Hunt Showdown (Rp 223 ribu), Prey (Rp 200 ribu) dan The Forest (Rp 65 ribu).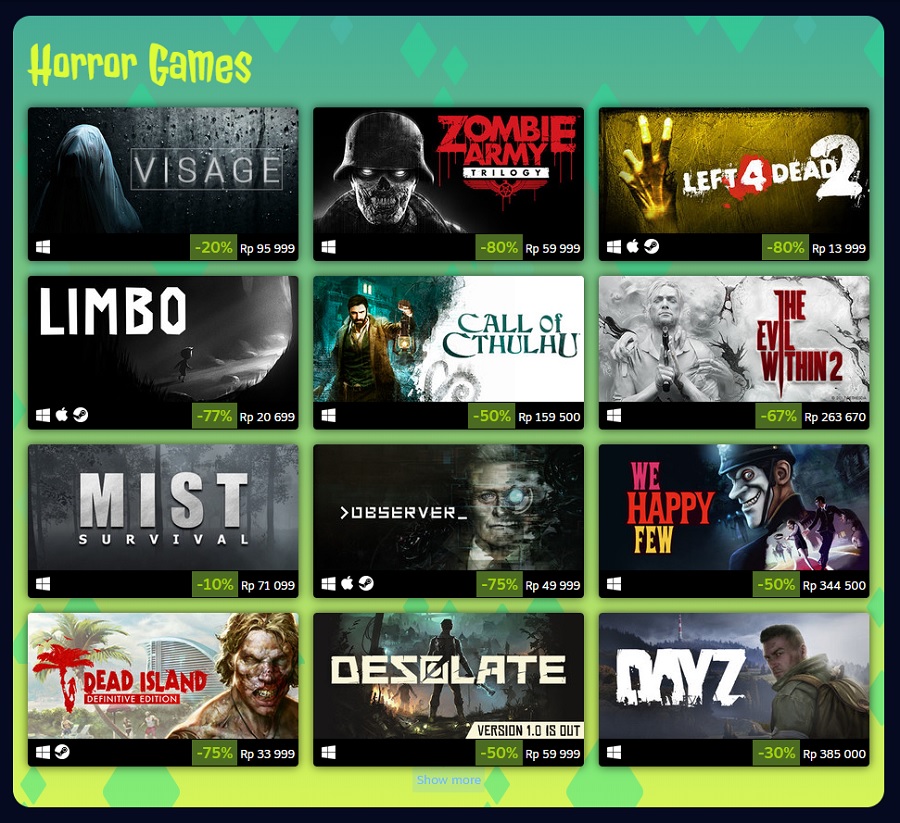 Tepat di bawahnya terdapat kategori 'horror games' pertama. Tak ada judul yang betul-betul baru di sana, tetapi perhatian saya tertuju pada permainan survival horrorVisage (Rp 96 ribu) dan We Happy Few (Rp 344 ribu). Observer (Rp 50 ribu) sendiri belum lama ini dibagikan gratis di Epic Games Store. Jika melewatkannya, ini ialah kesempatan Anda membelinya di harga ekonomis.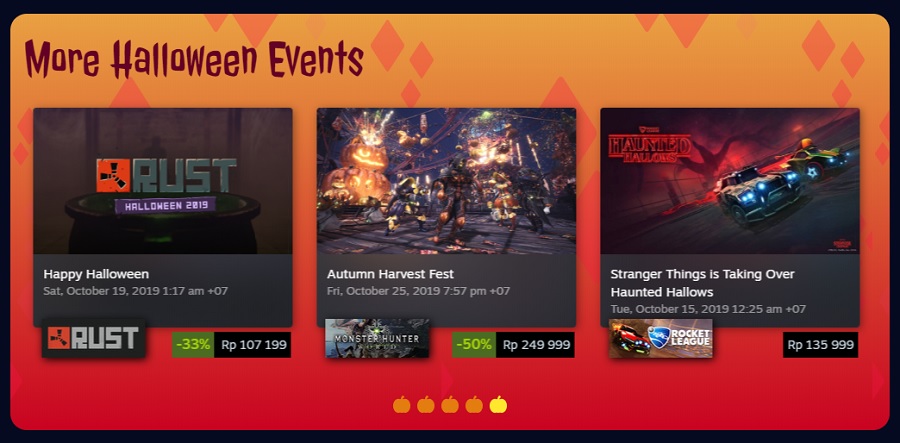 Turun lebih jauh, dan Steam mencoba mengingatkan kita mengenai game-game yang turut merayakan Halloween. Tak semua permainan di sini mendapatkan potongan harga. Dari judul-judul yang tersedia, saya merekomendasikan Rainbow Six Siege (Rp 92 ribu) dan Monster Hunter: World (Rp 250 ribu). Rencananya, expansion pack Iceborne akan tiba di MHW versi PC pada bulan Januari 2020 nanti, jadi sebaiknya Anda bersiap-siap menyambutnya.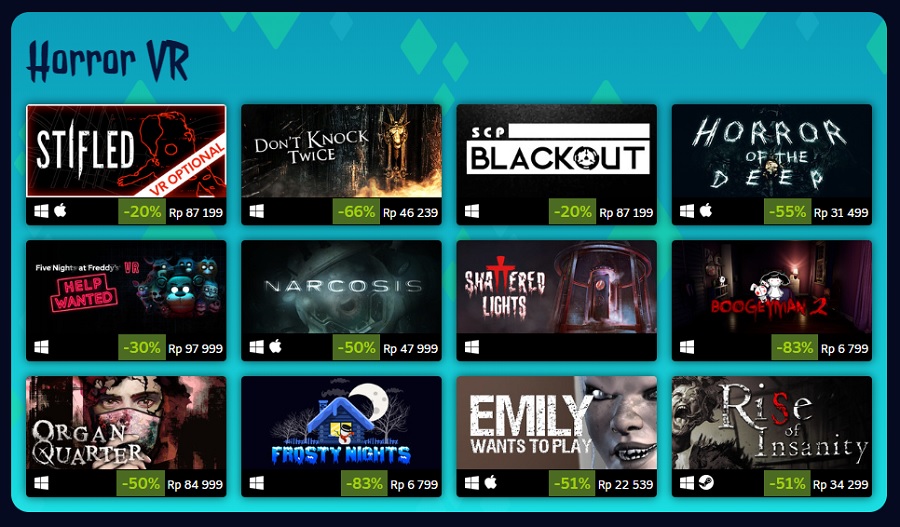 Di bawahnya, Valve sudah menyiapkan sejumlah judul khusus bagi mereka yang bisa menahan takut lebih lama dari manusia normal: permainan horor virtual reality (sempurna jika Anda kebetulan mempunyai unit Oculus Rift atau HTC Vive). Sejujurnya, saya belum pernah menjajal satu pun judul tersebut, namun hampir semua permainan djajakan di harga sangat murah - kurang dari Rp 100 ribu setelah diskon.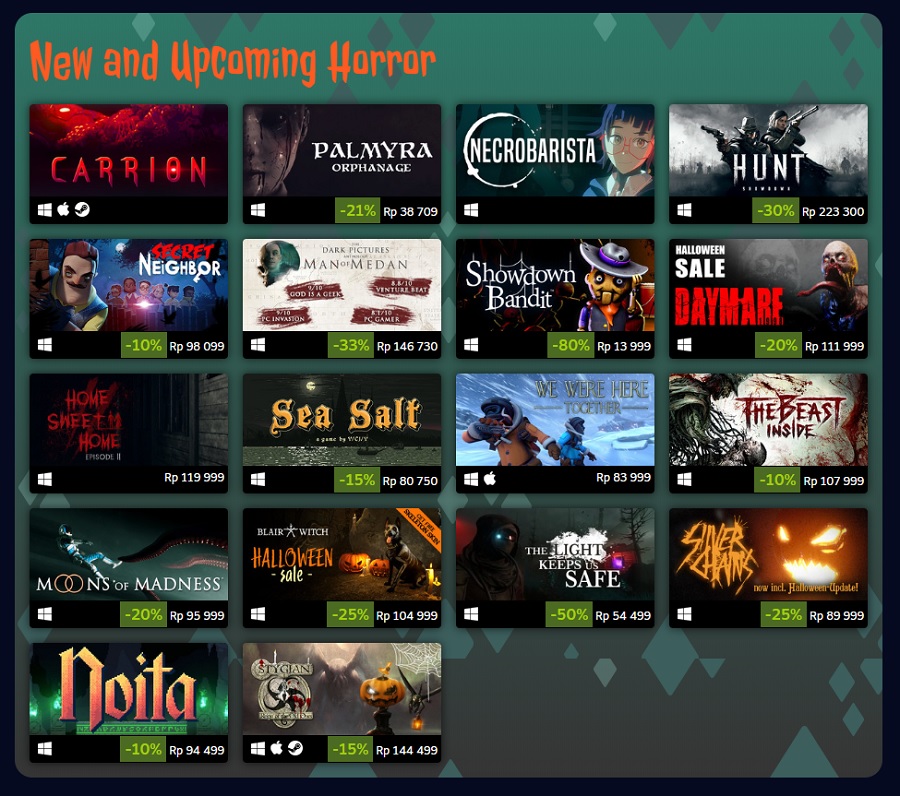 Selanjutnya, Steam kembali membubuhkan kolom-kolom 'horror games' dan 'more Halloween events' terpisah. Mereka tak lupa menyertakan kategori 'horror free to play'. Silakan scroll lebih jauh untuk menjumpai bagian 'new and upcoming horror'. Ada beberapa permainan di sana yang cukup menarik, misalnya Secret Neighbor (Rp 98 ribu), Sea Salt (Rp 80 ribu) Moons of Madness (Rp 96 ribu), dan Man of Medan (Rp 146 ribu).
Selamat berbelanja.
Are you sure to continue this transaction?
processing your transaction....