Ayo Mainkan Game Red Alert 2 Plus Yuri's Revenge Gratis
Yoga Wisesa - 18 September 2015
Metal Gear Solid V, Forza Motorsport 6, belum lagi update The Grand Tournament untuk Hearthstone, sudahkah Anda tentukan game apa saja yang perlu dimainkan di akhir minggu ini? Buat menambah 'kebimbangan' tersebut, ada satu kabar gembira dari EA lewat update program On the House mereka. Saya yakin, gamer veteran akan tersenyum lebar saat mendengarnya.
On the House merupakan sebuah inisiatif dari Electronic Arts. Platform distribusi digital mereka mungkin tidak banyak menawarkan diskon gila-gilaan ala Steam Sale ataupun Humble Bundle. Namun On the House adalah aspek unggulan di Origin. Di sana, Anda disajikan game gratis tanpa syarat dan tanggal kadaluarsa. Dan kali ini giliran Command & Conquer: Red Alert 2 ditambah expansion Yuri's Revenge yang dibagikan cuma-cuma tanpa perlu membayar.
Dilepas 15 tahun silam, Red Alert 2 ialah permainan real-time strategy 2.5D dari developer legendaris Westwood Studios. Ketika dirilis, ia mendapatkan respons sangat positif dari pers, disebut sebagai salah satu RTS dua dimensi terbaik setelah Starcraft, membawa Westwood sukses secara finansial. Di mata gamer, Red Alert 2 juga memperoleh status cult classic, mendorong sang publisher menggarap sekuelnya.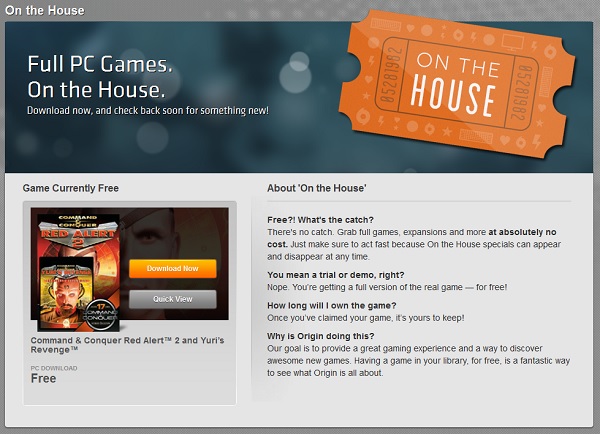 Red Alert 2 mengambil latar belakang tahun 70-an di jagat alternatif. Di sana dikisahkan, dengan mesin waktu buatannya Albert Einstein pergi ke tahun 1924 dan berhasil menghentikan Adolf Hitler muda untuk bangkit jadi diktator. Ternyata langkah ini menimbulkan efek yang lebih buruk dari Perang Dunia kedua. Tanpa rival, Joseph Stalin dan pasukan Uni Soviet-nya menginvasi China dan Eropa Timur.
Info menarik: Kabar Gembira, Versi Beta Star Wars: Battlefront Akan Dibuka Untuk Semua Orang
Karena terdesak, dibentuklah persekutuan oleh negara-negara Eropa, termasuk Jerman dan Amerika. Game kedua di seri Red Alert ini kembali mengadu Sekutu dan Soviet, berawal dari serbuan tiba-tiba Tentara Merah ke tanah negeri Paman Sam setelah momen klimaks di permainan pertama. Red Alert 2 menyuguhkan mode campaign singleplayer serta multiplayer kompetitif berbasis kedua faksi tersebut.
Bagaimana cara memilikinya? Sangat mudah. Anda hanya perlu mengunjungi laman On the House EA Origin, masukkan username dan password buat log-in, kemudian tinggal tekan tombol 'Download Now'. Alternatifnya, silakan gunakan aplikasi clientOrigin, masuk ke laman Store, Free Games, lalu klik On The House. Muncul tampilan yang sama seperti versi web-nya.
Segera amankan kopi Red Alert 2 Anda karena tidak ada yang tahu kapan EA akan menggantinya dengan judul lain. Beberapa hari lalu, server sempat kewalahan karena dibanjiri gamer, dan Red Alert 2 terpaksa dihilangkan sejenak dari Origin.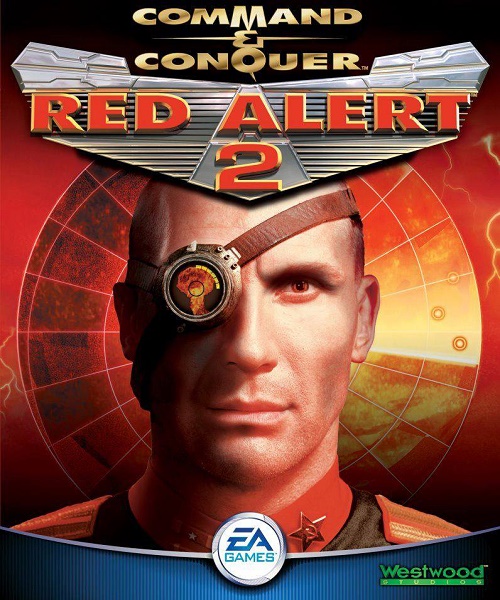 Gambar: Facebook Red Alert 2.