Ayo Simak Aksi Perdana Hoverboard Buatan Lexus
Brand Lexus sebenarnya bermula dari proyek pengembangan sedan eksklusif ber-codename F1 di tahun 1983. Kini selain jadi produsen otomotif premium terbesar dari Jepang, mereka telah masuk ke ranah mobil sport hingga supercar. Tapi Lexus tidak berhenti bereksperimen. Seperti yang kita ketahui, di bulan Juni lalu mereka kabarnya sedang menggarap hoverboard.
Hoverboard adalah sebuah alat transportasi konsep, populer dan selanjutnya menantang para inventor berkat kemunculannya di film Back to the Future Part II dan Part III. Lexus memang bukan tim pertama yang mencoba merealisasikan ide hoverboard (Hendo Hover sudah duluan), namun Slide tampak jauh lebih canggih dan meyakinkan karena kita bisa menebak bahwa pengembangannya didukung personil ahli.
Sepertinya menjawab pertanyaan saya mengenai cara kerja gaya magnetis hoverboard, Lexus baru saja melepas sebuah video demonstrasi perdana bertajuk 'It's Here' di YouTube, memperlihatkan kemampuan hoverboard terbang itu dalam berseluncur. Tak cuma bergerak, ia sanggup mengangkat orang layaknya skateboard sejati, melewati permukaan solid serta genangan air. Ayo tonton di sini:
Berdasarkan informasi sebelumnya, Slide mengadopsi teknologi magnetic levitation (maglev) seperti kereta super-cepat Transrapid. Prakteknya sendiri lebih susah dari sekedar teori. Buat menerapkan maglev dalam hoverboard Lexus, tim harus merombak dan menyusunnya dari awal, lalu mencari komposisi superconductor, magnet dan nitrogen cair yang tepat.
Info menarik: Lexus Berhasil Ciptakan Hoverboard
Perlu berbulan-bulan bagi Lexus buat menyulap sistem maglev menjadi Slide serta menyiapkan arenanya. Sejauh ini Lexus Hoverboard hanya dapat bekerja jika digunakan di atas lapangan khusus. Ia mengusung rangkaian struktur logam untuk menolak gaya gravitasi Bumi. Slide sama sekali tidak berfungsi di arena skateboard umum. Dan alhasil, ia tidak berbeda dari hoverboard eksperimental lainnya.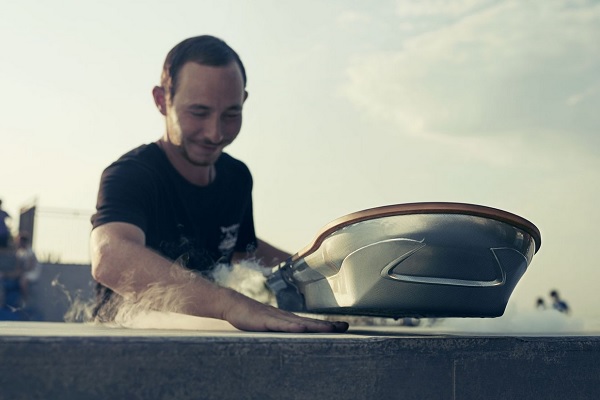 Mengendarai Lexus Hoverboard juga tidak segampang meluncur di atas skateboard. Tak heran, tubuh Slide sangat besar, pasti momentumnya tak sama seperti papan beroda biasa. Desain tanpa roda menutup kemungkinan pengguna dalam melakukan trik-trik sederhana semisal ollie ataupun backflip. Bahkan atlet skateboard profesional sekelas Ross McGouran butuh waktu buat beradaptasi. Namun pada akhirnya, McGouran sukses melintas di atas air serta melakukan grind di handrail logam. Luar biasa.
Sayang sekali Lexus belum berniat menjual hoverboard mereka ke khalayak umum...
Sumber: Lexus-int.com.
Are you sure to continue this transaction?
processing your transaction....