Ayo Simak Kerennya Game Eve Valkyrie Dengan Oculus Rift
Yoga Wisesa - 23 March 2015
Oculus Rift adalah perangkat headset virtual reality, sedangkan Eve Valkyrie ialah permainan space simulator terbaru garapan tim veteran MMORPG, CCP Games. Sekilas, kedua produk tampak tidak berhubungan. Tapi jika mengikuti perkembangan VR sejak awal, Anda pasti tahu bahwa Valkyrie merupakan game eksklusif pertama Oculus Rift untuk platform Windows.
Perjalanan CCP Games asal Islandia menjadi nama paling berpengaruh di industri video game bermula ketika Eve Online dirilis 12 tahun silam. Ia turut berevolusi seiring waktu, memperoleh ratusan update, memastikan ratusan ribu gamer tetap setia memainkannya. Eve Valkyrie diperkenalkan sebagai spin-off game MMO itu, kali ini Anda diajak untuk mengendarai langsung pesawat luar angkasa dan menguji kemampuan bermanuver di ruang hampa udara.
Minggu lalu, developer baru saja melangsungkan acara Fanfest 2015. Di sana, dipamerkanlah versi paling anyar Eve Valkyrie berjalan di prototype Oculus Rift Crescent Bay. Sebuah video CCP Games pamerkan kepada fans, dan berdasarkan pengakuan jurnalis PC Gamer, penggemar Eve meresponnya dengan penuh semangat dan antusiasme. Anda tak perlu sedih karena melewatkan kesempatan itu, karena videonya dapat segera disimak.
Info menarik: [Video] Simak Demonstrasi Game Augmented Reality Shooter dari Magic Leap
Pengalaman VR tersebut kembali dipublikasi di bawah judul Gameplay Trailer Fanfest 2015. Meski cukup singkat (hanya tiga setengah menit) video ini sangat mengagumkan. Saya sarankan Anda menikmatinya di resolusi 1080p/60 frame rate - tersedia di setting YouTube, dan jangan lupa kenakan headphone.
Video ini diambil dari porsi awal misi offline, dimana Anda bermain sebagai seorang kadet Gallente dalam misi pengawalan. Level di atas juga merupakan porsi tutorial sebelum pemain diperkenankan bertanding online. Awalnya developer menggunakan engine Unity untuk konsep, namun game retailnya sendiri ditenagai Unreal Engine 4 seperti di trailer tersebut. Hasilnya bisa langsung dilihat.
Dibanding video E3 tahun lalu, terdapat lompatan pada level detail. Visualnya sangat cantik. Saya sangat menyukai transisi dari ruang luncur magnetik ketika suara mesin terdengar gaduh dan komputer melakukan beragam tes hingga pesawat melesat ke ruang hampa udara. Itu tadi kenapa sebaiknya Anda mengenakan headphone. CCP menjelaskan bahwa di dalam Valkyrie, mereka mengusung formula 'mudah dimainkan, tapi sulit dikuasai'.
Eve Valkyrie fokus pada gameplay mode multiplayer. Ia belum mempunyai tanggal rilis, dan buat sekarang hanya digarap eksklusif untuk Oculus Rift di PC. Nanti juga akan ada versi PlayStation 4 memanfaatkan headset Project Morpheus.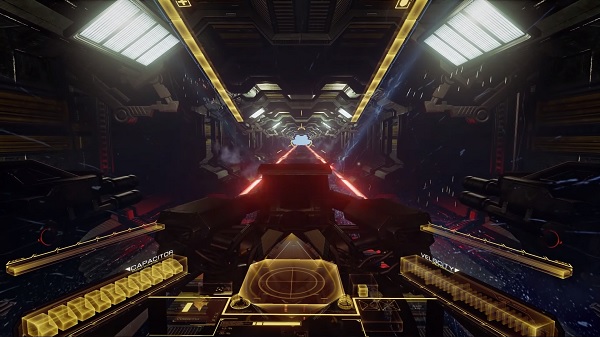 Sumber tambahan: Road to VR.
Are you sure to continue this transaction?
processing your transaction....