English
B2B as The Most Suitable Business Scheme for Hardware Startups in Indonesia
Some local innovators debut with hardware products targeting business segment and consumers
Iglohome is a Singapore-based startup. The smart access system product developer, it's a door lock and key equipped with the technology component. They are currently implementing the solution with proptech and OTA partners, such as Airbnb, BookingSync, Zip Rent, and others. Objectively, it's to provide property owners with easy tracking of their "locking" access to their customers in a digital way.
In Indonesia, there is Sugar Technology, a startup that develops similar devices. It is named "smart padlock", the user can open a padlock using a registered fingerprint. Up until now, the target market revolves around common users' lifestyles, although it is possible to perform B2B partnerships.
The recent one is Zulu, a startup (originally non-tech), a helmet developer about a year ago received funding from Gojek's decacorn. As a manifestation of product innovation, the helmet is equipped with Bluetooth to connect with smartphones. This smart helmet can be utilized for connectivity, such as calling, receiving voice notifications, and giving orders to Google Assistance.
Struggling to acquire users
Running a hardware business is not an easy peasy for startups in may regions. In July 2017, a headset developer, Jawbone hardware developer for headset, fitness tracker, and the wireless speaker has collapsed after 10 years operation, although having secured US$930 million funding. The shutdown is due to the limited market share of its products. They offer the products directly to consumers, with gimmick as a modern lifestyle support.
There are several reasons supposing this failure. From lack of consumer demand, high burning rates, decreasing enthusiasm after the initial fundraising process (for startups debut with crowdfunding), to the product strategy mistakes.
Unfortunately, several other well-funded startups experienced the same thing. From CB Insight's notes, below are the seven startups in the hardware vertical that did not succeed in sustaining business growth: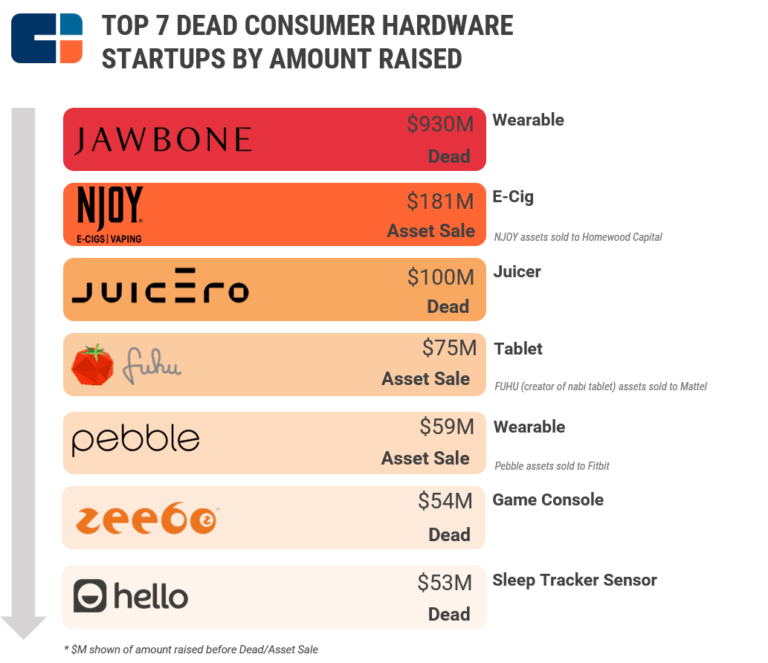 CB Insight also noted over 400 failed hardware startups, most of which are targeting direct consumers.
On the other side, investment for the hardware startups is actually well-distributed. Aside from investors, startups can raise fund through the crowdfunding platforms such as Kickstarter or IndieGogo, targeting cash from direct consumers while acquiring the user base. High participation in these programs helped increase the enthusiasm of hardware startup founders counting their luck.
Based on the current trend, software-based products are considered to have faster scalability, with a more dynamic lifecycle, compared to hardware products. However, it's not impossible for handset developers to be successful. In fact, some of the big business achievements involve hardware manufacturers in the growth stage.
Beats, Nest, Oculus Rift, and several other producers' names were able to "exit" through the acquisition or share listings. Even though in small numbers, there have been 17 hardware startups that have succeeded in IPO for the decade. While there are dozens of startups per year that have been successfully acquired or have the support of larger technology companies.
B2B as the ideal business scheme
Recently, there are some primary business models run by hardware-manufacture startups. First, B2C, marketing his products to consumers in general. Second, the B2B, working together - both partially and fully - in manufacturing products for partner companies. However, many are also doing a B2B2C approach, with different product variants.
In the midst of startup's high failure rate of selling their products directly to consumers - in the context of new (technology-based) startups - the B2B business model is becoming more interesting. From the strategic partnership, hardware products can be juxtaposed with a potential market share in the growing business vertical of digital startups, including in Indonesia.
The property sector, for example. Based on the H1 Affordability Sentiment Index 2019 data, the very high prices encouraged more Indonesians to live in rental homes. In fact, according to the Indonesia Property Watch 2018 survey, almost half of millennials in Jakarta choose to live in a boarding house.
Considering the opportunity, Igloohome invited YukStay in the strategic partnership in Indonesia to apply its products in several of its managed properties. YukStay is known to offer hospitality services for apartment rentals and boarding. Not only listings, but they also help property owners do management. The service is currently cover the Greater Jakarta and Surabaya.
As for ride-hailing, according to Gojek's internal data, per semester 1/2019 they already have 2 million driver-partners. This was a blessing for Zulu, who became a strategic partner to accommodate partners' main driving equipment - consisting of helmets and protective jackets.
Other companies that started out as B2C eventually adopted the B2B model through acquisition by the big players. The Oculus Rift handset for example, which is now an exclusive Facebook product, Nest is now optimized and marketed with Google technology, or Beats that has become Apple's endorsed product.
More players to come
UMG Idealab has become one of the active venture capitalists in supporting hardware startups, either investing or acting as a venture builder. Two hardware products being prepared are the Widya Wicara smart speaker and the passenger drone named Frogs. They're ambitious enough to make a drone as a passenger taxi, the product is to be further developed at one of the R&D centers in Yogyakarta.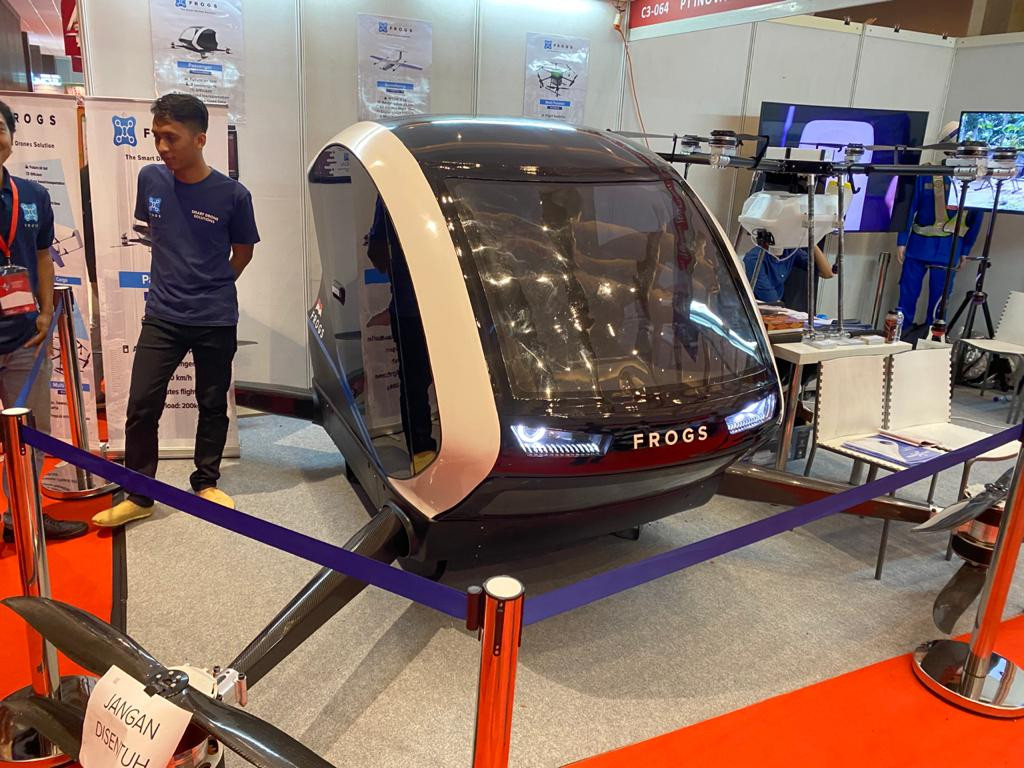 Widya Wicara itself was designed to be a lifestyle device. Equipped with voice-based commands, it is expected to be a personal assistant device in performing several tasks, such as reminders. The speaker-based smart assistant is indeed a lifestyle device that deserves to be taken into account. Its popularity has increased since 2018, followed by the maturity of Natural Language Processing (NLP) technology which has become smarter in recognizing human language.
With the increasing popularity of some products, for example, eFishery. It's using IoT to help shrimp and fishpond businesses in sowing feed automatically. There is also Jala, targeting the fisheries sector with IoT-based products. Both apply the B2B business model and for now, it appears to be well-received by consumers.
–Original article is in Indonesian, translated by Kristin Siagian
Are you sure to continue this transaction?
processing your transaction....