[Ask the Expert] Bagaimana Membuat Status Baru di BBM dan Mencari Lokasi Thumbnail?
Bambang Winarso - 7 May 2015
Ada dua pertanyaan yang redaksi angkat di kolom Ask the Expert minggu ini. Yang pertama menanyakan soal cara membuat status baru di BBM dan kedua soal file thumbnail di memori smartphone yang tidak ditemukan.
Oke langsung saja ya.
Pertanyaan pertama
Bagaimana caranya memperbaiki status di aplikasi bbm, karena kemarin saya sempat menghapus beberapa status dan yang ada lagi cuma "ada" dan "sibuk". Jadi saya bermaksud untuk membuat status baru. Dan ternyata yg tampil tetap saja "ada", bagaimana caranya agar bisa lebih baik lagi seperti semula?
Sri Indrawati
Jawaban
Terima kasih Sri Indarwati atas pertanyaannya. Solusinya silahkan Anda ikuti panduan di bawah ini.
Tap profil BBM Anda, kemudian tap Status - Edit Status Message.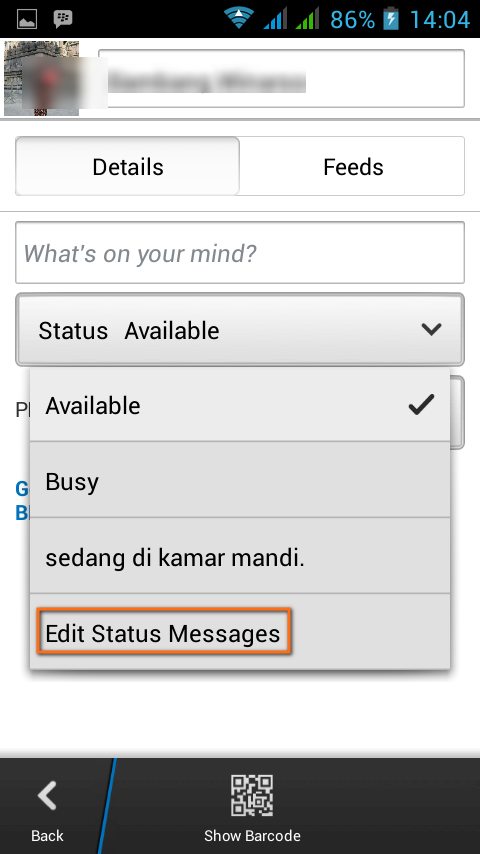 Jika status Anda sebelumnya kosong maka di panel selanjutnya Anda hanya akan melihat halaman putih. Perhatikan di bagia bawah ada menu Add New, nah tap menu tersebut.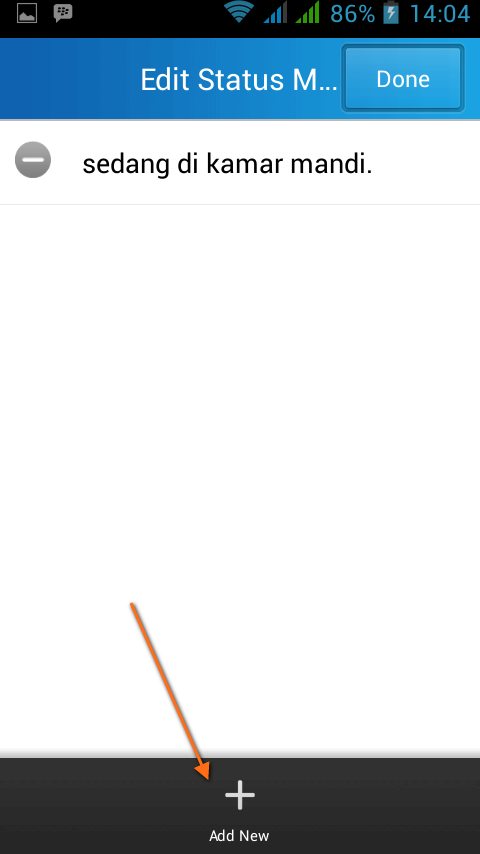 Info Menarik: [Ask the Expert] Bagaimana Cara Mengganti Nama dan Password WiFi Telkom Speedy?
Ketikkan status yang Anda inginkan lalu tap tombol Done untuk menyimpan status baru Anda.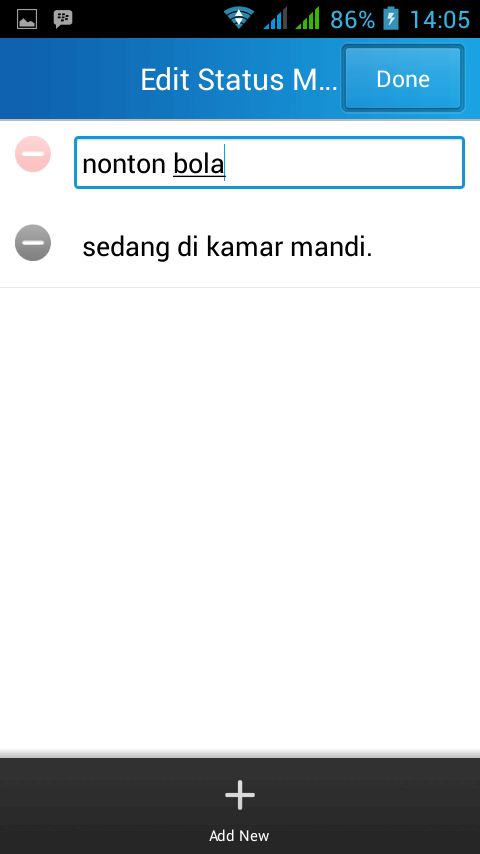 Selesai, status sudah berhasil dibuat. Untuk mengubah status, silahkan pilih salah satu dari yang baru saja dibuat.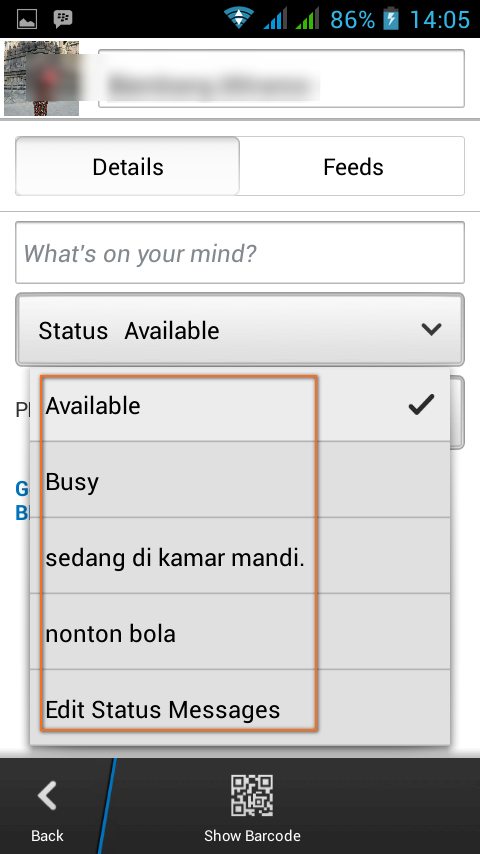 Sri, itu dia jawaban dari saya. Silahkan dicoba ya. Jika menemukan kendala, jangan sungkan untuk berkomentar.
Pertanyaan Kedua
Tempat thumbnails di mana ya? Saya sudah cari di DCIM tapi nggak ada, saya pakai hp GT-S6310. Sekian, terimakasih.
Romzi
Jawaban
Info Menarik: Cara Sederhana Melindungi Smartphone Agar Awet dan Panjang Umur
Anda sudah mencarinya di tempat yang benar, beberapa versi Android memang meletakkannya di direktori berbeda. Tetapi jika tidak ditemukan di manapun, ada beberapa kemungkinan. Pertama sudah dihapus, kedua aplikasi file manager yang Anda pergunakan tidak kompatibel lagi. Untuk itu Anda bisa coba menggunakan aplikasi file manager lain yang lebih baik. Misalnya Thumbnail Finder, ES Explorer atau File Explorer.
Kemudian saya juga sebenarnya perlu mengetahui tujuan Anda ingin menemukan thumbnail. Jika bertujuan untuk dihapus Anda bisa kok menggunakan aplikasi Clean Master, Clean Expert atau beberapa aplikasi cleaner lainnya.
Semoga menjawab pertanyaan Romzi.
Sumber gambar header Shutterstock.
——
Temukan solusi permasalah Anda di artikel Ask the Expert lainnya:
[Ask the Expert] Cara Mengubah Tampilan Smartphone Android Menjadi Seperti Samsung Galaxy S5[Ask the Expert] Bagaimanakah Cara Mengganti Keyboard Android Standar dengan Go Keyboard?[Ask the Expert] Cara Meneruskan Email Masuk dari Yahoo ke Gmail Atau Sebaliknya[Ask the Expert] Bagaimana Cara Menyarankan Kontak di BBM dan Menggunakan Google Maps?[Ask the Expert] Solusi Memori Internal Android Cepat Penuh dan Instalasi Modem di OS X Yosemite[Ask The Expert] Koneksi Bagus Tapi BBM Tidak Berfungsi, Solusinya Bagaimana?[Ask The Expert] KitKat Gagal Upload Video Path dan Mengapa Wajib Backup Saat Pasang ROM
Are you sure to continue this transaction?
processing your transaction....