Bagan Upgrade Windows 10 dan Informasi Lain Seputar Sistem Operasi Terbaru Microsoft
Pembaca setia Trenologi mungkin sudah membaca beberapa info terkait rilis Windows 10, termasuk artikel terakhir yang merupakan liputan acara rilis atau pengenalan Windows 10 yang diadakan oleh Microsoft Indonesia. 
Dalam artikel tersebut disebutkan skema upgrade dari beberapa 'tipe' OS Windows. Nah, untuk lebih jelas kini kami tampilan bagan penjelasan tersebut dalam bentuk image dari foto yang TRL ambil di acara beberapa hari lalu.
Dalam bagan ini bisa terlihat bahwa Windows 7 Core yang meliputi Windows 7 Home Basic, Windows 7 Home Premium, Windows 8 dan Windows 8.1 akan berubah jadi Windows 10 Home. Sedangkan Windows 7 Professional, Windows 7 Ultimate, Windows 8/8.1 Pro di-update jadi Windows 10 Pro.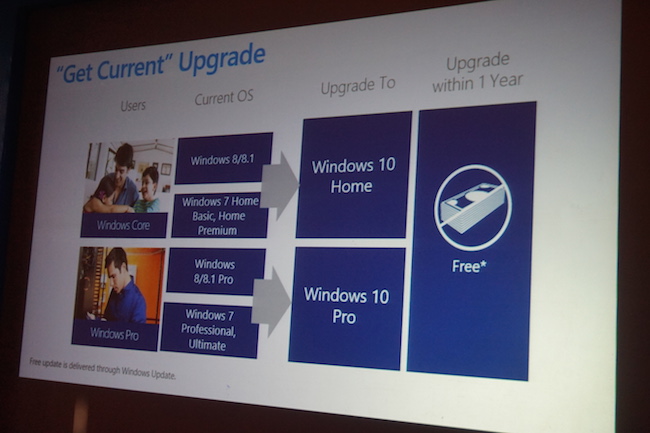 Windows 10 sendiri menawarkan beberapa pembaruan dan peningkatan dari sistem operasi yang dirilis Microsoft sebelumnya. Selain itu OS ini akan merangkul segala jenis device, dari mulai kelas Internet of Things, PC, hybrid sampai console Xbox.
Dengan hadirnya Windows 10 diharapkan pengguna bisa menikmati pengalaman yang konsisten di berbagai macam jenis perangkat. (Baca juga:Beberapa fitur yang bisa dinikmati di Windows 10).
Beberapa highlight dari fitur-fitur yang ada antara lain kembalinya tombol start yang merupakan kombinasi start menu dan live tiles, fitur Continuum, peramban Microsoft Edge (yang terintegrasi Cortana-tersedia di negara tertentu), virtual dekstop dan berbagai fitur lain.
Upgrade ke Windows 10 bisa dinikmati secara gratis di selama satu tahun ke depan. Setelah itu akan dijual dengan harga retail US$ 120, dan US$ 200 buat versi Pro-nya. Pindah dari Home ke Pro dibanderol seharga US$ 100. (Baca juga: Dukungan Update Microsoft Windows 10 Akan Berlangsung Hingga Tahun 2025).
Sebagai pelengkap, kami tampilkan pula beberapa gambar menarik tentang apa yang bisa didapatkan pengguna khususnya pelaku bisnis dengan upgrade ke Windows 10, serta yang satu lagi tentang IoT yang juga akan didukung dengan ekosistem Windows 10.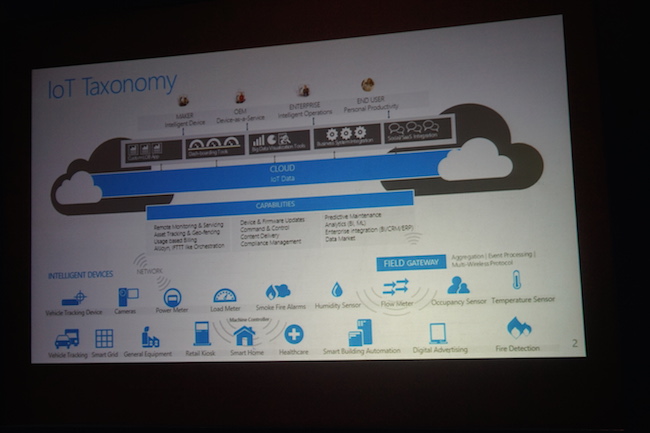 Pembaca Trenologi yang masih membutuhkan berbagai informasi terkait Windows 10, termasuk tips dan trik bisa menuju tautan ini untuk melihat secara lengkap pembahasan topik Windows 10 di situs kami. Dan berikut saya informasikan beberapa info menarik dan tips untuk membantu sobat TRL.
Office Mobile untuk Windows 10 Sudah Tersedia
Integrasi Windows Phone Store dan Windows Store Sudah Dapat Dinikmati Pengguna Windows
Windows 10 Tutorial: Notifications
Windows 10 Tutorial – Snap Assist
Windows 10 Tutorial: Mengenal On-Screen Keyboard
Windows 10 Tutorial: Mengenal Antarmuka Baru Windows 10 Start Menu
Are you sure to continue this transaction?
processing your transaction....