Bank Danamon dan Doku Rilis Aplikasi E-Wallet "D-Wallet"
Akan dikembangkan fitur pembukaan rekening nasabah dan pengajuan kredit
Marsya Nabila - 13 March 2018
Bank Danamon meluncurkan aplikasi dompet digital D-Wallet sebagai upaya mendekatkan diri ke nasabah dari berbagai segmen. Aplikasi tersebut adalah hasil co-branding dengan Doku sebagai mitra teknologinya.
"D-Wallet menjadi bagian dari komitmen kami untuk meningkatkan kualitas layanan sekaligus memberikan nilai tambah bagi nasabah maupun masyarakat luas. Inisiatif jini juga mendukung gerakan non tunai yang ditetapkan pemerintah," terang Direktur SME, Consumer Banking, dan Branch Network Bank Danamon Michellina Triwardhany, Selasa (13/3).
Tampilan D-Wallet secara UI/UX-nya serupa dengan Doku. Begitu pun fitur-fitur yang bisa dimanfaatkan nasabah, mulai dari pembelian voucher, produk investasi, pembelian di seluruh merchant online yang telah bekerja sama dengan Doku, pembelian secara offline, serta tarik tunai di gerai minimarket.
Meski costumer experience yang dihadirkan sama, menurut Consumer Lending and E-Channel Head Bank Danamon Djamin Nainggolan, hal ini baru sekadar langkah awal perbankan sebelum meluncurkan fitur-fitur khusus yang nantinya hanya akan tersedia dalam D-Wallet. Fitur tersebut bakal menggiring pengguna baru, yang pada akhirnya akan menjadi nasabah Bank Danamon.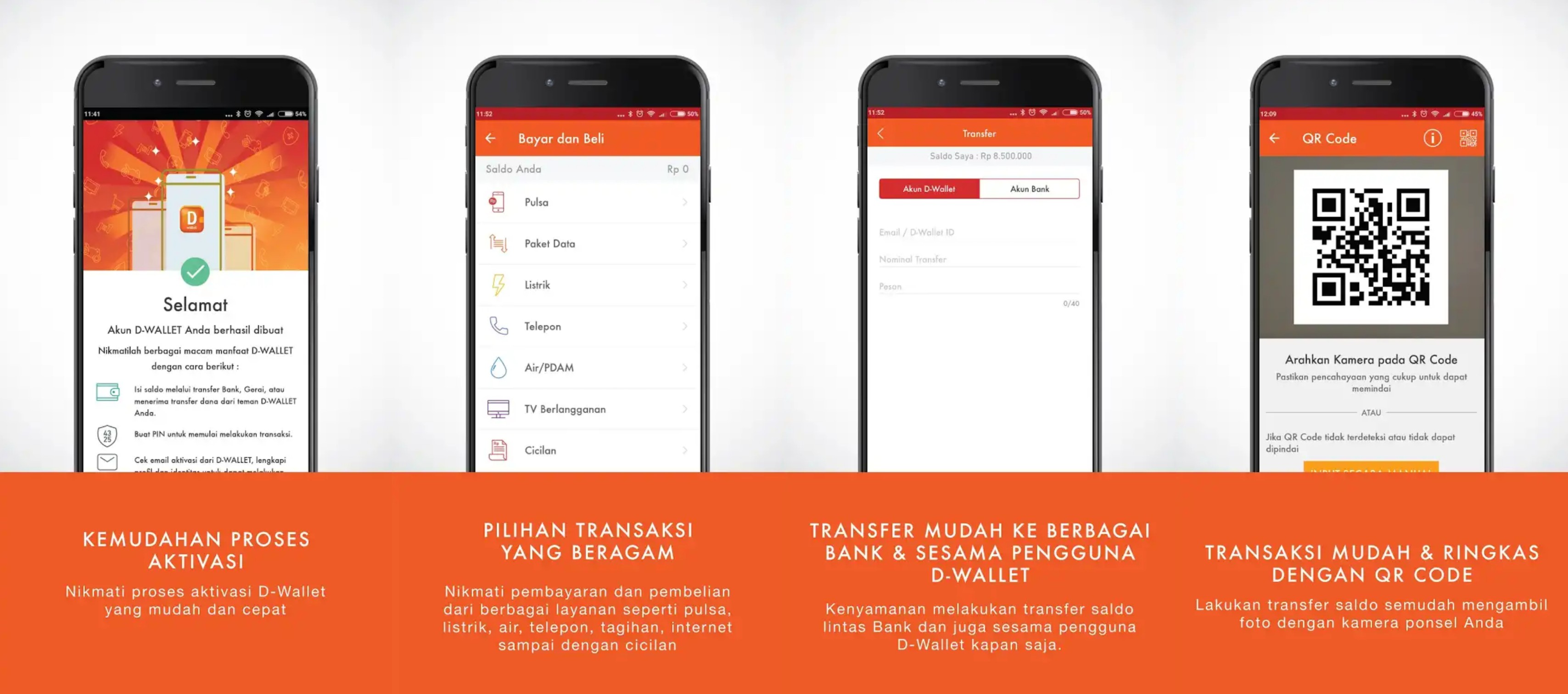 "Tidak apa tumpang tindih [fitur D-Wallet dan Doku] karena ini maksudnya ingin memberikan banyak pintu yang bisa dimasuki pengguna baru. Mereka lebih nyaman masuk lewat mana. Buat Doku, ini jadi alternatif akusisi nasabah lewat channel baru. Sedangkan bagi kami, jadi pengembangan ke arah satu akses dengan layanan lebih seamless," terangnya.
Sama seperti mengakses Doku, nasabah D-Wallet dapat memilih dua jenis pengguna entah itu reguler atau premium. Masing-masing memiliki kelebihan dan kekurangan. Pengguna reguler hanya membutuhkan alamat e-mail untuk terdaftar, namun batas maksimal saldonya sebesar Rp1 juta.
Sedangkan pengguna premium batas maksimal saldonya sebesar Rp10 juta, namun harus melakukan e-KYC dengan mencantumkan KTP. Selain itu, pengguna premium dapat transfer dana ke rekening Bank Danamon atau bank lainnya.
Ke depannya, pihak Bank Danamon akan membawa aplikasi D-Wallet dengan fitur-fitur yang lebih dikhususkan dapat menarik nasabah baru. Beberapa fitur yang tengah dipersiapkan adalah pembukaan rekening, penawaran KTA, dan lainnya.
Djamin menargetkan dalam target jangka panjangnya, D-Wallet dapat menarik satu juga pengguna baru dalam lima tahun mendatang.
Segera umumkan kerja sama lainnya
Bagi Doku, co-branding dengan Bank Danamon adalah langkah perdana yang dipilih perusahaan dalam rangka akusisi pengguna baru. SVP of Consumer Product Doku Ricky Richmond menuturkan pihaknya akan mengumumkan kerja sama serupa dengan dua bank lainnya dalam tahun ini.
"Untuk co-branding Doku dengan bank ini baru pertama kalinya. Berikutnya ada dua bank lagi yang akan seperti ini," terang Ricky.
Untuk model bisnis co-branding seperti ini, pengelolaan teknologi di balik aplikasi akan dipegang Doku, namun penyimpanan dana dan pelayanan konsumennya dikelola Bank Danamon. Doku akan mendapat komisi yang dihasilkan Bank Danamon dari perolehan pendapatan non bunga (fee based).
Sejauh ini, total pengguna aktif Doku mencapai 1,9 juta orang dengan rekanan merchant besar sekitar 800 perusahaan, ditambah 20 ribu pelaku UKM bergerak dari segala industri. Doku kini terhubung langsung dengan 15 bank besar di Indonesia untuk top up dan penarikan dana.