Bank Jago Siap Ekspansi Bisnis di 2022, Lanjutkan Integrasi dengan Gojek
Tengah menyiapkan peluncuran integrasi GoPay sebagai salah satu Kantong di aplikasi Jago
Corry Anestia - 29 October 2021
Menyusul kemitraan strategisnya dengan Gojek, PT Bank Jago Tbk (IDX: ARTO) akan melanjutkan integrasi ekosistem layanan keduanya di 2022. Sejumlah use case telah dipersiapkan, seperti proses e-KYC GoPay dan Jago hingga pembayaran transaksi merchant dari Kantong Jago melalui GoPay.
Disampaikan Presiden Direktur Bank Jago Karim Siregar, saat ini pihaknya tengah menyiapkan peluncuran integrasi GoPay sebagai salah satu Kantong di aplikasi Jago. Kantong GoPay diestimasi segera hadir dalam waktu dekat.
Karim enggan mengelaborasi terkait rencana integrasinya dengan Gojek pasca-merger dengan Tokopedia (GoTo). Kendati begitu, ia memastikan terus akan melanjutkan pengembangan aplikasi Jago agar dapat melayani segmen ritel, UMKM, dan mass market.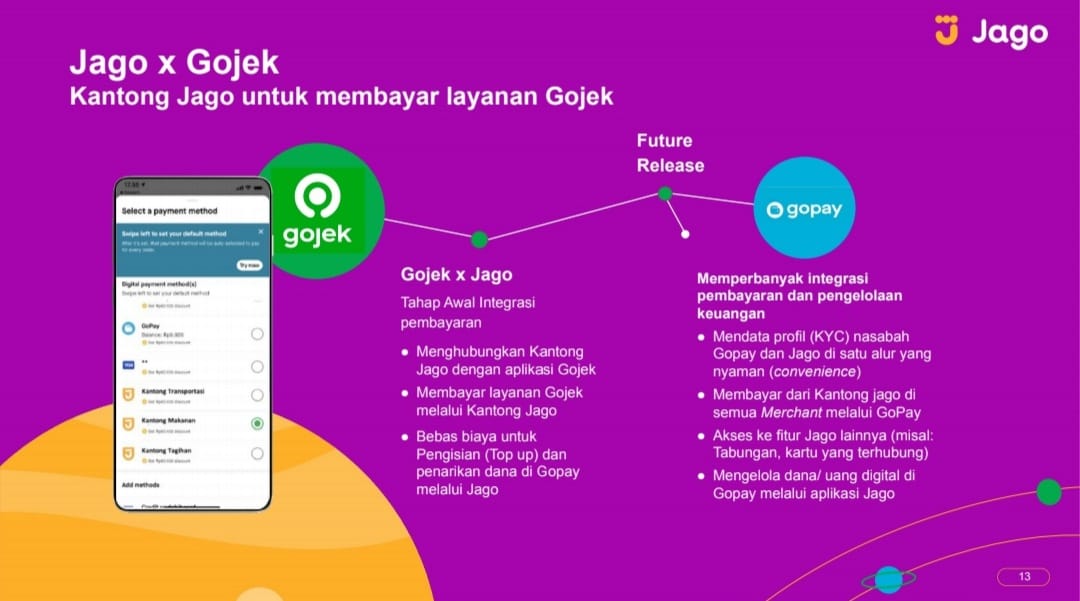 "Tahun ini kami fokus memperkuat fondasi produk dan pengguna. Jumlah pengguna Bank Jago sekarang close to 700 ribu," ungkapnya saat paparan bisnis Bank Jago, Kamis (28/10). Aplikasi Bank Jago tercatat telah diunduh lebih dari 1 juta di perangkat Android.
Sebagaimana diketahui, Gojek Group melalui GoPay (PT Dompet Anak Karya Bangsa) mencaplok 22% saham Bank Jago. Setelah aksi merger GoTo, Bank Jago tengah mengeksplorasi sinerginya lebih luas karena masuk ke ekosistem besar layanan milik Gojek dan Tokopedia.
Syariah digital dan kemitraan pembiayaan
Pada rencana lainnya, Bank Jago juga menargetkan layanan syariah digital tersedia di dalam aplikasi Jago pada kuartal pertama 2022. Saat ini, Unit Usaha Syariah sudah beroperasi, tinggal menunggu realisasi layanan digitalnya saja. Pihaknya tengah menanti izin dari Otoritas Jasa Keuangan (OJK).
"Layanan [keuangan] syariah dan konvensional selalu diidentikkan berbeda, padahal sebetulnya tidak. Lagi pula, belum ada layanan keuangan syariah yang sudah fully digital di Indonesia," tambahnya.
Jago Syariah akan menawarkan solusi keuangan digital yang berfokus pada kehidupan nasabah (life centric) dengan mengoptimalkan teknologi terkini, setara dengan aplikasi Jago konvensional.
Mengacu data Otoritas Jasa Keuangan (OJK), pangsa pasar bank syariah hanya 6,33% per Oktober 2020. Kenaikannya tidak terlalu signifikan dibandingkan pangsa pasar di 2017 yang cuma 5%.
Lebih lanjut, Bank Jago juga berencana memperkuat ekosistem digital dengan mendorong kemitraan layanan, terutama untuk pembiayaan (lending). Secara total, Bank Jago telah bekerja sama dengan 19 mitra dari berbagai vertikal, mulai dari e-commerce, lending, dan investment.
Saat ini, seluruh pembiayaan Bank Jago masih disalurkan melalui model loan channeling dengan pihak ketiga, baik melalui perusahaan jasa keuangan maupun platform P2P lending.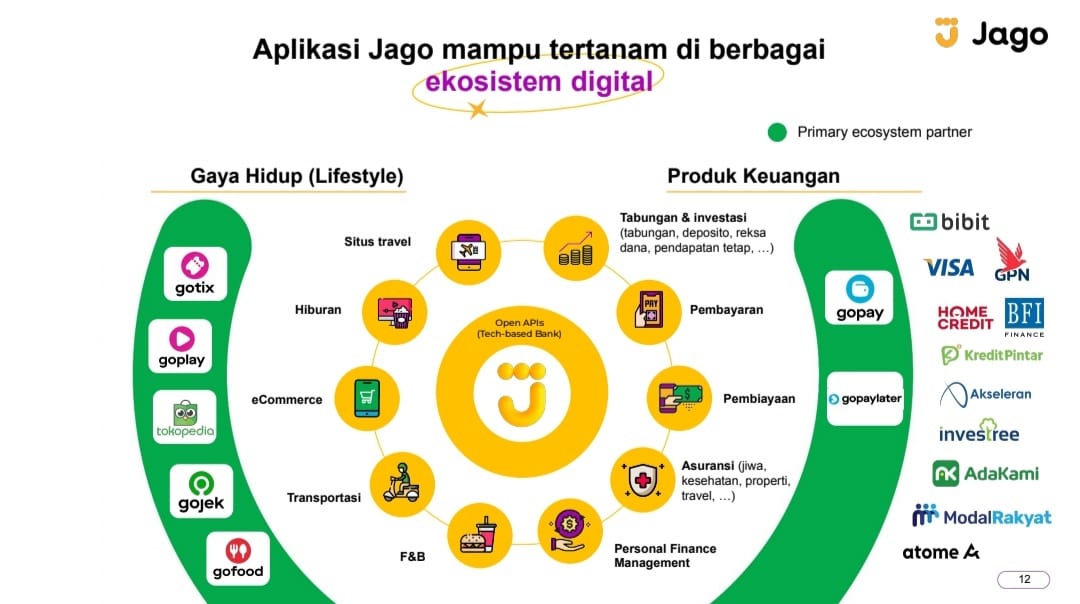 "Bank itu hidupnya dari pendapatan bunga, maka itu kita jangan fokus ke [produk] yang sifatnya transaksional saja, tetapi juga ke kredit atau pembiayaan," tuturnya.
Berdasarkan laporan keuangan kuartal ketiga 2021, Bank Jago telah menyalurkan sebesar Rp3.727 triliun atau naik 502% dari periode sama tahun lalu yang sebesar Rp619 miliar. Sebagian besar kredit ini disalurkan lewat skema loan channeling
Dalam wawancara terdahulu, Karim sempat mengungkap akan membidik UMKM sebagai target pasar pembiayaan. Di 2020, jumlah pelaku UMKM di Indonesia diperkirakan mencapai lebih dari 65 juta yang tercatat berkontribusi lebih dari 50% terhadap PDB Indonesia, dan menyerap sebesar 97% dari anggaran kerja aktif di Indonesia.
Application Information Will Show Up Here
Are you sure to continue this transaction?
processing your transaction....