Bank Central Asia (BCA) bekerja sama dengan Senat Fakultas Ilmu Administrasi Bisnis dan Ilmu Komunikasi Universitas Katolik Indonesia Atma Jaya akan menyelenggarakan BCA SOCIALPRENEUR. Membawakan tema "Improving the Quality of Life" acara tersebut akan diselenggarakan pada 2 Maret 2017 mendatang. Terdapat dua agenda utama sebagai rangkaian dari acara, yakni seminar dan lomba business model canvas.
Di sesi seminar akan dihadirkan tiga pemateri, yakni CEO WeCare.id Gigih Septianto, Director Nazava Liesselotte Heederik dan perwakilan dari British Council. Diharapkan dengan pemaparan dari para narasumber tersebut akan memberikan pemahaman yang lebih mendalam tentang social-entrepreneurship, baik dari sisi konsep ataupun cara merealisasikannya.
Menyambut acara ini, Rektor Unika Atma Jaya A Prasetyantoko mengatakan:
"Social entrepreneurship adalah sebuah konsep yang relatif baru dengan memandang bisnis konvensional melalui dimensi yang berbeda. Artinya, selain membangun bisnis yang bisa dipertanggungjawabkan secara manajerial tetapi orientasinya tetap pada sosial."
Menurut Cynthia, sebagai ketua penyelenggara acara ini, saat ini social entrepreneurship dapat menjadi peluang bisnis yang baik untuk dijalankan, karena di saat bisnis lain melakukan eksploitasi terhadap sumber daya dan meresahkan masyarakat, para wirausahawan sosial justru mengembangkan bisnis yang ramah lingkungan serta dapat menyejahterakan dan menguntungkan masyarakat, terutama masyarakat kecil.
"Acara ini juga sebagai media pembelajaran bagi masyarakat umum dan mahasiswa tentang kewirausahaan sosial dan perannya sebagai alternatif solusi mengatasi masalah kebangsaan," imbuh Cynthia.
Ditargetkan untuk mahasiswa, acara ini diharapkan mampu memicu pengembangan kreativitas dan inovasi dalam memecahkan permasalahan di bidang sosial, ekonomi dan lingkungan. Serta membuka peluang bisnis baru yang dapat menyejahterakan masyarakat.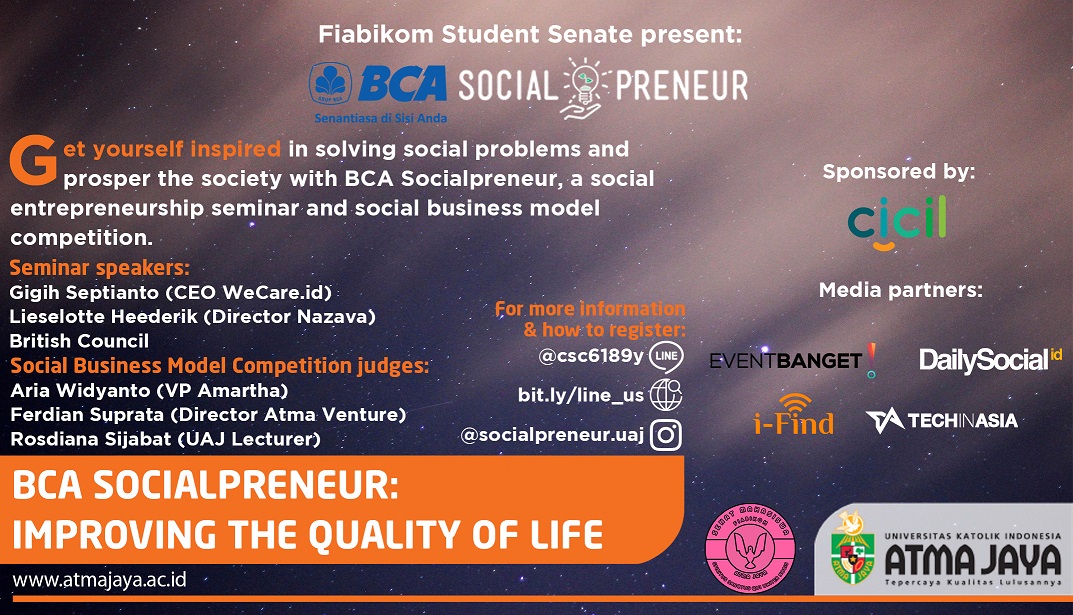 –
Disclosure: DailySocial merupakan media partner acara BCA SOCIALPRENEUR.
DailySocial.id adalah portal berita startup dan inovasi teknologi. Kamu bisa menjadi member komunitas startup dan inovasi DailySocial.id, mengunduh laporan riset dan statistik seputar teknologi secara cuma-cuma, dan mengikuti berita startup Indonesia dan gadget terbaru.