Analyzing Gojek's Decision to Acquire Minority Ownership of Blue Bird
"The enemy of my enemy is my friend"
In the recent regulatory filing on February 14th, PT Blue Bird Tbk (Blue Bird) announced the operator's holding company has sold 4.3% stock worth of $30 million (411 billion Rupiah) to the undisclosed buyer. Bloomberg named Gojek as a buyer, according to the rumor spread since the end of last year.
The public must be questioning the reason behind Gojek's interest in Indonesian largest taxi company stocks. Based on our observation, there are certain points of concern when Gojek, in collaboration with Blue Bird trying to dominate the on-demand transportation services market in Indonesia.
Alliance and Innovation
The enemy of my enemy is my friend. Dealing with Grab and the large sum cash poured by its investors, including electric car development, the adage sounds legit as Gojek took (and tie) Blue Bird to join forces in "winning" the Indonesian market.
Grab has quite rapid innovation in Indonesia within the last year by initiating Greenline taxi and introducing the electric fleet with Hyundai -- as one of its investors.
Rather than individually "battling", the two ally and innovate. Blue Bird has a diversified broad product line, including BYD and Tesla electric cars, however, lacks of assignments on digital innovation.
In addition, Gojek has the most rapid innovation, including the payment channel, though a lack of diversification in transportation products. They are very dependent on the driver's partner vehicles.
Digital transformation of Blue Bird
As a publicly listed company, it is literally visible that Blue Bird's market capitalization and profits have not improved since its peak in early 2015 (before the high-penetration of on-demand services in Indonesia).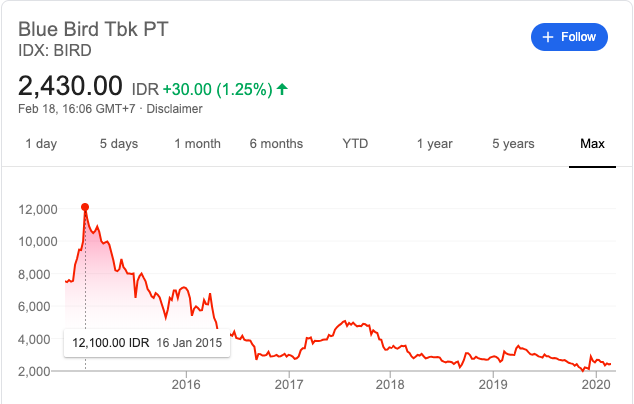 The current value of Blue Bird's share then is at Rp 12,100. As of this writing 5 years later, the number has shrunk to Rp 2,400, it shows the company's market capitalization to only one fifth.
Officially introduced as (minority) owner, Gojek should put technology transfer, such as a mapping system, PoI (Point of Interest) determination, and ways of communicating between drivers and passengers as its current focus.
This collaboration should be the green light, especially for public investors, that Blue Bird can afford to be sustainable and relevant. Unlike other taxi companies that flunked in a storm of on-demand services with heavy cash to burn.
Will this become a new trend?
We'll have to wait and see, for the results of a broader partnership between the two companies this year. Gojek's focus on pursuing revenues and profits has met its match with Blue Bird Corporation.
It is too early to speculate the angle of this collaboration, or whether synergy like this will become a new trend between technology startups and conventional companies.
The thing is, Gojek has been one step ahead in pulling Blue Bird, as a taxi company with the best brand value, from the pool of tempting competitors. It is not impossible that we will see GoSilverBird or GoBlueBirdElectric options in the near future.
–Original article is in Indonesian, translated by Kristin Siagian
Are you sure to continue this transaction?
processing your transaction....