Social Media
(Update) Beli Paket Indosat Sekarang Bisa via Twitter!
Indosat kembali menelurkan layanan kreatif bertajuk #TwitBuy yang menawarkan cara baru pembelian paket-paket menarik Indosat melalui jejaring sosial Twitter.
Layanan hasil kolaborasi Indosat dan jejaring sosial terbesar kedua ini memungkinkan pelanggan Indosat untuk membeli paket Indosat tanpa harus repot keluar rumah atau membuka aplikasi Instant. Cukup dengan mengirim DM Twitter, paket dapat diterima dengan aman.
Layanan yang diklaim sebagai yang pertama di Asia Pasifik ini diharapkan dapat mempermudah pelanggan dalam memenuhi kebutuhan paket Indosat. Jika sebelumnya pembelian hanya dapat dilakukan melalui USSD, SMS, retail, bangking dan aplikasi-aplikasi mobile. Kini netizen yang sering menghabiskan banyak waktu di dunia maya bisa langsung melakukan pembelian paket sambil tetap berkicau di Twitter.
Prashant Gokarn, Chief of Digital Services Officer Indosat dalam keterangan tertulisnya mengatakan, "Sebagai perusahaan telekomunikasi pertama di regional Asia Pasifik, yang menyediakan layanan inovatif akses pembelian paket via Twitter, kami sangat gembira dapat bermitra dengan Twitter dalam memberikan pengalaman terbaik bagi pelanggan. Para pelanggan Indosat kini dapat dengan mudah melakukan pembelian paket-paket menarik Indosat secara langsung dalam keseharian menggunakan Twitter, salah satu platform media sosial yang terbesar di Indonesia."
Info Menarik:Indosat Perkenalkan Toko Aplikasi Alternatif i-Aplikazone untuk Platform Android
Sementara itu Arvinder Gujral selaku Director Business Development, Twitter Asia Pacific mengaku senang bisa menjalin kerjasama dengan Indosat dalam menghadirkan layanan ini. Menurutnya, Indonesia adalah salah satu pasar mobile dan jejaring sosial terbesar di dunia. Kehadiran layanan ini diharapkan dapat memberi kemudahan dan kenyaman di saat sedang menjelajah Twitter tanpa harus khawatir kehabisan pulsa.
Sebelum bisa merasakan layanan baru ini, pengguna harus melakukan beberapa hal terlebih dahulu.
Pertama, ikuti akun resmi Indosat di @indosatmania, jika sudah mengikuti berarti Anda bisa langsung ke proses berikutnya. Kirim DM dengan pesan #TwitBuy ke akun tersebut.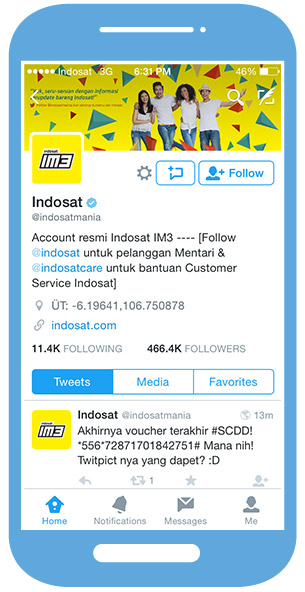 Berikutnya akun @indosatmania akan memberikan jawaban yang berisi intruksi melakukan registrasi layanan.    
Daftarkan nomor ponsel Anda melalui SMS dan kirim ke 2222.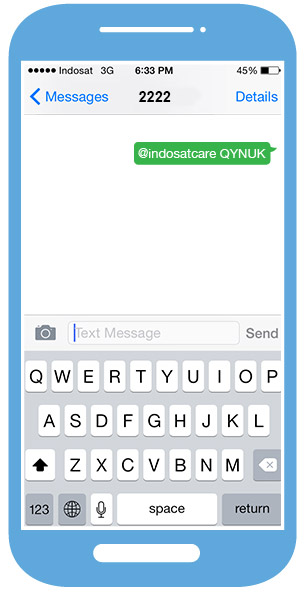 Tunggu balasan berisi kode pendek via DM.
Cek konfirmasi pendaftaran sukses dan tunggu instruksi selanjutnya via DM. Pilih paket yang tersedia dengan mengetik #menu via DM.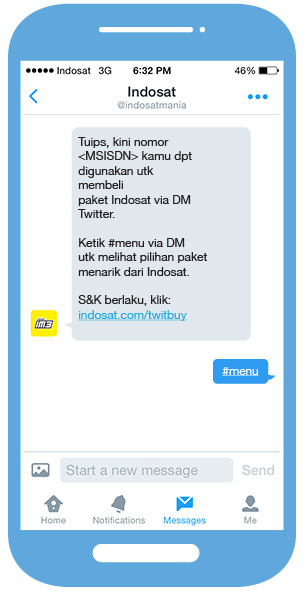 Indosat akan mengirimkan 2 buah DM yang berisi info paket sedang dalam proses dan info tentang Pelayanan Pelanggan.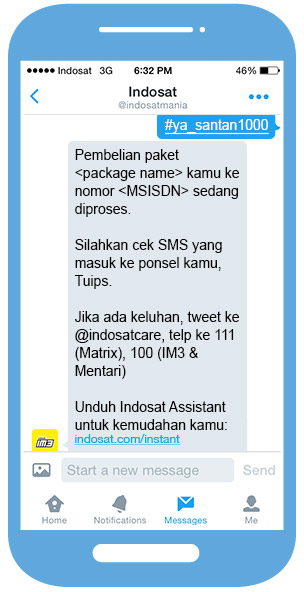 Terakhir Anda akan menerima SMS dari Indosat berisi status pembelian paket dan paket pun siap digunakan.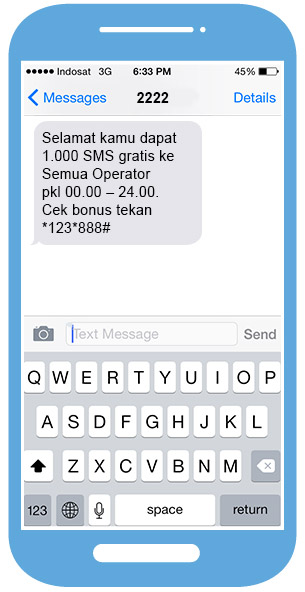 Update: layanan ini menawarkan cara baru membeli paket Indosat, bukan paket pulsa dalam bentuk nominal.
Are you sure to continue this transaction?
processing your transaction....