Benarkah Apple Berencana Merilis iPad dengan Sebuah Stylus?
Rumor mengenai Apple yang akan mengeluarkan iPad Pro berukuran 12.9 inch memang sudah lama terdengar gaungnya. Kali ini Ming Chi Kuo, seorang analis dari KGI Securities, yang juga terkenal karena ramalannya terhadap produk-produk terbaru dari Apple, mengatakan bahwa Apple akan merilis iPad Pro berukuran 12.9 inch berikut stylus.
Berdasarkan beberapa hak paten berkaitan dengan stylus yang diajukan oleh perusahaan yang berbasis di Cupertino tersebut, Kuo mengatakan bahwa stylus yang nantinya hadir di iPad Pro berguna untuk menambah pengalaman pengguna.
Kuo juga percaya bahwa stylus yang nantinya hadir bersamaan dengan iPad Pro lebih bersifat optional.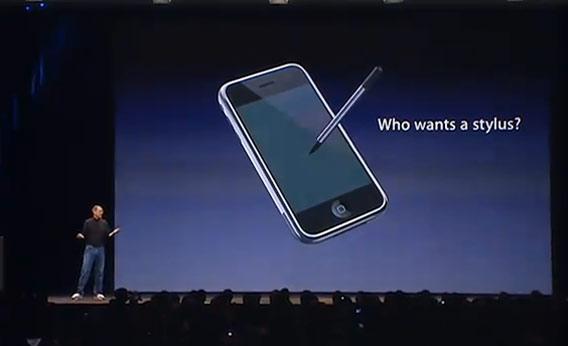 Kuo juga menyebutkan jika stylus hadir di bundling dengan iPad Pro maka harga jual yang tinggi justru akan memberatkan konsumen untuk memilikinya.
Meski tak mengharapkan banyak fitur atau sensor seperti akselerometer dan built-in gyrosope di stylus milik Apple, namun Kuo percaya bahwa Apple akan selangkah demi selangkah menambahkan hal tersebut hingga 3D handwritting akan memungkinkan di model selanjutnya.
Info menarik: Prototipe Sony SmartEyeglass Attach Jadikan Kacamata Apapun Sepintar Google Glass
"Penambahan sensor gyroscope dan akeselerometer dalam sebuah stylus memungkinkan pengguna untuk menulis tak hanya di layar, namun juga di permukaan keras lain bahkan di udara", lanjut Kuo seperti yang dikutip dari AppleInsider.
Pengisian daya stylus secara wireless memang mudah dan nyaman, namun Kuo menyangsikan hal tersebut. "Kita mengharapkan stylus yang akan dirilis menggunakan konektor Lightning sebagai cara pengisian daya.", Kuo menambahkan.
Hadirnya stylus secara opsional di perangkat iPad sendiri diyakini tak akan banyak membantu penjualan iPad di tengah persaingan pangsa pasar tablet yang cukup ketat dan pertumbuhan pasar yang lambat. Namun Kuo percaya bahwa iPad Pro dengan stylus akan membantu Apple mendapatkan pangsa pasar baru seperti sektor pendidikan dan korporat.
Info menarik: Aplikasi Cleen, Permudah Organisir Foto di iPhone atau iPad
Steve Jobs sendiri sangat tidak menyukai stylus. "Who wants a stylus?", kata Jobs ketika memperkenalkan iPhone di tahun 2007 silam. Hal yang sama dikatakan Steve Jobs sewaktu iPhone OS 4 event, "It's like we said on the iPad, if you see a stylus, they blew it. In multitasking, if you see a task manager... they blew it. Users shouldn't ever have to think about it.". Namun Apple di bawah Tim Cook nampaknya akan mengambil jalan lain.
Bagimana menurut Anda akan hadirnya stylus di iPad versi terbaru yang digadang-gadang dengan nama iPad Pro? Sampaikan di kolom komentar ya!
Sumber: AppleInsider | Gambar header: Apple via Shutterstock.
Are you sure to continue this transaction?
processing your transaction....