Berdasarkan Info di Steam, Rise of the Tomb Raider Akan Tiba di PC Bulan Januari 2016
Sayangnya berbeda dari gamer PC, pemilik PlayStation 4 harus menunggu hingga penghujung tahun 2016 untuk menikmati Rise of the Tomb Raider.
Yoga Wisesa - 28 December 2015
Digunakan produsen untuk menjaga nilai jual platform gaming mereka tetap tinggi, eksklusivisme permainan ialah hal yang tidak begitu disukai gamer, dan tak selamanya memberi manfaat bagi developer. Meskipun eksklusivisme sangat sulit dilepaskan para pencipta console, Microsoft perlahan-lahan mengubah kebijakan mereka, dan mulai mengadopsi timed exclusive.
Ada berita gembira buat para gamer PC yang sedang menanti sekuel dari reboot Tomb Raider. Setelah diluncurkan di Xbox One pada bulan November 2015 silam, Rise of the Tomb Raider kabarnya akan tiba di Windows tidak lama lagi. Informasi ini terpantau oleh pengguna forum NeoGAF berdasarkan kemunculan laman resmi permainan di platform distribusi digital Steam.
Di sana, Rise of the Tomb Raider dinyatakan akan dirilis pada bulan Januari 2016 – meskipun info tidak menyebutkan tanggal secara spesifik. Di kolom deskripsi produk, Cyrstal Dynamics menuliskan, "Menawarkan momen-momen epik menegangkan yang dilatarbelakangi lokasi eksotis namun berbahaya, Rise of the Tomb Raider menyuguhkan petualangan penuh aksi dalam ekspedisi penjelajahan makam di mana Lara mencoba menguak rahasia keabadian."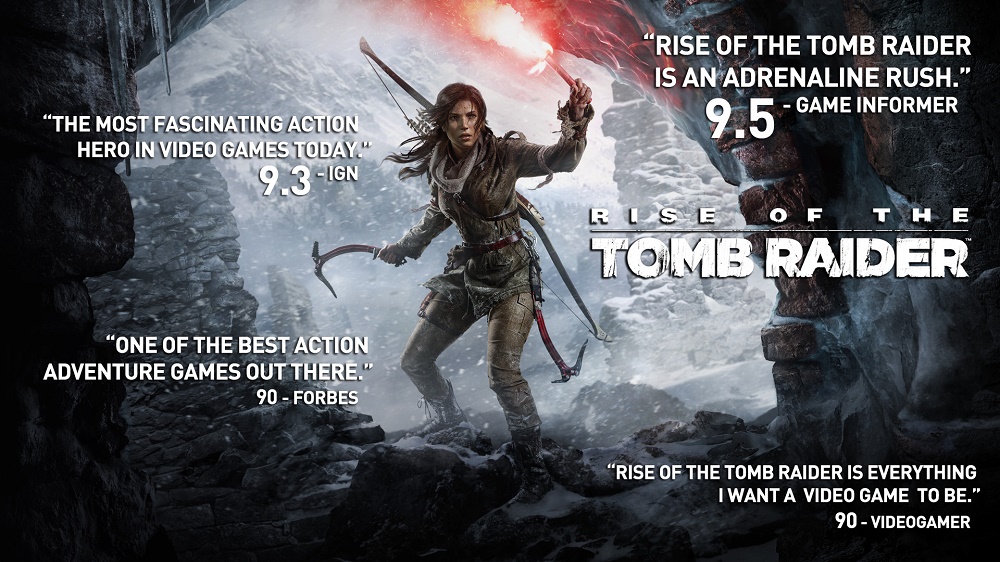 Janji developer memang sesuai dengan klaim mereka. Rise of the Tomb Raider adalah salah satu permainan terbaik di 2015 (serta masuk dalam honorable mention daftar game favorit DailySocial). Di Steam, publisher Square Enix turut membubuhkan konklusi dari ulasan-ulasan media game terkemuka, meski kita harus menjajalnya sendiri untuk tahu apakah Rise of the Tomb Raider berjalan optimal di PC atau tidak.
Rise of the Tomb Raider meneruskan kisah Lara Croft, di-setting beberapa tahun setelah Tomb Raider usai. Sang penjelajah legendaris itu masih sulit mencerna kejadian supranatural yang ia alami sebelumnya. Ingin mencari jawabannya, Lara memutuskan buat meneruskan riset sang ayah mengenai kota mitos Kitezh. Gameplay-nya tak jauh berbeda dari Tomb Raider pertama, dengan penyempurnaan di berbagai aspek plus sistem crafting.
Kehadiran Rise of the Tomb Raider di platform lain sudah bisa ditebak, mengingat permainan pada dasarnya bukanlah franchise milik Microsoft. Apalagi game terdahulu juga dirilis di Windows, console new-gen, serta last-gen.
Kemunculan game secara lebih dini di PC merupakan berita melegakan, tapi boleh jadi, Square Enix mempercepat waktu tayangnya karena penjualan Rise of the Tomb Raider di Xbox One tidak sesuai harapan mereka – disebabkan waktu pelepasan yang berbarengan dengan Fallout 4.
Dan sayangnya lagi, pemilik PlayStation 4 baru dapat menikmati Rise of the Tomb Raider di triwulan keempat 2016.
Sumber: Steam.
Thank you for Reading DailySocial.id
Starting at less than Rp 5.000/Day. You get unlimited access to DailySocial.id