Bermain Sebagai Ahli Pedang dan Sihir Dalam Game Kitaria Heroes: Force Bender
Adam Ardisasmita - 21 November 2014
Kolaborasi dua studio game asal Indonesia, Hinocyber dan Enthrean Guardian, mempersembahkan sebuah game berjudul Kitaria Heroes: Force Bender.
Di dalam game ini, kita akan berperan sebagai Elena Minwell, seorang gadis kecil yang menguasai tidak hanya ilmu pedang, tapi juga memiliki kekuatan sihir. Kombinasi skill ini cukup unik mengingat kekuatan fisik dan magis dikuasai oleh satu orang. Namun justru hal tersebutlah yang membuat game ini menjadi sangat menarik.
Game ini menceritakan tentang perjalanan Elena Minwel melawan tokoh jahat seorang dark magician bernama Az yang sudah memporak-porandakan desa tempat dia tinggal dan membuat Elena kehilangan anggota keluarganya. Untuk bisa mengalahkan Az, Elena harus bertualang melintasi beberapa tempat seperti padang pasir, gunung berapi, hingga kutub yang dingin.
Story dari game ini juga dibawakan dengan cukup mengalir menggunakan pengisi suara berbahasa Indonesia. Lalu juga ada subtitle berbahasa Inggris agar pemain dari luar negeri bisa memahami ceritanya.
Info menarik: Dengan Motorola Keylink, Lupa Menaruh Ponsel Bukan Lagi Masalah Besar
Game bergenre hack and slash ini mampu memacu adrenalin pemainnya. Tidak hanya combo yang ada di dalam pertarungan, tapi juga berbagai ilmu pedang dan sihir yang bisa kita latih dan gunakan dalam pertempuran membuat permainan ini menjadi seru.
Sembari bertualang dan mengeksplorasi berbagai tempat, kita akan bertemu dengan tipe musuh yang beragam dan semakin lama semakin kuat. Di sinilah akan terasa serunya menguasai berbagai jurus pedang dan sihir. Sensasi ketika kita bisa mengalahkan musuh sekian banyak dengan jurus-jurus spesial yang kita miliki sangatlah menyenangkan.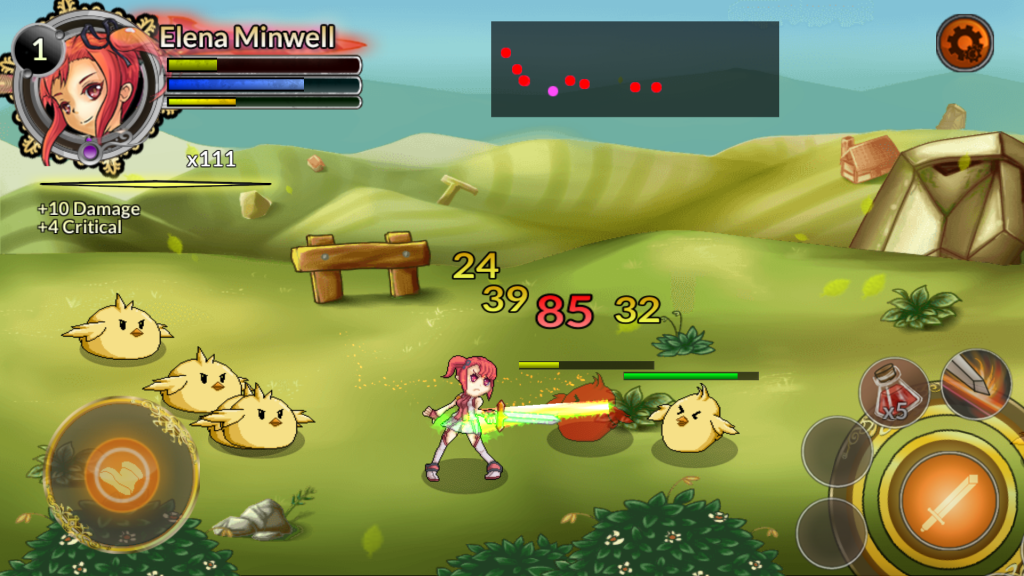 Secara visual, beberapa komponen dalam game ini terlihat dikembangkan dengan sangat detil. Area field tempat bertarung, karakter Elena Minwell, hingga tombol ikon di dalam user interface dieksekusi dengan baik.
Namun untuk halaman peta dan juga bagian story, saya pikir bisa lebih dipoles lagi sehingga pengalaman bermain game ini bisa lebih baik.
Pemain bisa menikmati audio di dalam game ini yang menyatu dengan nuansa yang ingin dibawakan. Efek serangan dan jurus juga terlihat menyatu dalam permainan. Untuk genre hack and slash tentunya nuansa seru harus tetap dijaga, dan game ini cukup bisa melakukannya. Peningkatan di voice over pada bagian story sepertinya masih bisa dilakukan agar menjadi lebih halus lagi.
Info menarik: Susul Nokia N1, Jolla Tablet Dengan Sailfish OS Resmi Diperkenalkan
Game Kitaria Heroes: Force Bender ini menurut saya adalah game yang memiliki konsep yang sangat menarik dan dieksekusi dengan baik. Jika terus dipoles dan di-update, game ini berpotensi untuk bersaing dengan game dari mancanegara.
Dengan gameplay yang seru, cerita yang dalam, juga kombinasi jurus yang bervariasi, Game Kitaria Heroes: Force Bender ini wajib untuk di download dan dimainkan oleh para gamers. Game ini sudah tersedia untuk perangkat dengan platform Android dan BB secara gratis lalu di platformiOS dijual seharga $1,99.
https://www.youtube.com/watch?v=gKD0UHdbVQM
Are you sure to continue this transaction?
processing your transaction....