Bhinneka Partners with Loket, Introducing Event Ticketing for Corporate
As Loket's first affiliate partner to sell ticket for B2B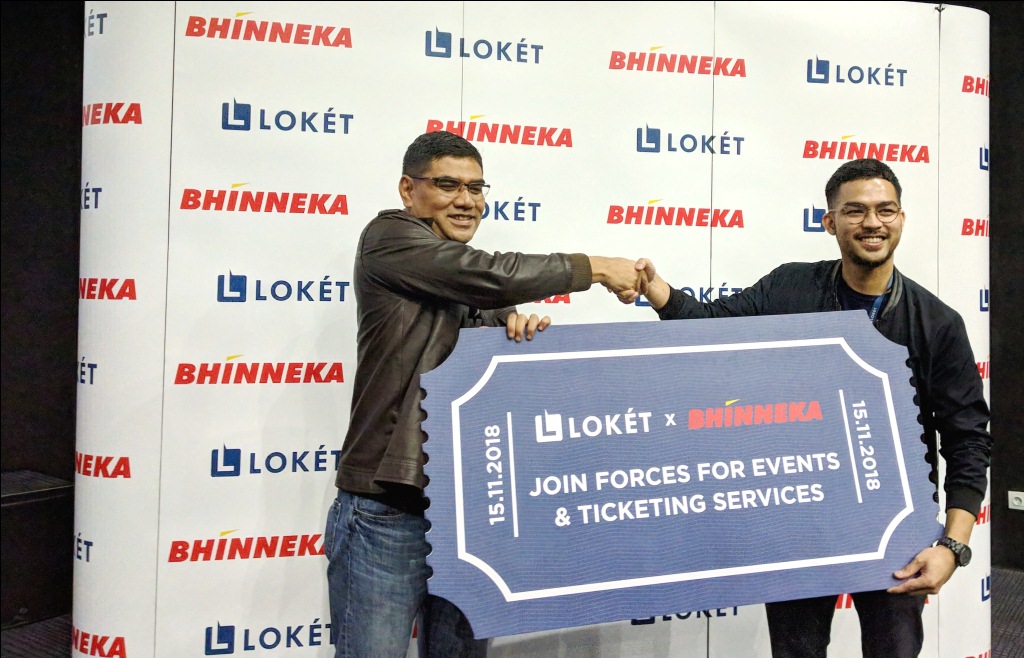 Bhinneka's VP Services Ferryzal Zulkarnain with Loket's VP Customer Solution Rama Adrian / DailySocial
Bhinneka announces the latest service with Loket (Go-Jek's subsidiary) for ticketing event, theme park, and MICE (Meetings, Incentives, Conferences, and Exhibitions) targeting corporate consumers. The ticket is wrapped for bulk purchasing, facilitating office events, such as outing or workshops.
It brings Bhinneka to be Loket's first affiliation partner engaged in the B2B segment for Loket Distribution Program (LDP) product line. It is a ticketing distribution scheme by Loket to build a network using online or offline affiliation.
Ferryzal Zulkarnain, Bhinneka's VP Services, said the latest service can encourage its team to be more aggressive in acquiring over 40 thousand corporate consumers. To date, Bhinneka has built a strong penetration for e-catalog projects, in collaboration with Government Goods / Services Procurement Policy Institute (LKPP).
"We're glad to have this partnership, therefore, we can provide additional services to more than 40 thousand Bhinneka customers," he said on Thu (11/15).
Currently, Loket has been handling bulk purchasing for corporate consumers. However, all processes are done manually and have no proper system. On the other hand, B2B consumers have specific requirement because it goes through procurement, the process should be facilitated. Partnership with Bhinneka will facilitate Loket service for the B2B segment while previously focused only on B2C.
"The partnership with Bhinneka is quite unique because it's our only affiliation focused on B2B. It makes a new market segment in need for access to the professional entertainment industry," Rama Adrian, Loket's VP Consumer Solutions, said.
Zulkarnain continued, both parties will develop better feature later. One is by providing bulk purchase feature according to the characteristic of corporate customer's demand, including ticket bundling. It's also possible to enter Bhinneka's B2C segment.
Ticket purchasing is available through Bhinneka Bisnis official site. However, consumers should register first by adding the detail of the company's profile and wait for verification.
Currently, Loket has more than 30 LDP affiliate partners, it's full focus to the end user. LDP current partners, such as Go-Tix, Blibli, JD.id, Tokopedia, Tiket.com, Traveloka, Goers, and many more. Until August 2018, Loket has sold more than 6.3 million tickets for 3500 events.
–
Original article is in Indonesian, translated by Kristin Siagian
DailySocial.id adalah portal berita startup dan inovasi teknologi. Kamu bisa menjadi member komunitas startup dan inovasi DailySocial.id, mengunduh laporan riset dan statistik seputar teknologi secara cuma-cuma, dan mengikuti berita startup Indonesia dan gadget terbaru.