Bisa Berubah Bentuk, Kinetic Blocks Ialah Penjelmaan Selanjutnya Dari inForm
Yoga Wisesa - 16 October 2015
Kira-kira dua tahun silam, sebuah penemuan membuat khalayak terkagum-kagum. Ia dinamai inForm, 'meja ajaib' yang dapat berubah bentuk serta memanipulasi objek pasif hasil karya Tangible Media Group MIT. Meskipun kita tahu inForm hanyalah sebuah demonstrasi teknis, developer terus mengembangkan fungsi praktisnya hingga tercipta inkarnasi selanjutnya.
Tangible Media Group dahulu membayangkan, pada suatu hari nanti inForm dapat digunakan untuk mereproduksi miniatur kota berbekal data tiga dimensi, membuka peluang buat penyajian tur digital. Dengan teknik yang tidak jauh berbeda, Tangible mengungkap arahan baru baru dari kreasi mereka: yaitu ke bidang bangun-membangun dan konstruksi. Wujud baru inForm tersebut diberi nama Kinetic Blocks.
Teknologi di belakang Kinetic Blocks pada dasarnya sama seperti inForm. Tim dari Massachusetts Institute of Technology itu menganggapnya sebagai layar, namun bukan 'layar' dalam pengertian biasa. Perangkat mempunyai komponen-komponen menyerupai block memanjang, mampu menyusun serta mengurai objek dengan akurat. Benda-benda sampel tes berbentuk kubus bisa diputar atau digerakan secara vertikal.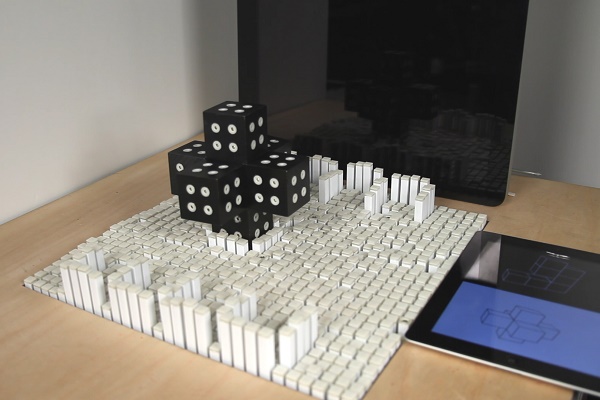 Developer menamai teknologi ini pin-based shape display, dan bagian berupa batang-batang itulah 'pin-nya'. Secara fundamental, implementasinya memang sederhana, tapi pemanfaatkan balok bermagnet memungkinkan Kinetic Blocks menciptakan struktur lebih kompleks. Karena sanggup membaca data spasial, device dapat diperintah untuk memastikan sebuah benda berada di posisi tertentu - mengikuti panduan dari objek aslinya.
Info menarik: Ilmuwan Cambridge Ciptakan Robot yang Bisa 'Berkembang Biak'?
Karya Tangible Media Group tersebut juga dapat diprogram untuk membangun skema struktur yang disimpan dalam memori. Ketika inForm mampu membaca input melalui Microsoft Kinect dan merespon secara real-time, Kinetic Blocks dispesialisasikan buat mendeteksi benda dan orientasi arah, sanggup merakit dan membongkar bangun. Pembuatan Kinetic Blocks berbasis pada visi Radical Atom, sebuah konsep futuristis di mana semua data digital bisa berinteraksi dengan ruang fisik.
"Bersandar pada kapabilitas perubahan bentuk, kami memberikan ide dan cara-cara menggerakan benda-benda pasif," jelas tim Tangible. Tentu pin-based shape display masih memiliki kelemahan. Ia hanya bisa memproduksi bangun 2.5D, dan keakuratan formasinya tergantung dari dimensi pin/batangan. Semakin kecil, semakin baik. Dan untuk sekarang ukurannya masih cukup besar.
Makalah lengkap mengenai Kinetic Blocks dapat Anda baca lengkap lewat tautan ini. Dan silakan saksikan video demontrasi sekaligus liputan persembahan The Verge di bawah.
Sumber: Tangible.