Bisa Dilipat Menjadi Koper, 3D Printer Ini Juga Bisa Mencetak dengan Beragam Material
Glenn Kaonang - 22 May 2015
Popularitas 3D printer di pasaran rupanya menjadi 'taman bermain' baru bagi para desainer produk. Dulunya berwujud balok seukuran ruangan, 3D printer saat ini mempunyai wujud yang bermacam-macam. Ada yang berdesain unibody, ada yang mengklaim dirinya paling mungil, dan ada pula yang berwujud sebuah pena.
Nah, 3D printer yang satu ini memperkenalkan bentuk yang lain lagi. Bentuknya mirip koper, dengan rangka aluminium dan stainless steel berdimensi 44 x 32,5 cm dan tebal 11 cm. Mendukung desainnya yang ringkas, sebuah handle ditambatkan ke sisi atasnya sehingga pengguna bisa membawanya bepergian dengan mudah. Namun perlu diingat, bobotnya mencapai 7 kg.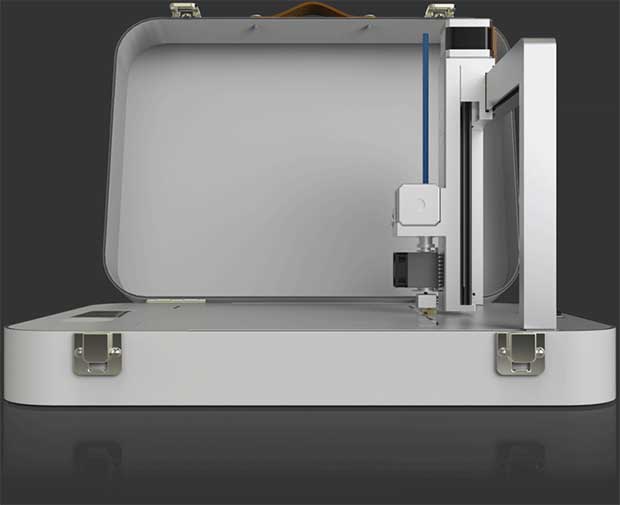 Bernama Focus, 3D printer yang memperkenalkan diri lewat Kickstarter ini merupakan produk besutan startup asal Belanda bernama 3D By Flow. Saat 'koper' ini dibuka, tampak wujud aslinya, sebuah 3D printer dengan komponen extruder tunggal yang bisa mencetak menggunakan gulungan filamen berbagai jenis, seperti PLA maupun ABS.
Info menarik: Ilmuwan Berhasil Buat Perangkat 'Teleportasi' Berbasis 3D Printer
Namun keunggulan 3D By Flow Focus tidak cuma terletak pada desain lipatnya yang inovatif. Focus juga dapat mencetak menggunakan material selain yang berbentuk filamen, seperti pasta maupun butiran. Dengan kata lain, secara teori Focus bisa mencetak menggunakan bahan seperti cokelat, keramik, porselen, kaca, kayu, nilon, silikon, bahkan logam perunggu.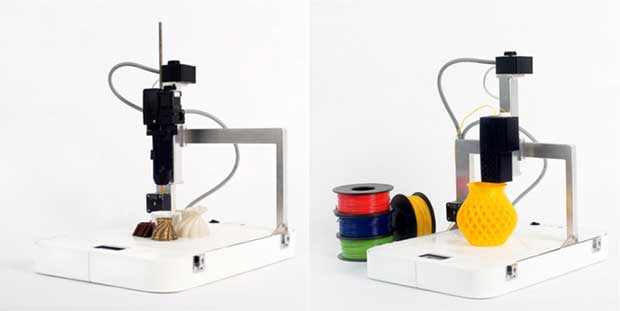 Hal ini dimungkinkan berkat extruder-nya yang mudah dilepas-pasang dengan memanfaatkan magnet. Paket penjualannya memang hanya mencakup extruder filamen saja, seperti tampak pada gambar di sebelah kanan. Namun Anda nantinya juga bisa memesan extruder untuk bahan berbentuk pasta (tengah) atau butiran/serpihan (kiri) – extruder butiran ini masih dalam tahap pengembangan.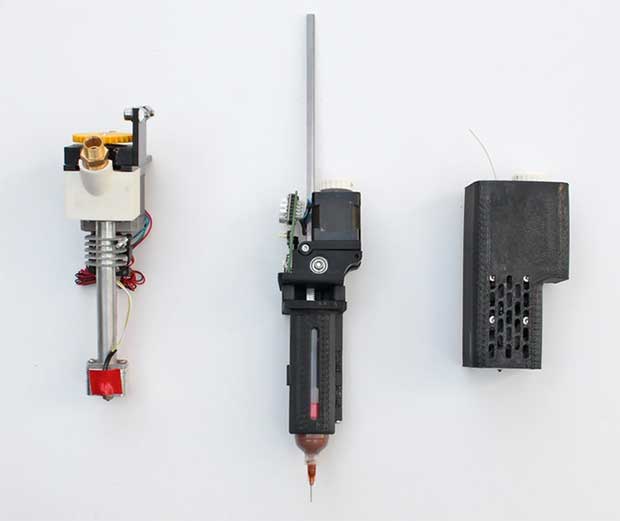 Konsep lepas-pasang ini juga diterapkan pada pelat dasar yang digunakan untuk mencetak. Selesai mencetak, Anda bisa mengganti pelat dasar tersebut dengan pelat lain, dan segera mencetak objek lainnya.
Berpenampilan minimalis, Focus rupanya juga menawarkan proses setup awal yang sederhana. Ia tidak perlu dikalibrasi setiap akan digunakan, dan dalam waktu hanya 2 menit saja, Focus sudah siap mencetak objek sesuai rancangan Anda, dalam resolusi hingga 200 micron.
Info menarik: The Palette Membuat 3D Printing Jadi Lebih Berwarna
Bicara soal rancangan, Focus kompatibel dengan file 3D yang Anda buat dan simpan dalam format standar, seperti STL, OBJ maupun G-code. Masukkan SD card berisi file yang ingin Anda cetak, lalu instruksikan Focus untuk mencetak via layar berukuran kecilnya, atau Anda juga bisa menyambungkannya ke komputer lewat USB.
Sayangnya Focus tidak mengemas konektivitas Wi-Fi seperti yang sudah cukup umum diusung sejumlah 3D printer terkini. Kendati demikian, Focus kompatibel dengan aksesori WiFi-Box buatan Doodle3D.
Meski tengah menjalani kampanye pengumpulan dana di Kickstarter, 3D By Flow Focus saat ini sebenarnya sudah masuk dalam tahap produksi. Namun buat yang tertarik melakukan pre-order, Anda bisa memilih pledge senilai €245, dengan pilihan extruder filamen atau pasta.
Are you sure to continue this transaction?
processing your transaction....