Blibli Konfirmasi Status "Startup Unicorn"
Disampaikan CEO Blibli Kusumo Martanto dalam wawancara eksklusif dengan DailySocial
Blibli menambah daftar startup unicorn Indonesia. Konfirmasi ini disampaikan CEO Kusumo Martanto dalam sebuah wawancara eksklusif kolom Mastermind dengan DailySocial.id.
Kusumo mengatakan, "Meskipun kami belum mengumumkan status apapun secara terbuka, ukuran bisnis kami telah melampaui miliaran dolar. Lalu, apakah saya bisa mengatakan sudah mencapai status unicorn? Ya. Namun, sebagai perusahaan digital yang sangat kami inginkan adalah menciptakan bisnis berkelanjutan dengan nilai dan dampak positif bagi masyarakat."
Sebelumnya konfirmasi status unicorn juga disampaikan Tiket.com, startup OTA yang diakuisisi Blibli pada tahun 2017. Tiket.com dikabarkan menjajaki potensi go public melalui kendaraan SPAC COVA Acquisition Corp. (COVA) dengan estimasi nilai gabungan perusahaan mencapai $2 miliar.
Berikut ini daftar selengkapnya startup unicorn Indonesia – beberapa perusahaan mengonfirmasi statusnya secara khusus kepada DailySocial.id dan belum mengumumkannya ke publik:
| | |
| --- | --- |
| Perusahaan | Est. Valuasi |
| Gojek-Tokopedia | $18 miliar |
| Traveloka | ~$3 miliar |
| Bukalapak | ~$3 miliar |
| OVO | ~$2,9 miliar |
| JD.id (dikonfirmasi perusahaan) | undisclosed |
| Blibli (dikonfirmasi perusahaan) | undisclosed |
| Tiket.com (dikonfirmasi perusahaan) | ~$1 miliar |
| Kredivo | $2,5 miliar |
Peta bisnis Blibli
Di bawah naungan GDP Venture, perusahaan investasi grup Djarum, Blibli telah melakukan sejumlah aksi strategis. Selain mengakuisisi Tiket.com, mereka juga menjadi perpanjangan tangan akuisisi dan investasi ke startup lain. Inisiatif tersebut mengantarkan CEO Blibli sebagai anggota board / komisaris di sejumlah startup.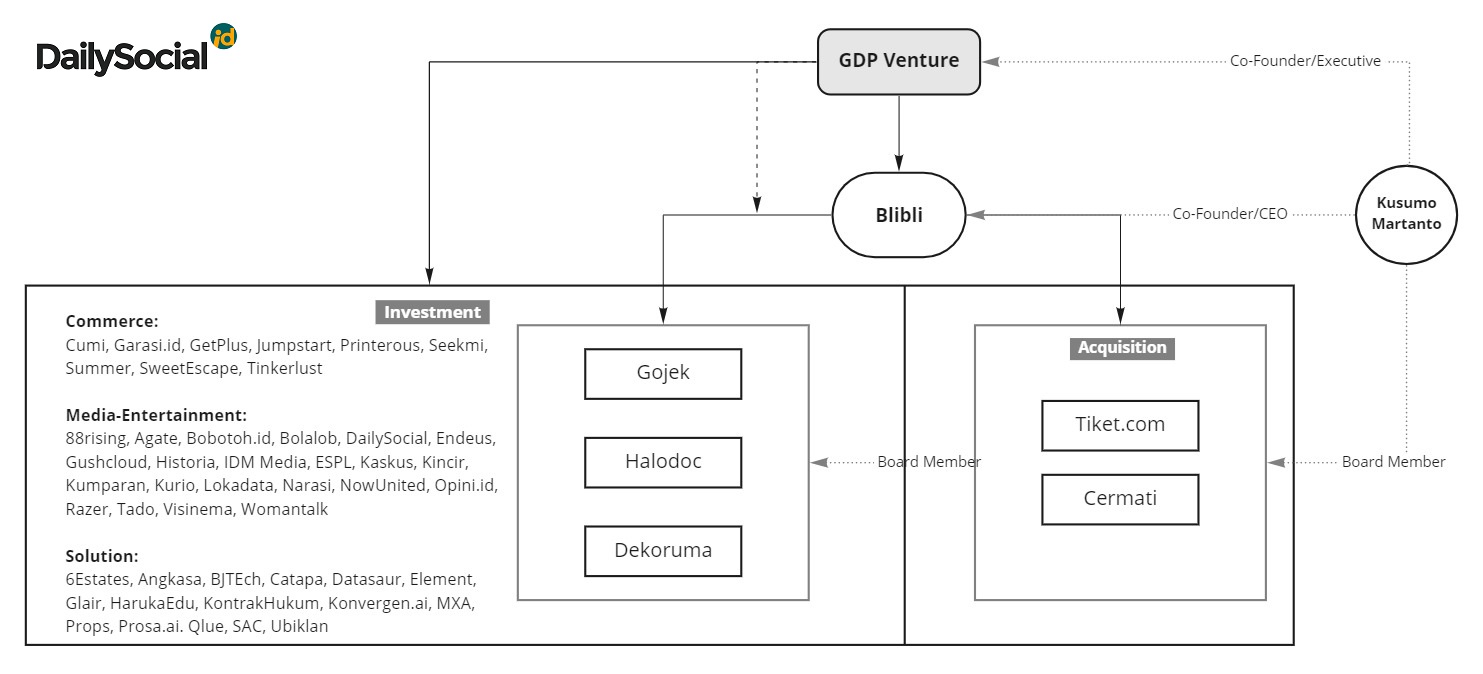 Di bisnis utamanya, selama dua tahun terakhir, berbagai inisiatif digenjot perusahaan. Pertama penguatan konsep O2O perusahaan, termasuk melalui layanan BlibliMart -- yang pada awal 2020 dikatakan menjadi kategori terkuat kedua di Blibli setelah elektronik untuk tingkat pesanan dan GMV. Mereka juga sempat menginisiasi offline store, namun ditunda perluasannya akibat pandemi.
Welcome to Premium Content
Become a DailySocial.id Subscription, you can get unlimited access to discover the best minds of innovation and to perceive the finest tech journalism products in Indonesia. Learn more
Single Article

Access anytime, only this article.

Starting at

Rp 7,000 /article

Subscription

Unlimited access premium content.

Starting at

Rp 150,000 /month
Login or create account to access premium content
Are you sure to continue this transaction?
processing your transaction....