Blizzard Tease Hero Overwatch ke-27, Bisa Anda Tebak Apa Perannya?
Ada dua kandidatnya: karakter yang benar-benar baru, atau putri dari Torbjörn.
Yoga Wisesa - 27 February 2018
Salah satu aspek yang paling menonjol dan membuat Overwatch digemari gamer adalah beragamnya karakter-karakter di permainan. Masing-masing dari mereka memiliki latar belakang cerita berbeda, namun saling terkait. Besarnya kepopularitasan hero Overwatch bahkan mendorong Steven Spielberg memasukkan Tracer ke film baru yang ia sutradarai, Ready Player One.
Hero juga merupakan hal yang membuat Overwatch tidak pernah membosankan walaupun usia game hampir menginjak dua tahun. Setelah permainan dirilis di tanggal 24 Mei 2016, Blizzard telah menambahkan lima karakter baru: Ana, Sombra, Orisa, Doomfist dan Moira - sehingga saat ini Anda bisa memilih 26 hero. Dan di akhir minggu lalu, developer mulai menunjukkan niatannya untuk memperkenalkan tokoh ke-27.
[DECLASSIFIED] After-Action Report: Operation "WHITE DOME" pic.twitter.com/fvnUQQEFDC

— Overwatch (@PlayOverwatch) February 23, 2018
Eksistensi dari karakter anyar itu muncul dalam tweet Blizzard di minggu lalu. Di sana, developer menceritakan secara tertulis misi yang pernah dilakukan oleh Ana, Torbjörn dan Reinhardt di Istanbul. Menariknya, satu nama tak dikenal -Private First Class Emre Sarioglu - juga turut disebutkan. Memang bisa jadi skenario ini mengindikasikan akan diadakannya lagi event Uprising, tapi game directorJeff Kaplan mengonfirmasi bahwa ada petunjuk terkait hero baru di narasi tersebut.
Teaser kedua diungkap tak lama setelahnya melalui surat (in-universe) berhasa Swedia yang dikirim Torbjörn pada istrinya yang tengah hamil. Ia menceritakan bagaimana Reinhardt menyelamatkan nyawanya saat 'Operation White Dome' berlangsung, dan bercanda bahwa temannya itu Torbjörn beri kesempatan untuk menamai bayi perempuannya.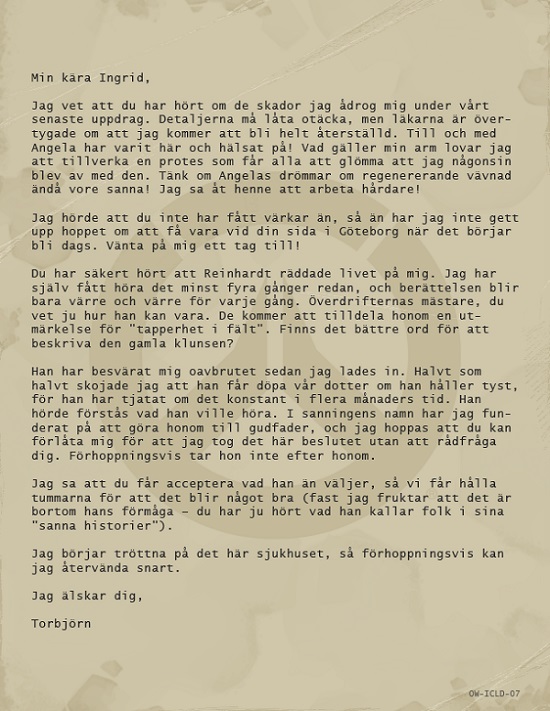 Petunjuk-petunjuk tersebut mengisyaratkan ada dua tokoh berbeda yang akan menjadi hero ke-27 Overwatch: Emre Sarioglu dan putri dari Torbjörn. Gadis bernama Brigitte Lindholm itu muncul perdana tahun lalu melalui film animasi singkat Honor and Glory. Fans Overwatch mengenalnya sebagai rekan seperjalanan Reinhardt.
Namun siapapun karakter itu nanti, ada kemungkinan ia didesain sebagai hero spesialis pertempuran jarak dekat seperti Reinhardt. Hal ini didasarkan dari tease ketiga Blizzard, dipublikasikan minggu ini. Via Twitter, developer memperlihatkan ilustrasi dari desain palu sembari menulis, "I'll knock some sense into you!"      
"I'll knock some sense into you!" pic.twitter.com/WIg2xCQZ0h — Overwatch (@PlayOverwatch) February 26, 2018
Ada peluang cukup besar penyingkapan hero Overwatch terbaru akan dilakukan tidak lama lagi. Jika benar ia merupakan karakter 'melee', maka saya bersumsi bahwa kelasnya bukan tank ataupun offense karena peran tersebut sudah disi oleh Renhardt serta Doomfirst.
Via PC Gamer.
Are you sure to continue this transaction?
processing your transaction....