Cara Daftar dan Verifikasi Blog WordPress di Google Analytics
Google Analytic bertugas mencatat jumlah pengunjung, bounce rate dan durasi kunjungan
Bambang Winarso - 22 February 2018
Daftar, verifikasi dan memasang kode tracking Google Analytic termasuk salah satu dari sekian langkah awal ketika membuat blog. Google Analytic fungsinya sebagai pelacak pengunjung, seperti jumlah pengunjung, dari mana asal kunjungan, kata kunci yang digunakan, bounce rate dan lain-lain.
Informasi-informasi yang ditampilkan oleh Google Analytic akan membantu pemilik blog membuat keputusan, menganalisa masalah dan memantau lalu lintas blog. Meski terdapat banyak opsi layanan serupa, namun menurut saya Google Analytics salah satu layanan tracking yang paling reliable.
Sekarang, mari kita coba langsung proses daftar dan verifikasi blog WordPress self hosted di Google Analytics.
Pertama, kunjungi situs Google Analytics. Saya asumsikan Anda sudah mempunyai akun Gmail, jadi tinggal pakai saja. Pertama kali, Anda memang harus login dahulu atau jika belum punya akun, silahkan daftarkan yang baru.
Setelah login, Anda akan dihantarkan ke halaman ini. Lanjutkan dengan mengklik tombol Sign up.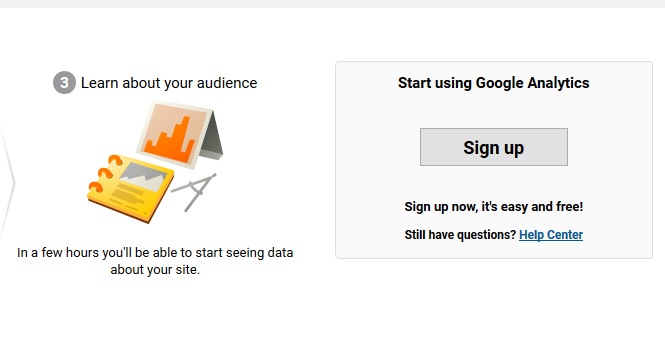 Berikutnya, Anda akan diminta mengisi formulis seperti ini. Silahkan diisi dengan benar. Jika sudah selesai, klik tombol Get Tracking ID.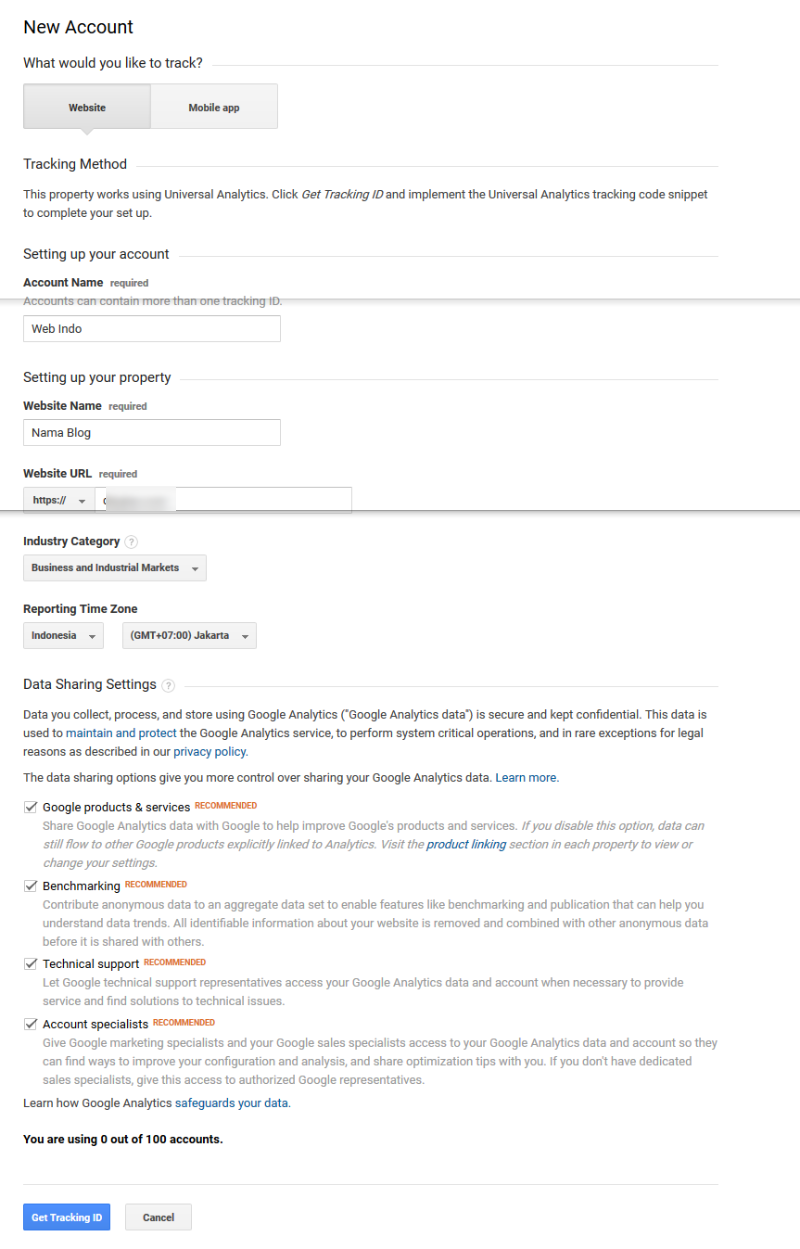 Selesai, proses pendaftaran sudah rampung. Anda juga sudah mendapatkan tracking ID dan kode yang harus disematkan ke blog.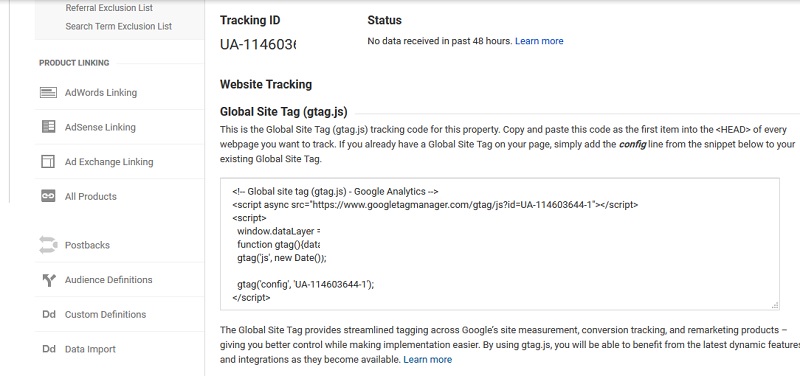 Proses selanjutnya adalah menghubungkan blog ke Google Analytic. Untuk melakukannya, saya lebih suka menggunakan bantuan plugin ketimbang cara manual.
Login ke dashboard blog Anda, lalu tambahkan plugin Google Analytic buatan ShareThis.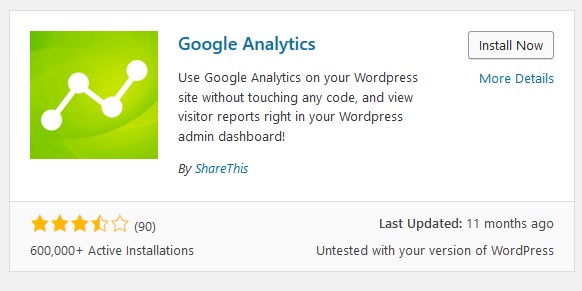 Setelah terpasang dan diaktifkan, klik menu Google Analytic - Settings. Lalu klik Authentic with Google.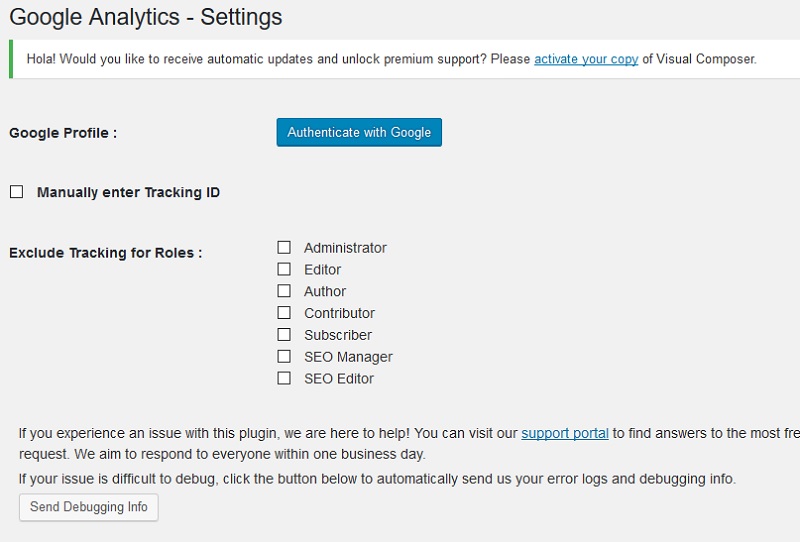 Login ke akun yang tadi Anda pakai mendaftarkan akun Google Analytic, lalu klik tombol Allow.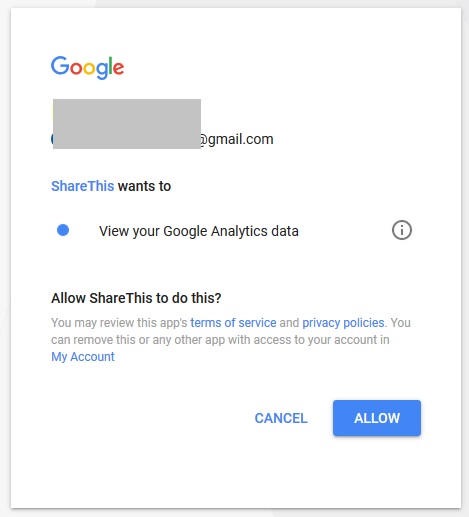 Salin kode yang ditampilkan.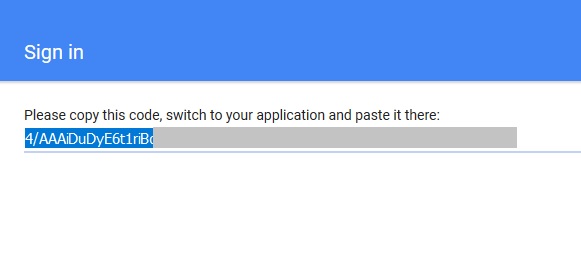 Kembali ke dashboard, lalu salin kode tadi ke kolom yang muncul di jendela popup lalu terakhir Save Changes.

Jika pengaturan selesai dengan sempurna, Anda bisa menemukan nama dan tracking ID akun Google Analytic Anda. Jangan lupa untuk menyimpan pengaturan sebelum keluar dari blog.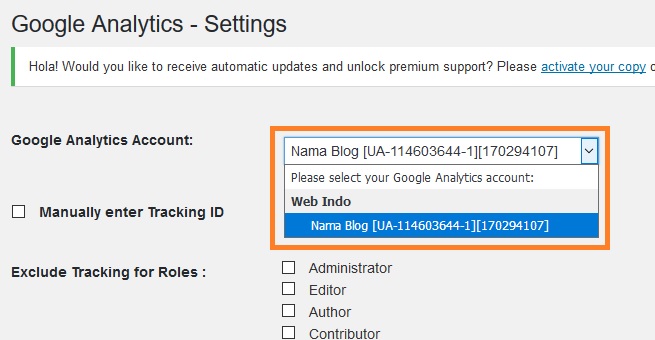 Setelah proses ini rampung, Anda butuh 2 x 24 jam untuk melihat lalu lintas di Google Analytics dan berbagai informasi di dalamnya.
Selain menggunakan plugin buatan ShareThis ini, jika Anda menggunakan aplikasi Yoast atau AIO SEO Pack, Anda juga bisa melakukan verifikasi dari sana. Jadi, tak perlu memasang aplikasi baru.
Alternatif Google Analytics
Saya kurang suka dengan Google Analytics mas, ada alternatif lain?
Tak jadi soal, ada beberapa opsi layanan pelacak lalu lintas blog yang bisa Anda pakai. Salah satunya Histats. Fiturnya cukup lengkap dan mudah dipakai. Baca cara pakainya di artikel tutorial ini.
Are you sure to continue this transaction?
processing your transaction....