[Ask the Expert] Panduan Memasang Google Translate ke Blogspot
Bambang Winarso - 9 April 2015
Kolom Ask the Expert minggu ini memilih salah satu pertanyaan dari pembaca Trenologi bernama Toni, yang menanyakan cara memasang fitur terjemah dari Google Translate ke blogspot atau blog platformBlogger.com.
Tujuan dari pemasangan fitur ini tentu adalah untuk memudahkan pengunjung menerjemahkan blog ke bahasa yang dipahaminya.
Langsung saja, berikut adalah jawaban dari redaksi untuk pertanyaan saudara Toni di Surabaya.
Silahkan login ke akun Blogger.com Anda terlebih dahulu kemudian klik blog yang ingin dipasang Google Translate. Berikutnya lanjutkan dengan mengklik Tata Letakatau Layout.
Info Menarik:Panduan Membuat Contact Form di Blogger.com dengan Google Docs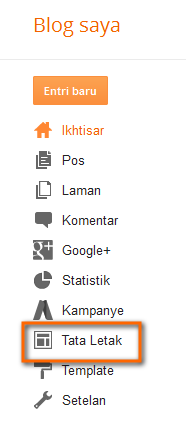 Di panel tata letak silahkan Anda klik Tambahkan Gadget atau Add Gadget.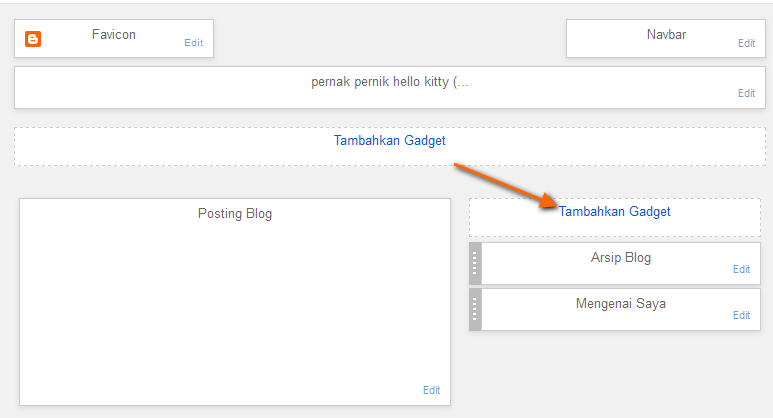 Di jendela baru temukan gadgetTerjemahan atau Translate lalu klik ikon plus yang berada di sebelah kanannya.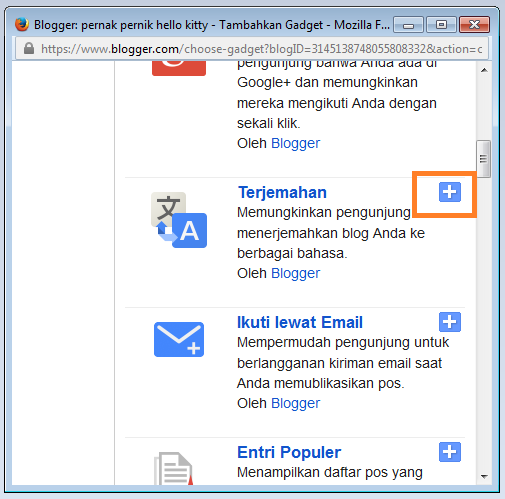 Info Menarik:Beberapa Tips Menggunakan Layanan Messages Pada Perangkat iOS
Masih di jendela tersebut, beri judul gadget tersebut, boleh apa saja. Kemudian sesuaikan opsi-opsi lainnya dengan selera Anda. Nanti Anda bisa melakukan penyesuaian ulang jika pengaturan awal ini tidak sesuai harapan. Jika sudah yakin, klik tombol Simpan atau Save.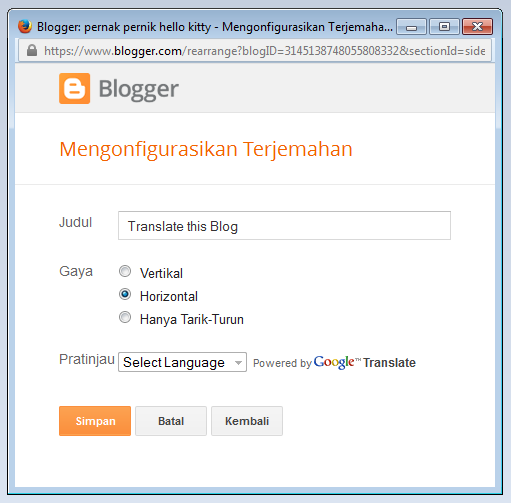 Anda akan kembali ke panel tata letak, sekarang di sana sudah ada gadget dengan nama yang tadi dibuat (perhatikan jarum nomor 1). Terakhir klik tombol Simpan Setelan atau Save Settings.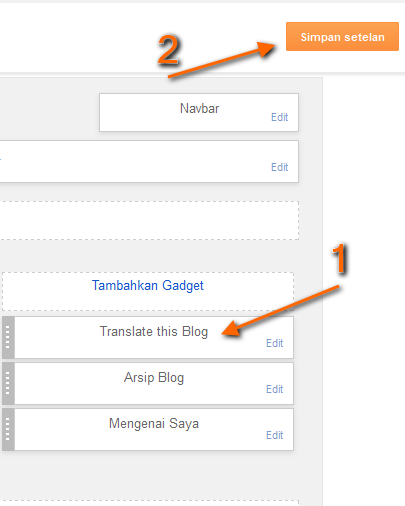 Setelah berhasil disimpan, sekarang lihat halaman blog Anda dan pastikan sudah sesuai dengan keinginan Anda. Jika belum, kembali ke panel tata letak kemudian klik gadget tersebut dan ubah pengaturan hingga Anda dapatkan tampilan yang tepat.
Demikian Toni jawaban atas pertanyaan Anda, silahkan dicoba dan jika menemukan kendala jangan sungkan untuk meninggalkan komentar ya. Atau untuk Anda yang ingin bertanya seputar gadget, blog, komputer, SEO dan sebagainya silahkan submit pertanyaan Anda melalui kolom Ask the Expert. Ditunggu ya!
Sumber gambar header Shutterstock.
---
Temukan solusi permasalah Anda di artikel Ask the Expert lainnya:
[Ask the Expert] Cara Mengubah Tampilan Smartphone Android Menjadi Seperti Samsung Galaxy S5[Ask the Expert] Bagaimanakah Cara Mengganti Keyboard Android Standar dengan Go Keyboard?[Ask the Expert] Cara Meneruskan Email Masuk dari Yahoo ke Gmail Atau Sebaliknya[Ask the Expert] Bagaimana Cara Menyarankan Kontak di BBM dan Menggunakan Google Maps?[Ask the Expert] Solusi Memori Internal Android Cepat Penuh dan Instalasi Modem di OS X Yosemite[Ask The Expert] Koneksi Bagus Tapi BBM Tidak Berfungsi, Solusinya Bagaimana?[Ask The Expert] KitKat Gagal Upload Video Path dan Mengapa Wajib Backup Saat Pasang ROM