Cara Membuat Catatan di Trello dari Gmail Tanpa Harus Membuka Tab Baru
Integrasi Gmail dan Trello membuat kolaborasi pekerjaan jadi makin mudah
Bambang Winarso - 9 March 2019
Sudah kenal dengan aplikasi Trello? Yang biasa berjibaku dengan dunia kerja khususnya di bidang digital tentu tak asing lagi dengan tool simple nan banyak manfaat ini. Saya dan teman-teman di Dailysocial juga pakai, dan sangat membantu kami me-manage pekerjaan bersama-sama.
Selain Trello, kami juga biasa menggunakan Gmail. Nah, karena keduanya harus dibuka di dua tab berbeda, sehingga membuat saya pribadi kerap merasa kerepotan jika harus pindah dari satu tab ke tab lainnya saat ada pekerjaan di Gmail yang harus dimasukkan ke Trello. Lalu, solusinya bagaimana? Ternyata gampang saja, kita bisa memanfaatkan addon Trello yang tersedia di Gmail. Fungsinya apa? Addon ini akan membuat kita menambahkan tugas, catatan, card baru ke Trello dari Gmail tanpa harus berpindah ke tab yang berbeda lalu login lagi ke Trello.
Caranya seperti ini!
Login ke Gmail di browser PC Anda, kemudian di sisi sebelah kanan ada tombol plus (kecil) tepat di bawah ikon Task. Setelah diklik, maka akan muncul sebuah jendela popup seperti screenshot di bawah ini. Anda klik Trello for Gmail.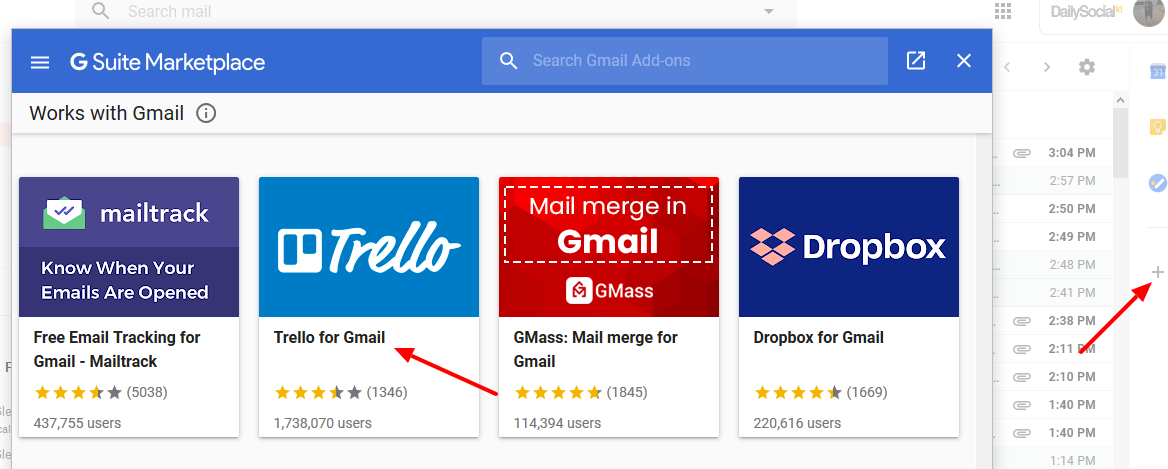 Di tampilan berikutnya, klik tombol Install.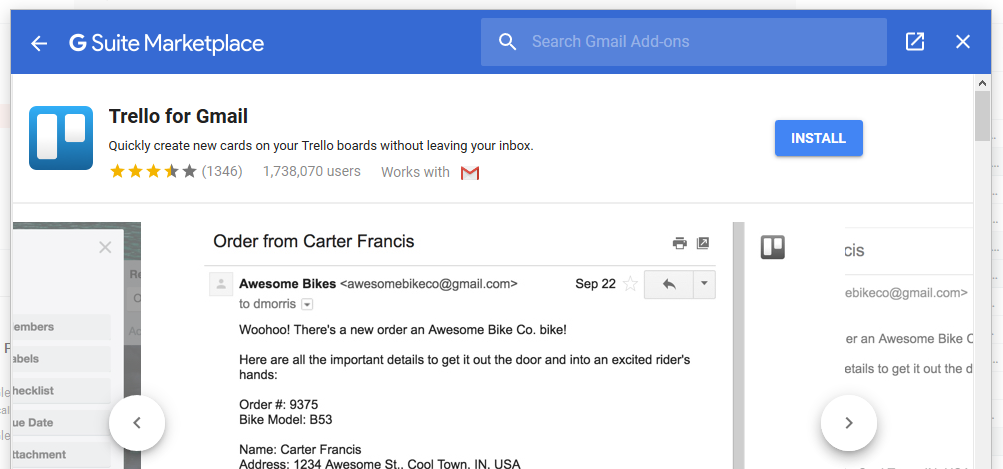 Lalu klik tombol Continue.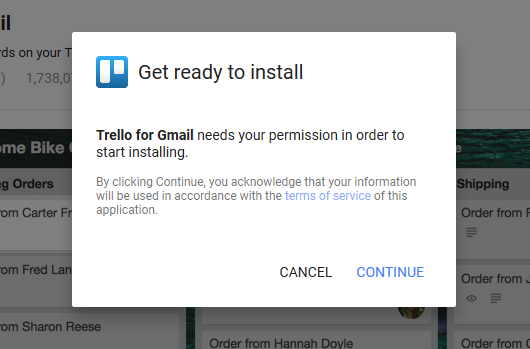 Selanjutnya berikan izin akses ke dalam akun yang ingin diintegrasikan.
Selesai, Trello untuk Gmail sudah berhasil terpasang.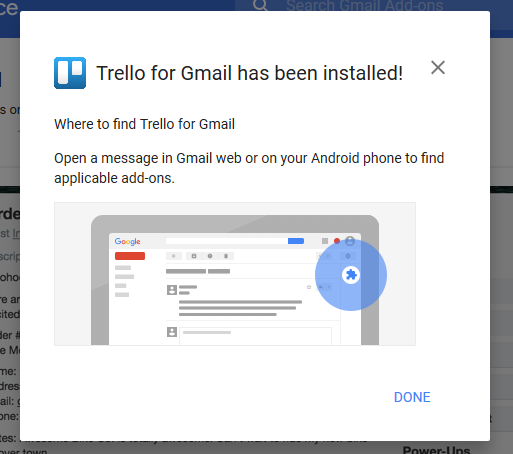 Untuk menggunakan Trello dari Gmail, pertama buka dulu salah satu pesan yang masuk. Selanjutnya tap ikon Trello di bilah kanan Gmail Anda.
Karena baru terpasang, Anda harus login dahulu ke Trello. Jadi, klik saja Login with Trello.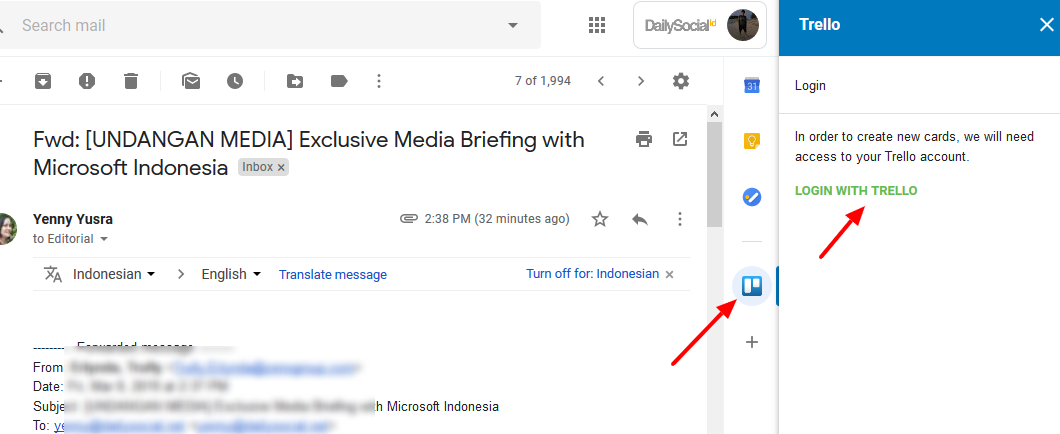 Lalu muncullah jendela popup seperti ini, klik saja tombol Login.
Silahkan login seperti biasa.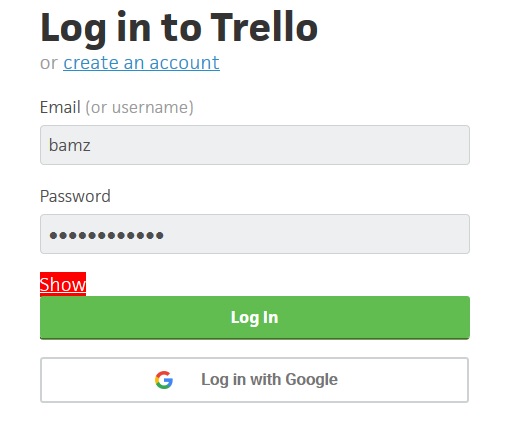 Terakhir klik Allow untuk langkah integrasi akun.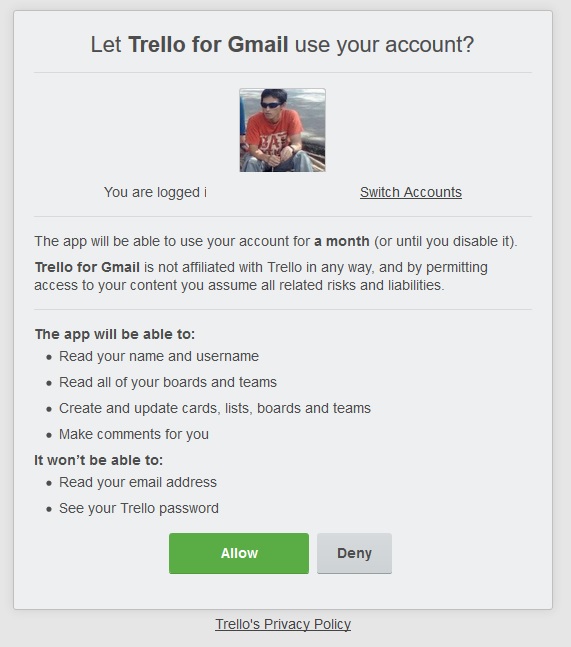 Sekarang, Anda sudah bisa menambahkan pesan email langsung ke dalam kartu-kartu di board Trello Anda. Semua ini dilakukan tanpa harus lompat ke tab baru.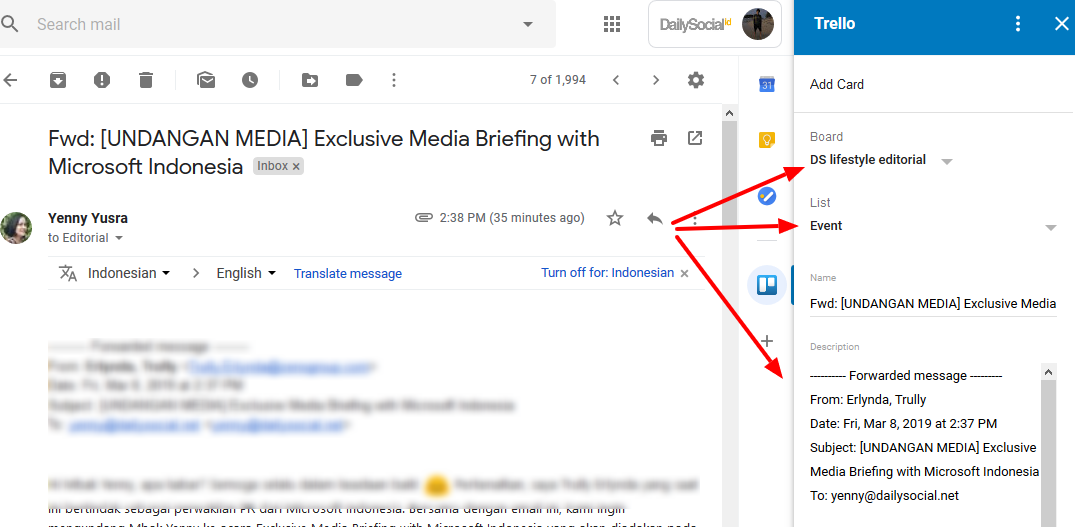 Sekarang setiap kali Anda menerima email penting yang harus dibagikan ke Trello, Anda cukup mengklik dua tombol saja. Mudah sekali kan?
Sumber gambar header ifttt.
Are you sure to continue this transaction?
processing your transaction....