Cara Mengatasi Smartphone Android Yang Terkena Brick
Bambang Winarso - 19 November 2014
Terkena brick adalah mimpi buruk yang tak diinginkan oleh semua pemilik smartphone Android, apalagi hard brick. Sebab mengatasi Android brick tidaklah mudah, Anda hanya punya peluang sebesar 55% untuk mengembalikan smartphone ke kondisi normal, 45%-nya keberuntungan.
Android brick adalah kondisi dimana perangkat Android tidak berhasil masuk ke sistem atau mati total. Penyebabnya beragam, namun sebagian besar diakibatkan oleh kesalahan dalam mengotak-atik sistem.
Bila Anda berada dalam situasi ini, ada beberapa cara mengatasi smartphone Android yang terkena brick atau bisa juga disebut unbrick. Tapi saya tidak akan berikan cara-cara yang standar, beberapa pengguna masalahnya teratasi hanya dengan melepas baterai, kartu SIM, kartu memori dan membiarkan perangkat selama 30 menit. Tapi kebanyakan mengalami kegagalan.
Info Menarik: Hadirkan Fasilitas Hiburan Sosial Baru, Viber Luncurkan Fitur 'Public Chats'
Itu sebabnya di tutorial ini saya akan langsung berikan jurus pamungkasnya.
Sebelum melakukan unbrick, download dahulu Java bagi yang komputernya belum terpasang dan OneClick Unbrick di tautan ini.
Sambungkan perangkat smartphone ke komputer dengan sambungan USB, saya asumsikan Anda sudah memasang driver sesuai dengan merk perangkat.
Install java dan jalankan OneClick.jar yang baru saja Anda unduh.
Jika tampilan seperti sudah muncul, klik sunsoft brick.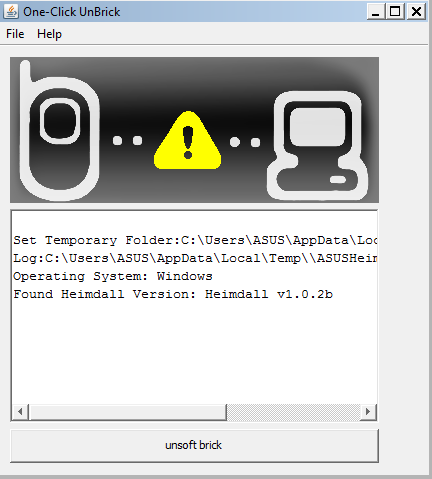 Saat muncul pesan error seperti gambar ini, klik Resolution Center.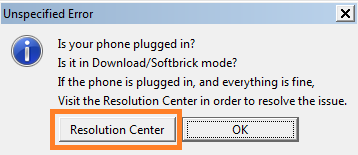 Kemudian di jendela berikutnya klik Extract to current folder, tunggu beberapa saat. Selanjutnya klik Run the file sampai muncul jendela command prompt (biasanya hilang kembali dalam beberapa detik).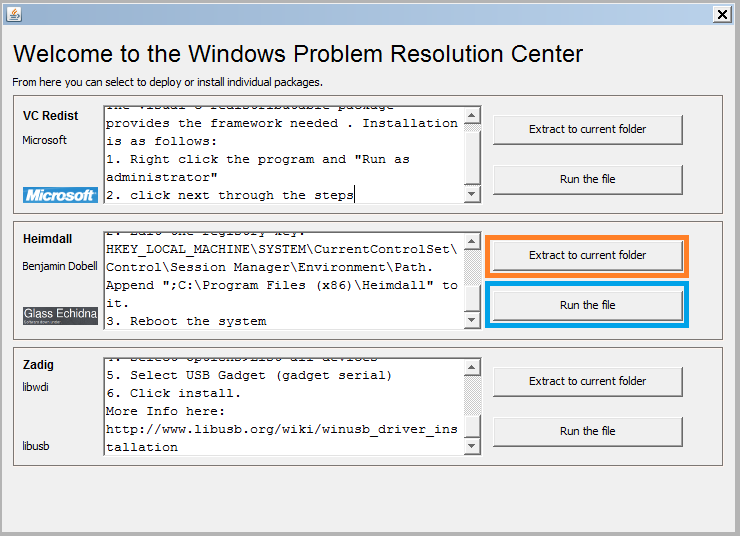 Info Menarik: Steam Machines Akan Diluncurkan di Ajang GDC 2015?
Selanjutnya salin OneClick.jar ke folder Heimdall, lalu klik kanan dan klik Run as Administrator. Klik lagi tombol Unsoft brick dan jangan hiraukan jika muncul pesan error seperti di langkah pertama tadi.
Berikutnya matikan komputer Anda, jangan lupa cabut perangkat smartphone, lepaskan baterai, kartu SIM dan memori. Setelah itu pasang kembali tapi hanya baterai, kemudian tekan tombol Home + Power + volume ke bawah untuk masuk ke download mode. Jika sudah selesai, segera flash perangkat Anda.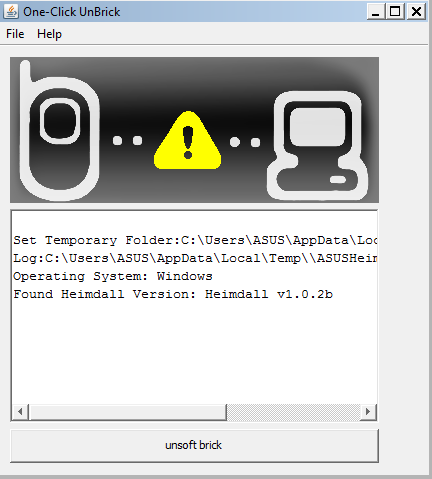 Wah, saya tidak bisa nge-flash mas. Hmm, brick ini biasanya dialami oleh pengguna Android yang suka ngoprek, jadi saya asumsikan Anda paham cara melakukan flash. Tapi jika memang tidak, minggu depan saya akan berikan tutorial flash smartphone Android. Jadi, mohon bersabar dan tetap update tips selanjutnya di Trenologi.
Perlu juga saya tekankan bahwa cara mengatasi Android brick ini tidak dijamin 100% sukses diterapkan di semua perangkat, seperti yang sudah saya singgung di atas, selain trik ini Anda juga membutuhkan keberuntungan.
Sumber gambar header Android via Shutterstock.
Thank you for Reading DailySocial.id
Starting at less than Rp 5.000/Day. You get unlimited access to DailySocial.id