Pembaruan Kemampuan, Chatbot Bank BRI "Sabrina" Bisa Diakses dengan Perintah Suara
Sekaligus mengumumkan peluncuran platform e-commerce Indonesia Mall untuk memperluas akses pasar produk UKM binaan bank
Marsya Nabila - 4 April 2018
Bank Rakyat Indonesia mengumumkan peningkatan kemampuan chatbot Sabrina yang kini bisa diakses dengan perintah suara dari sebelumnya hanya berbasis teks. Peningkatan teknologi ini diharapkan dapat mempercepat nasabah dalam mencari informasi seputar produk atau layanan BRI serta melakukan transaksi seperti memesan tiket bioskop.
"Yang ingin kami sampaikan hari ini adalah tentang bagaimana Sabrina akan ada juga via voice, jadi sangat mempercepat layanan pencarian informasi tentang BRI, info promonya, bantuan, dan lainnya," ucap EVP Digital Center of Excellence BRI Kaspar Situmorang seperti dikutip dari DetikInet.
Sabrina bisa diakses lewat Facebook Messenger dan aplikasi Telegram. Cukup klik tombol "like" dan "follow" akun Bank BRI atau input @BANKBRI_ID_BOT. Ke depannya, BRI akan menghadirkan Sabrina di aplikasi WhatsApp yang rencananya direalisasikan pada akhir April 2018.
"Sekitar tanggal 20 Januari lalu kita sudah launching Sabrina di Messenger. Nanti April ini akan tersedia juga di platform lain yakni WhatsApp."
Sabrina juga telah ditanamkan dalam situs korporat Bank BRI versi terbaru. Selain itu, melakukan sejumlah perubahan lainnya meliputi tampilan antar muka, aksesibilitas terhadap berbagai fitur, dan kontekstualitas konten. Dari pembaruan ini, diharapkan akan semakin memudahkan nasabah dalam mendapatkan layanan perseroan.
"Dengan adanya integrasi dengan Sabrina di situs korporat, nasabah dapat langsung berinteraksi secara aktif dan mendapatkan pelayanan secara langsung layaknya datang ke kantor Bank BRI," ucap Corporate Secretary Bank BRI Bambang Tribaroto secara terpisah dalam keterangan resminya.
Dalam menghadirkan Sabrina, Bank BRI menggandeng perusahaan pengembang AI Kata.ai sebagai mitra teknologinya.
Rilis Indonesia Mall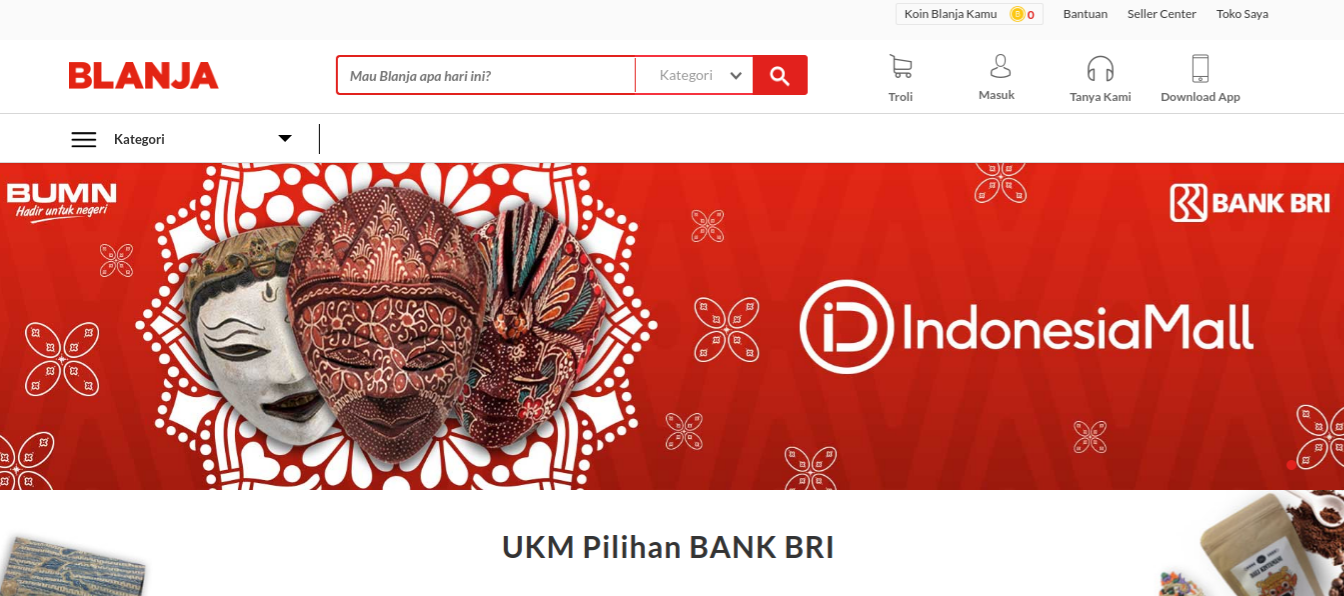 Selain merilis pembaruan kemampuan Sabrina, Bank BRI juga menghadirkan platform e-commerce Indonesia Mall hasil kerja sama antara perusahaan dengan perusahaan e-commerce, seperti Blanja, Bukalapak, dan Lazada. Platform ini menjadi senjata Bank BRI dalam mendorong UKM untuk go online, sekaligus meningkatkan jangkauan penjualan produk UKM binaan perseroan.
Lewat Indonesia Mall, mitra binaan cukup mengunggah produk mereka sekali dan produk akan terpajang secara otomatis di situs e-commerce. Tercatat saat ini sudah ada 150 mitra UKM terpilih yang menampilkan produknya di sana.
"Kami akan terus menjalin lebih banyak kerja sama dengan para pemain e-commerce besar agar semakin meningkatkan exposure produk UKM lokal binaan BRI," pungkas Bambang.
Are you sure to continue this transaction?
processing your transaction....