CIPA: Pengiriman Kamera Digital Turun, Mirrorless Sudah Kalahkan DSLR
Pada April 2021, kamera mirrorless terkirim 45.056 unit lebih banyak daripada DSLR
Penjualan kamera digital terus mengalami penurunan dari tahun ke tahun, penyebabnya antara lain karena ancaman kamera smartphone yang semakin canggih dan diperparah dengan pandemi Covid-19. Lalu, bagaimana kondisi pasar kamera digital di tahun 2021?
Asosiasi Produk Kamera dan Pencitraan atau biasa disingkat CIPA (Camera and Imaging Products Association) telah merilis laporan terkait produksi dan pengiriman kamera di seluruh dunia edisi April 2021. Biasanya data terbaru tersebut dibandingkan dengan tahun sebelumnya, namun mengingat sejak April 2020 dan seterusnya industri kamera terkenda dampak langsung pandemi, angka penjualan kamera digital secara keseluruhan lebih rendah pada tahun 2020.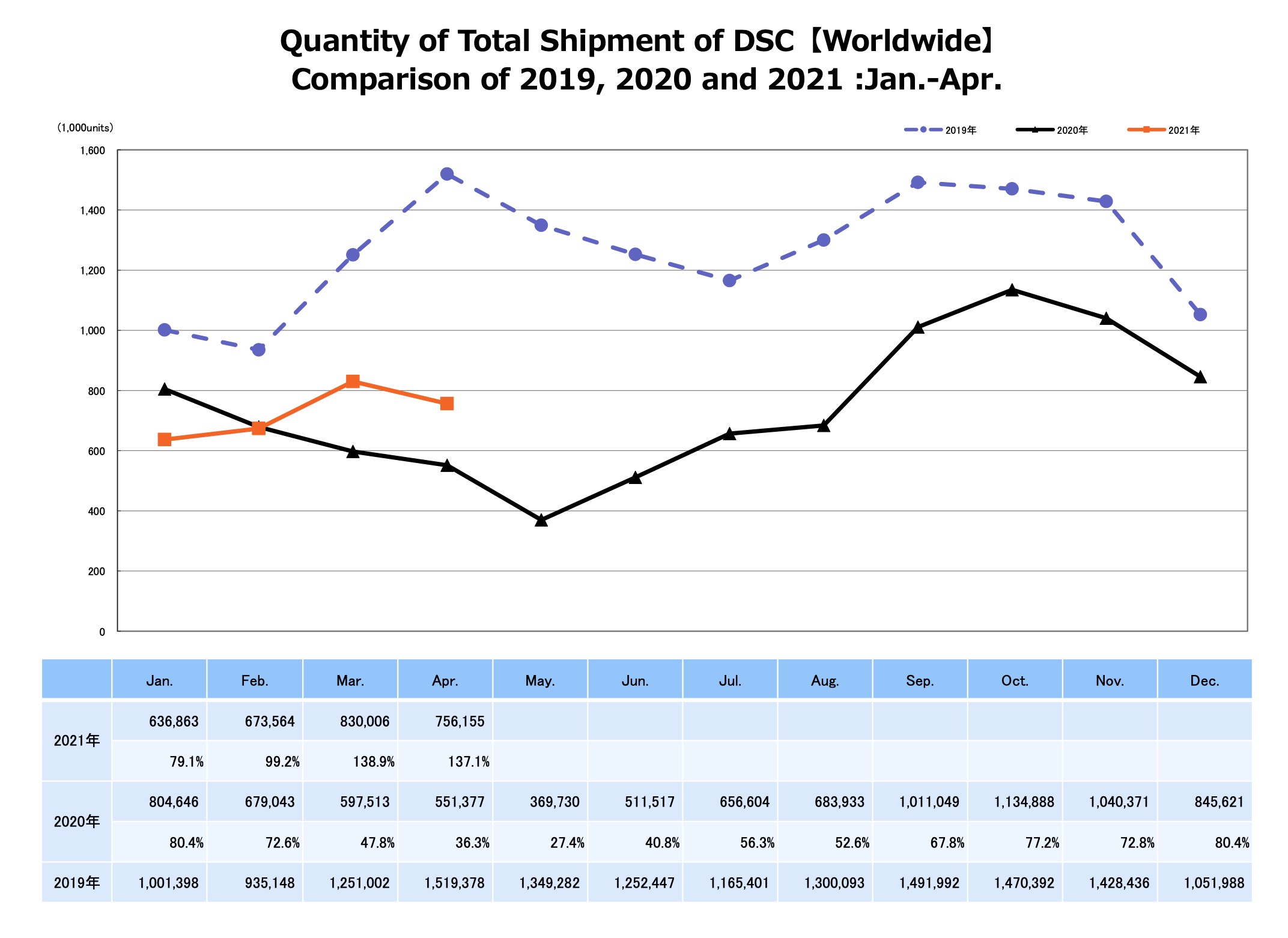 Untuk mendapat gambaran lebih jelas, mari kita bandingkan dengan data CIPA tahun 2019. Pada April 2021 terdapat 756.155 unit yang dikirimkan dengan nilai 44,6 miliar Yen. Turun 50% berdasarkan volume dan 26,8% berdasarkan nilai dibandingkan dengan data April 2019.
Khusus kamera dengan lensa yang dapat dipertukarkan termasuk DSLR dan mirrorless, terdapat 496.224 unit yang dikirimkan pada April 2021 dengan nilai 37,7 miliar Yen. Dibandingkan dengan April 2019, angka-angka ini masing-masing turun 40% dan 19,9% berdasarkan volume dan nilai.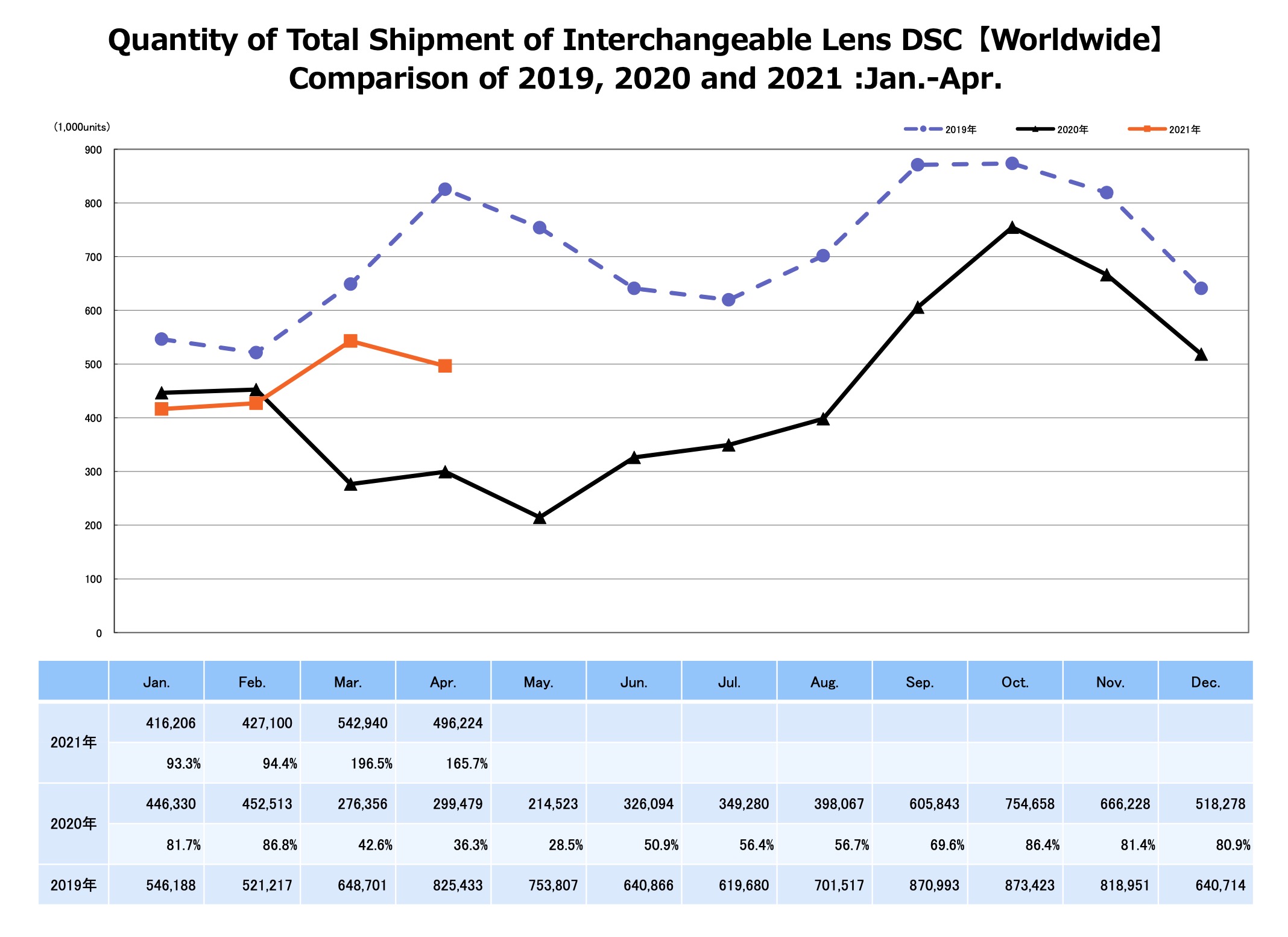 Jika melihat secara eksklusif pada kamera DSLR, ada 225.584 unit dikirimkan pada April 2021 dengan nilai 9,86 miliar Yen, turun 48,8% berdasarkan volume dan 45,1% berdasarkan nilai dibandingkan dengan April 2019. Di sisi lain, kamera mirrorless berhasil mengirimkan 270.640 unit dengan nilai 27,8 miliar Yen, turun 29,7% berdasarkan volume dan 3,8% berdasarkan nilai.
Meskipun unit kamera dengan lensa yang dapat dipertukarkan lebih sedikit yang dijual, nilai unit tersebut tidak turun dengan kecepatan yang sama. Faktanya data tersebut menunjukkan bahwa nilai rata-rata kamera saat ini terjual jauh lebih banyak daripada dua tahun lalu.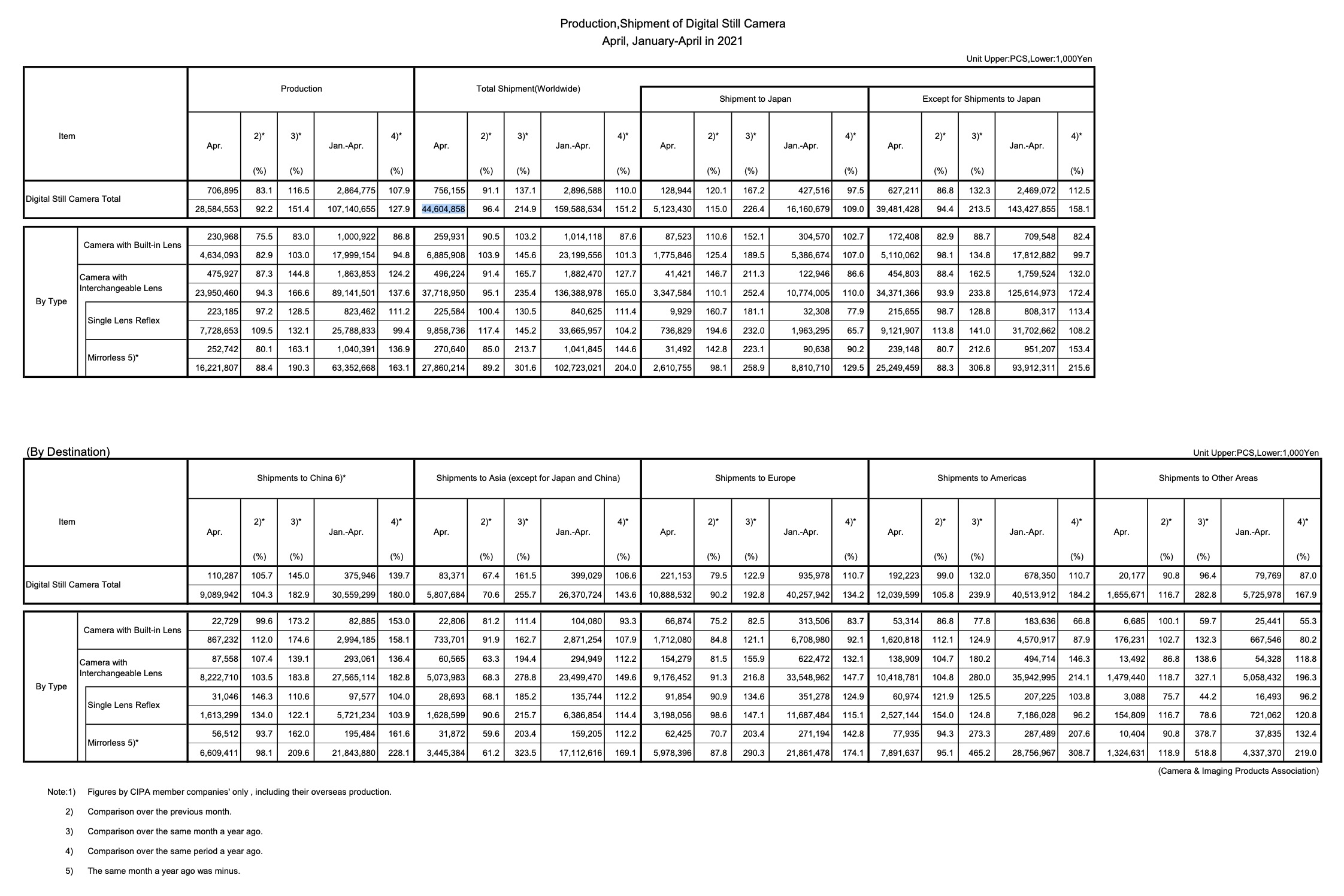 Tren ini terutama terlihat di pasar kamera mirrorless yang semakin matang di mana nilai kamera mirrorless yang dikirimkan hanya turun sekitar 1/8 volume. Fakta lain adalah pengiriman kamera mirrorless telah melebihi DSLR, pada April 2019 kamera DSLR terkirim 56.961 unit lebih banyak daripada mirrorless, sedangkan pada April 2021, kamera mirrorless terkirim 45.056 unit lebih banyak daripada DSLR.
Perbedaan ini akan terus meningkat karena Sony, Canon, Nikon, dan Panasonic bersaing satu sama lain di pasar mirrorless full frame. Laporan yang dikeluarkan oleh CIPA ini hanya menunjukkan pengiriman unit kamera digital berdasarkan volume dan nilai. Namun tidak diketahui apakah semua kamera yang dikirimkan tersebut terjual semuanya atau tidak.
Sumber: DPReview
Are you sure to continue this transaction?
processing your transaction....