Corsair Akan Selenggarakan Turnamen Dota 2 Corsair Gaming Arena di Bandung
Yoga Wisesa - 11 May 2015
Sudahkan Anda dengar kabar terakhir dari kompetisi Dota 2 The International 2015? Beberapa nama telah terpilih, namun sayang sekali tidak ada tim lokal yang mewakili Indonesia di acara bergengsi itu. Tak usah bersedih, karena sebentar lagi juga akan diadakan turnamen Dota 2 di Indonesia, hasil kerja keras sang pemasok periferal dan hardware gaming asal Amerika Serikat.
Corsair Gaming mengumumkan bahwa mereka akan menyelenggarakan Corsair Gaming Arena, mempertandingkan salah satu permainan multiplayer online battle arena paling populer di Bumi, Dota 2. Berdasarkan penjelasan di press release resminya, acara ini dimaksudkan demi mempertegas eksistensi dan dukungan terhadap dunia esport di tanah air. Buat gamer, tentu saja Corsair Gaming Arena bisa jadi medium unjuk kebolehan mereka.
Turnamen Corsair Gaming Arena Dota 2 menjanjikan hadiah total sebesar Rp 30 juta berupa uang tunai, trofi, dan tentu saja serangkaian gaming gear Corsair. Penyelenggara tidak menjabarkannya secara spesifik, tapi kita boleh berasumsi akan ada mouse, keyboard, headphone atau speaker, komponen hingga aksesori PC lain. Mereka mempersiapkan jumlah slot yang cukup banyak, tersedia 64 buah, buat memperebutkan tiga posisi podium.
Info menarik: Daftar Gaming Gear Andalan Tim 'All-Female' NXA Ladies
Sebelum ajang utama dilaksanakan, pada tanggal 16 dan 17 Mei 2015, panitia berencana menggelar sesi pra-kualifikasi secara online untuk mencari satu tim yang layak masuk ke 16 besar, diikuti oleh 10 undangan. Enam dari mereka adalah regu terbaik, dan sisanya disiapkan eksklusif buat gamer wanita. Biaya partisipasinya cukup terjangkau, hanya Rp 150 ribu per satu tim.
Selain Corsair Gaming, kompetisi Dota 2 tersebut diselenggarakan oleh Arena Gaming Evolution serta didukung Telkomsel. Anda dapat menggali informasi lebih rinci dengan mengunjungi situs ArenaGamingEvolution.com (saat artikel ini ditulis, website belum bisa diakses.) atau Maingame.id. Alternatifnya, silakan hubungi representasi Arena Gaming Evolution di nomor 0822-0497-3111 atau email lastiohadi86@gmail.com.
Turnamen Dota 2 Corsair Gaming Arena dijadwalkan untuk berlangsung di kota Bandung tanggal 23 dan 24 Mei 2015, tepatnya di Digigames, jalan Prof. Surya Sumantri No. 76C.
Bersama dengan acara tersebut, Corsair berusaha memperlihatkan keseriusan mereka di pasar gaming gear - dispesialisasi khusus bagi gamer profesional - setelah kesuksesan di ranah komponen. Beberapa langkah strategis sudah mereka ambil, contohnya mengakuisisi Raptor Gaming dan menjalin kolaborasi ekslusif bersama CherryMX. Di Indonesia, Corsair turut mempersenjatai tim NXA Ladies dan The Prime.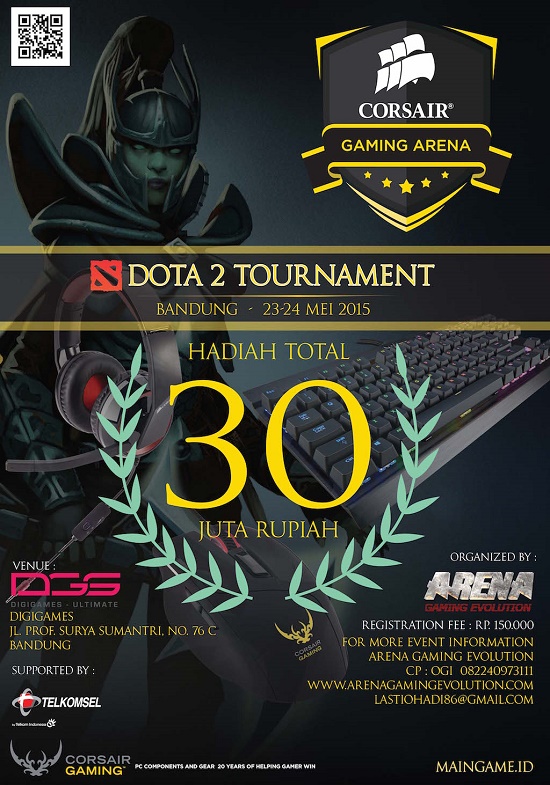 Are you sure to continue this transaction?
processing your transaction....