OCBC NISP Ventura Siapkan 400 Miliar Rupiah untuk Berinvestasi di Startup Fintech, Proptech hingga Edutech
Darryl Ratulangi ditunjuk sebagai Managing Director
Tantangan disrupsi digital menginspirasi Bank OCBC NISP meluncurkan strategi beyond banking melalui pembentukan  corporate venture capital  (CVC). Bernama "OCBC NISP Ventura", unit investasi tersebut debut bersama dengan perolehan izin beroperasi dari OJK per Januari 2020.
Kepada DailySocial, Head of Strategy & Innovation OCBC NISP Ka Jit menjelaskan, tujuan pembentukan CVC ini adalah menciptakan ekosistem digital yang mampu menggerakkan transformasi sektor perbankan.
"Kami mendirikan OCBC NISP Ventura untuk menciptakan nilai transformatif dengan memanfaatkan potensi semangat kewirausahaan dan startup di Indonesia dengan jaringan perbankan yang luas untuk menjawab kebutuhan masyarakat yang terus berkembang," ujar Ka Jit.
Saat ini situs ocbcnispventura.com tengah dalam persiapan, sebagai kanal informasi terpusat dari unit ventura. Sementara tim internal sudah mulai bekerja, termasuk melakukan analisis mengenai startup potensial yang akan diinvestasi.
"Rekan-rekan founder dapat mengirimkan proposal (pitch-deck) melalui email investment@ocbcnispventura.com," terangnya.
Siapkan dana 400 miliar Rupiah
Perusahaan juga telah menunjuk Darryl Ratulangi sebagai Managing Director yang akan bertanggung jawab mengemban visi OCBC NISP Ventura. Manajemen bank akan turut serta dalam fungsi pengawasan jalannya perusahaan dengan menempatkan beberapa anggota manajemen sebagai komisaris.
"Sejalan dengan komitmen untuk mengembangkan ekosistem digital di Indonesia, OCBC NISP Ventura akan fokus pada UKM dan startup teknologi yang bergerak di industri pembiayaan bisnis, fintech, properti (proptech), logistik, media, kesehatan (healthtech), pendidikan (edutech), data analisis, e-commerce dan on-demand," jelas Ka Jit.
Dana senilai 400 miliar Rupiah juga telah disiapkan sebagai modal dasar, dengan kepemilikan 99,9% oleh Bank OCBC NISP. Selain berinvestasi, beberapa program yang akan dijalankan termasuk inkubasi startup dan kemitraan strategis. Di fase awal, perusahaan targetkan bisa membina pengembang solusi digital yang mampu meningkatkan literasi dan inklusi keuangan di Indonesia.
Perkembangan CVC di Indonesia
Terminologi disrupsi yang santer digaungkan sejak pertengahan dekade terakhir membuat pengembangan CVC di Indonesia cukup kencang. Ini menjadi strategi multi-guna. Selain memberikan peluang keuntungan melalui model bisnis ventura seperti "exit", juga membuka peluang korporasi untuk menjalin kemitraan strategis dengan startup pengembang platform digital inovatif.
Berdasarkan catatan tim DSResearch per Desember 2019, berikut ini daftar CVC di Indonesia beserta startup binaannya: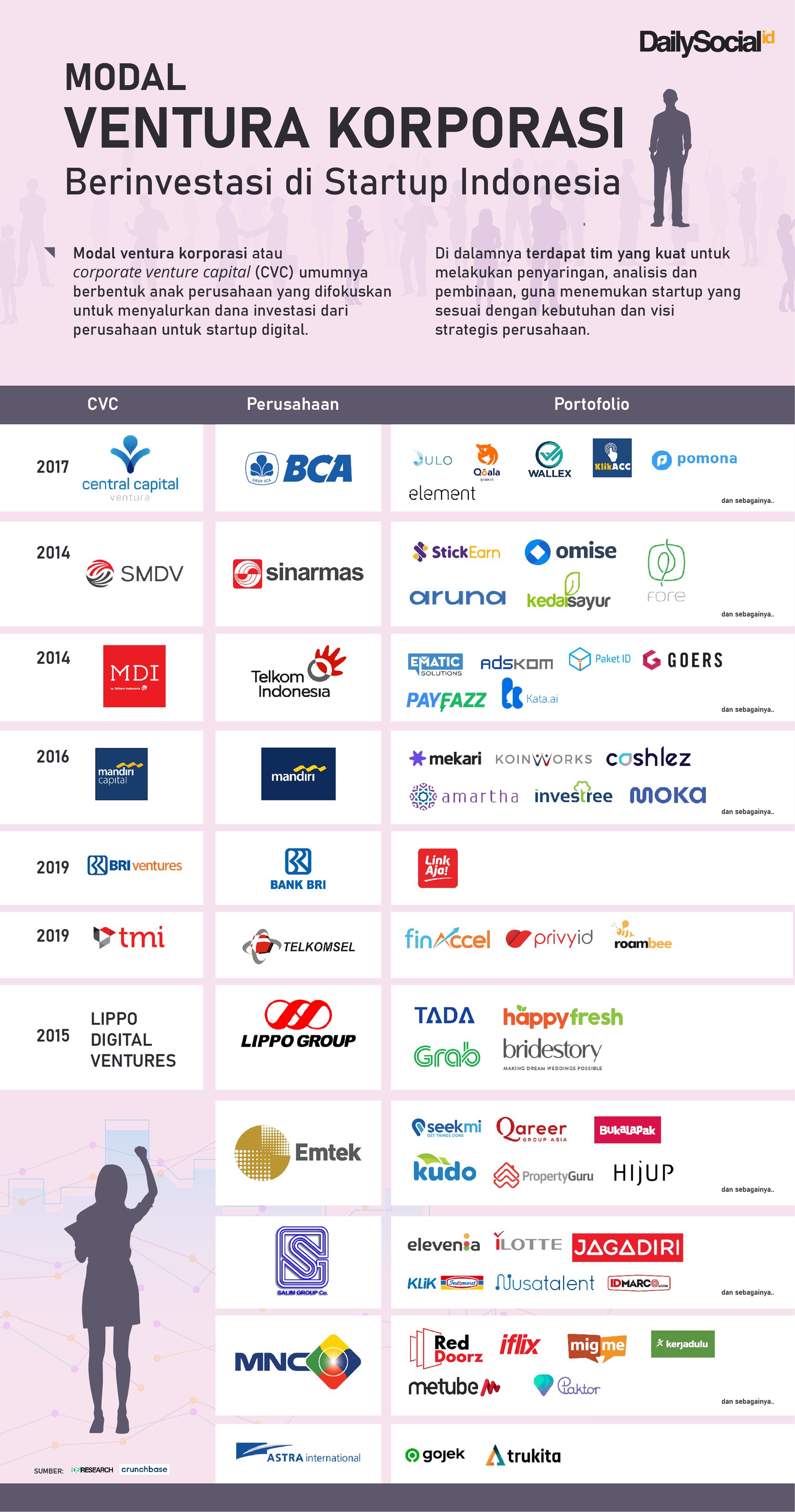 Dan berikut ini daftar torehan "exit" pemodal ventura lokal sepanjang tahun 2019. CVC milik Telkom Group pimpin perolehan, melalui aksi korporasi akuisisi dan IPO: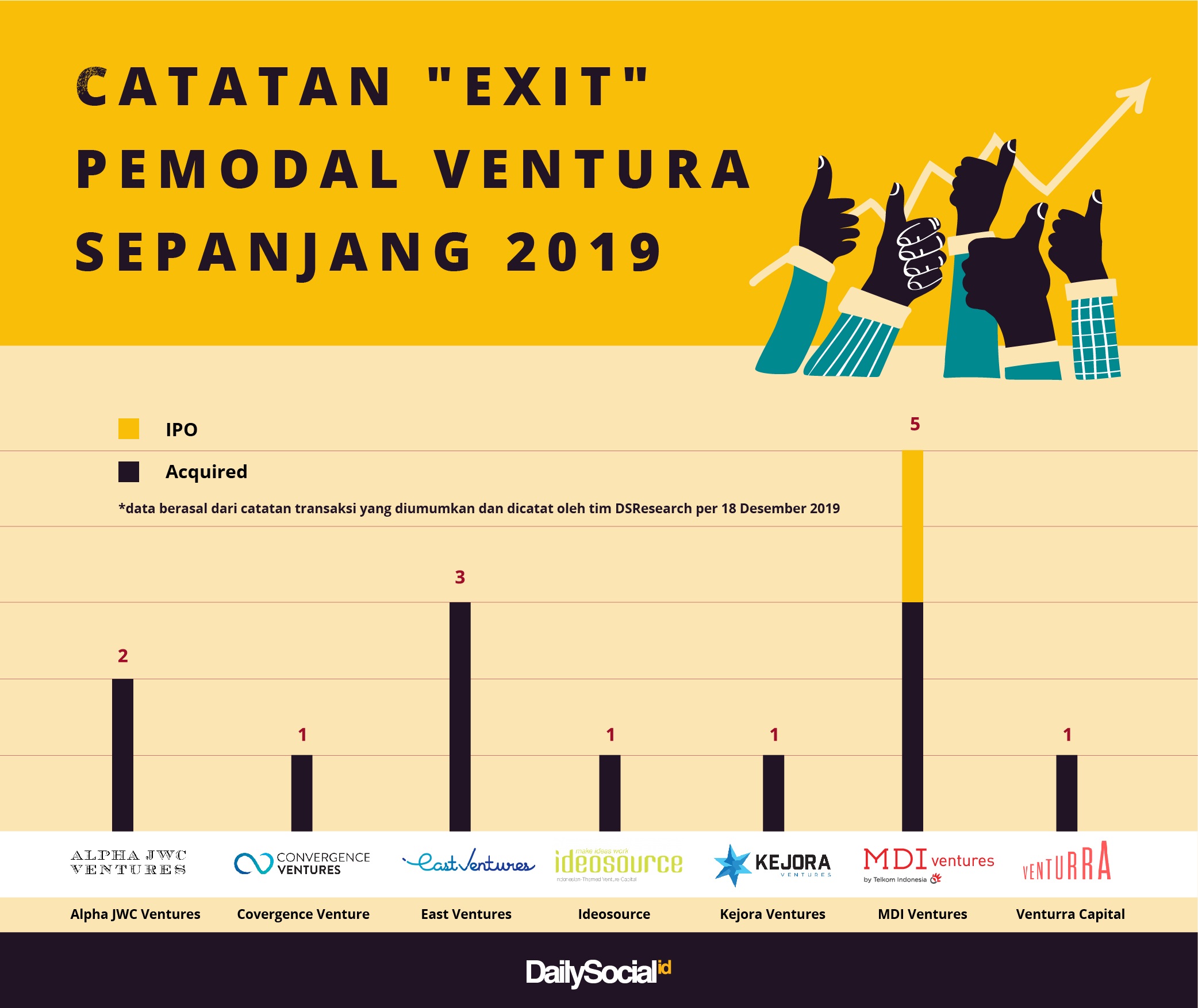 Are you sure to continue this transaction?
processing your transaction....