MDI Ventures akan Tambah Dua Dana Kelolaan Baru di 2020
Mendukung ekosistem digital di Indonesia mulai dari "early stage" sampai "later stage"
Tahun ini MDI Ventures segera menambah dua dana kelolaan baru lagi untuk memperkuat portfolio investasi startup Telkom Group dari tahap early stage sampai later stage.
Head of Investor Relations &  Capital Raising MDI Ventures Kenneth Li kepada DailySocial mengungkap bahwa penambahan ini dikarenakan alokasi dana putaran pertama selama empat tahun sudah habis.
"Ya betul itu rencananya. Tapi, saya belum bisa share detailnya seperti apa karena kami baru mulai prosesnya," ujar Kenneth.
Awal Desember 2019 lalu, Telkom Group melalui MDI Ventures dan KB Financial Group asal Korea Selatan juga membentuk dana kelolaan baru bernama Centauri Fund.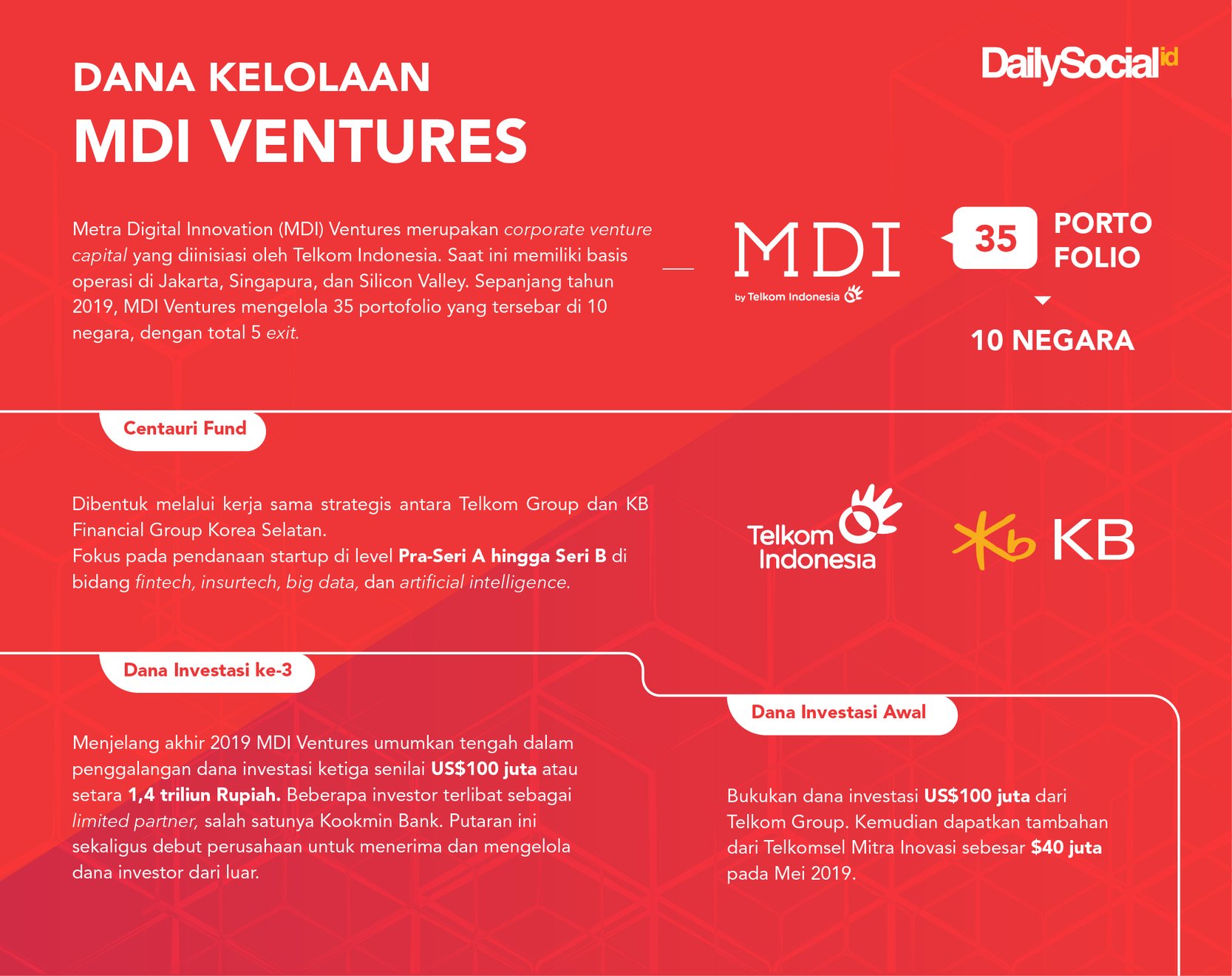 Mundur lagi, di pertengahan 2019, anak usaha di bisnis seluler Telkomsel membentuk unit investasi baru, yaitu Telkomsel Mitra Inovasi (TMI) yang akan dikelola oleh MDI Ventures.
Kenneth menegaskan bahwa rencana pembentukan dua dana kelolaan baru ini akan mengisi ragam portofolio pendanaan Telkom Group dan anak usahanya.
"Centauri fokus pada seri A dan B. Sementara, TMI punya spesifik requirement dari Telkomsel sehingga jadi single LP fund dan style-nya lebih CVC dengan synergy requirement," tambahnya.
Dari sisi pendanaan, ia menyebut bahwa pihaknya akan melakukan penggalangan dana lagi pada setiap dana kelolaan baru.
"[Penggalangan dana] Rp1,4 triliun itu hanya untuk Centauri Fund. Setiap fund, [alokasinya] beda-beda. Nanti [ada] fundraising lagi," katanya.
Are you sure to continue this transaction?
processing your transaction....